On this page

The Student Learning Commons (SLC) offers writing and learning support to Fraser International College (FIC) students and their instructors in the form of customized workshops, general writing and learning workshops, and self-directed online resources.
Services for FIC students
Here's what the SFU Student Learning Commons can offer you.
 Free workshops every semester on writing, learning & studying, and English skills
SLC workshops are available to all currently enrolled FIC students.
Previously recorded workshops can also be viewed on our Webinar Recordings page as they become available. You can review recorded webinars on your own schedule. 
Self-serve guides, videos, and the Assignment Calculator
From our homepage, you can browse resources for Writing, Learning and Studying, or English as an Additional Language. Resources of particular interest during this time include: 
The SLC Media Collection includes a number of short (2-15 minutes) videos that students can watch. 
Use the Assignment Calculator to help you plan out a writing assignment and get it in on time.
View SFU Library academic videos to get step-by-step help on key academic skills including research, time management, and writing.
Join an online group
Plurilingual Café (English conversation support)
Plurilingual Café  is a weekly workshop facilitated by volunteer peer educators on Zoom. The goals are to recognize and celebrate the rich plurality of EAL students' everyday language practices and interactions. Tasks are designed to support student learning by fostering intercultural awareness among the participants, offering opportunities to learn more about each other's languages and cultures, and by creating spaces for the use of languages other than English as tools for learning.
VOW(e)L: the Virtual Writing Group (for everyone)
VOWƏL is the Virtual Open Writing Lab (for everyone), Fridays 9:00 a.m. to 12:00 p.m. (GMT-07:00 / Pacific Daylight Time) 
You are invited to log into our Zoom writing room. Attendance is on a drop in basis - you do not have to attend every week or stay for the full three hours. Email us at vowel.writers@gmail.com or learning-commons@sfu.ca to get the Zoom meeting ID. For more information, check out VOWƏL Open Writing Lab (for everyone).
Hear the latest from SLC staff and students
The Student Learning Commons also publishes a blog, with timely and informal information for students and instructors. 
 Some limitations on services to FIC students
As an FIC student, you are not able to
have individual writing, learning, or English conversation consultations at the SLC
get online writing feedback through WriteAway.ca
get co-curricular record credit (CCR) for SLC workshops.
After transferring to SFU, you will be fully eligible to use all these SLC services!
For information on the Library's services to FIC students, see Services & Resources for Fraser International College (FIC) Students.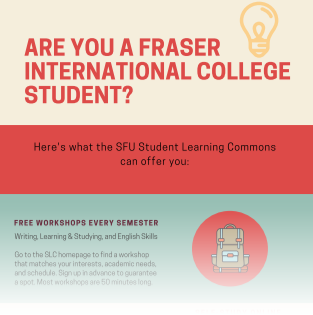 Download a printer-friendly poster detailing services for FIC students.
Support for FIC instructors 
Bring the SLC into your classes 
The Student Learning Commons offers many resources that you can use in your classes and/or tutorials. Read on to learn more!
Media and handouts
The SLC has developed handouts about many aspects of academic writing, learning strategies, and English language learning. Please share these resources with your students, especially when they will support students to succeed in their assignments.
Many instructors find it useful to share a "resource of the week" with their students. 
We also have an SLC media collection with recorded resources focused on writing and learning strategies. Please feel free to use these videos and screencasts in your classes or tutorials, and/or link to them in your class Moodle. 
Recorded webinars on a variety of writing and learning topics are also available to support your students and your teaching. 
You are also welcome to integrate resources and tools such as the Assignment Calculator and the Plagiarism Tutorial into your classes/assignments. 
Canvas modules & Academic Success Kits (A.S.K.)
Research Essay Essentials: Learning Modules 
Developed collaboratively by the SFU Library and Student Learning Commons (SLC), these research and writing support modules cover essential skills and strategies for writing and researching your academic essay including:
finding and evaluating sources,
summary writing and paraphrasing,
thesis and outline building,
and more! 
Each module takes about 5-10 minutes to complete, and includes quizzes to check your understanding along the way.
Academic Success Kits (A.S.K.'s) are our most popular  study and writing strategies and resources, essentialized down to bite-sized portions undergraduate students can easily access, combining text, video, and audio in a Canvas environment. Students can self-enroll at this link: https://canvas.sfu.ca/enroll/L6RGEC
To request these modules for your class, please contact us at learning-commons@sfu.ca
The SLC Blog
The Student Learning Commons publishes a blog to provide conversational, accessible, and timely information and resources.
The blog sometimes even features interactive content like quizzes that you can use to support students' self-testing.
You can assign these blog posts as readings and even encourage students to write their own posts to be published on our blog.
Customized workshops
FIC instructors and faculty are welcome to request workshops tailored to a specific assignment. Please contact us with the details of your request and a staff member from the Library or SLC will be in touch with you to confirm details.
For research and writing workshops, please fill in this
workshop request form
and a member of our team will get back to you to arrange the workshop details.  
Supporting language learners with the SLC 
The SLC offers a suite of English as an Additional Language (EAL) supports, including group learning opportunities that are open to FIC students. These include the Plurilingual Cafe and a seminar style workshop series entitled: "Academic Grammar and Writing for Multilingual Learners" (note: FIC students can register in Academic Grammar and Writing for Multilingual Learners when space permits). 
If you have questions about EAL supports available through the SLC, please contact EAL Services Coordinator Dr. Timothy Mossman at timothy_mossman@sfu.ca.