Services for FIC students
Here's what the SFU Student Learning Commons can offer you.
 Free workshops every semester on writing, learning & studying, and English skills
Find a workshop that matches your interests, academic needs, and schedule. Sign up in advance to guarantee a spot. Most workshops are 50 minutes long. Frequently offered workshops include
Analyze This! From Summary to Critical Writing
Structuring Ideas Through Grammar
Speaking Effectively
Getting the Most From Your Textbooks.
Self-serve guides, videos, and the Assignment Calculator
Check out the SLC's website for guides on
Popular topics include dealing with stress, managing your time, improving your English skills, creating strong written arguments, and grammar support.
Use the Assignment Calculator to help you plan out a writing assignment and get it in on time.
View SLC academic videos to get step-by-step help on key academic skills.
Old school, hard copy handouts
Stop by the SLC at SFU Burnaby, Vancouver, or Surrey for paper copies of guides, including tips and strategies to help with many popular writing, learning, and English language topics.
Customized workshops
We may pop up in your classes!
SLC custom workshops focus on specific research, critical readings, and/or writing skills for your particular assignments and courses.  You can ask your instructor if any Library or SLC workshops are planned for your class.
 Some limitations on services to FIC students
As an FIC student, you are not able to
have individual writing, learning, or English conversation consultations at the SLC
get online writing feedback through WriteAway.ca
get co-curricular record credit (CCR) for SLC workshops.
After transferring to SFU, you will be fully eligible to use all these SLC services!
For information on the Library's services to FIC students, see Services & Resources for Fraser International College (FIC) Students.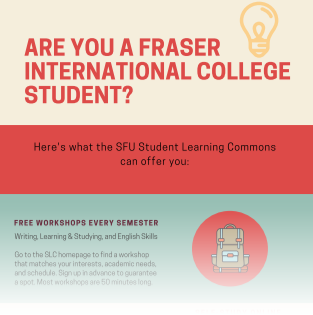 Download a printer-friendly poster detailing services for FIC students.
Support for FIC instructors and faculty 
Customized workshops
As FIC instructors and faculty, you are welcome to request workshops tailored to a specific assignment. Simply fill in our survey--FIC Request for Research & Writing Workshops--and a staff member from the Library or SLC will be in touch with you to confirm details.
General workshops, self-directed resources, other tools
You may wish to encourage your students to attend general writing and learning workshops and seek out self-directed resources available from the SLC's website.
You are also welcome to integrate resources and tools such as the Assignment Calculator, the Plagiarism Tutorial, and SLC academic videos into your courses/assignments.