During COVID-19, Student Learning Commons services continue.
On this page
SLC Staff
The SLC's professional staff are specialists in their fields and are passionate about supporting SFU students with language learning, study strategies, and writing. 
Head, Student Learning Commons
Donna McGee Thompson

Donna joined the Student Learning Commons as a Learning Services Coordinator when it opened in 2006 and became Head of the department in August 2011. Prior to joining the SLC, Donna had served at SFU's Health and Counselling Centre as Learning Skills Coordinator; Douglas College's Learning Centre (David Lam Campus) as Services Coordinator;  and at Capilano College (now Capilano University) as Learning Specialist and faculty member.  Over her career in the learning field, Donna has planned and delivered learning success programs, developed and facilitated training programs for peer educators, tutored and taught writing, run a pilot for an online tutoring program, and completed research and co-published articles on course-integrated learning instruction. Donna helped to develop the curriculum for the Back on Track Program and continues to be an instructor for BOT courses. She is also co-coordinator of the Academic Enhancement Program in the SFU School of Computing Science. Donna completed an undergraduate degree at SFU in Psychology (Honours) and a Master of Arts degree in Adult Education at the University of British Columbia.

Phone: 778.782.3294
Email: dmcthomp@sfu.ca
SLC Assistant
Peggy Fung

Peggy is the first point of contact for students at the SLC Office in the Bennett Library (Burnaby), and also provides administrative support for our workshops, consultations, marketing campaigns, academic resources, and many other activities. She has previous experiences working and studying at Simon Fraser University, including completing her Bachelor of Science degree with a major in Kinesiology (with distinction) and a Certificate in Health and Fitness Studies. She warmly encourages and welcomes students to learn and utilize the numerous writing, learning, and EAL resources provided by the Student Learning Commons. During her spare time, she enjoys being stunned by nature's phenomenal beauty, being around friends and family, and exploring the world.

Phone: 778.782.4648
Email: peggyf@sfu.ca
SLC Coordinators
English as an Additional Language (EAL) Services Coordinator
Dr. Tim Mossman

Tim Mossman, Ph.D., is an educator, qualitative researcher, and English as an Additional Language (EAL) specialist.  He has his Ph.D. in Education (Languages, Cultures, and Literacies) from Simon Fraser University. Before SFU, he earned both his Master of Arts degree in English Education (TESOL) and Bachelor's degree in Kinesiology from the University of British Columbia. He also has his professional teaching certificate from the BC Ministry of Education. Tim currently coordinates the EAL Services in the Student Learning Commons (SLC), a position he has held since 2007. In this role, Tim contributes to and participates in SLC activities such as individual consultations with students, developing and presenting workshops and short -term courses, and mentoring graduate students and student peers, all with a focus on EAL support. Prior to this, Tim worked for 16 years as a faculty member at Canadian International College, a private post-secondary institution where he taught and designed content-based English language courses. Tim has also taught English in Japan, at Douglas College, at UBC, and in the FALx99 course at SFU. His professional interests include studying the identities of multilingual immigrant youth through ethnographic and discourse analytic methods and has several publications in the applied linguistics literature. In his free time, Dr. Mossman enjoys walks in Deep Cove with his wife, Eiko.
Phone: 778.782.8510
Email: tmossman@sfu.ca
Learning Services Coordinators
Ruth Silverman

Ruth Silverman (pronouns: she/ her/ hers) has been with SFU's Student Learning Commons since 2007 and goes by many titles: Learning Services Coordinator, Back on Track Program Instructor, and co-Divisional Supervisor for the Writing and Learning Peer Educators. Originally from Ottawa and currently living and working on unceded Coast Salish Territory, Ruth holds an M.Ed. (SFU), a B.A. (Hons. Psychology, Carleton), and an LL.B. (Ottawa). She has a diverse work history, including working on Parliament Hill and for the Federal Court of Canada, and practicing as both a lawyer and a career counsellor (not at the same time). Ruth has held two leadership roles within the post-secondary Learning Specialist Community:  Pacific Regional Director of the Learning Specialists Association of Canada, and Canadian Regional Leader for the College Reading and Learning Association, both 2015-2019.

Phone: 778.782.8465
Email: rsilverm@sfu.ca
Dal Sohal

Dal joined the Student Learning Commons in August 2011. Previously, she was the manager of SFU Peer Programs and worked with peer educators in various capacities for 10 years. Before working at SFU, Dal fuelled her interest in student program development working on international projects for the European University Association in Geneva, Switzerland. Prior to moving overseas, Dal worked for BC's Ministry of Advanced Education and the Premier's Youth Office. Dal is passionate about student development, performance coaching and lifelong learning. She is a certified professional coach who in addition to working at the SLC, teaches interpersonal communication in the Business Management program in SFU's Continuing Studies department and at Douglas College. She is the published author of "Peer Education: The impact of volunteering on students." Dal completed her BA (Criminology, Sociology) at SFU and has an MA in Leadership and Training from Royal Roads University.
Phone: 778.782.8509
Email: dsohal@sfu.ca
Writing Services Coordinators
Julia Lane (Undergraduate Writing Services)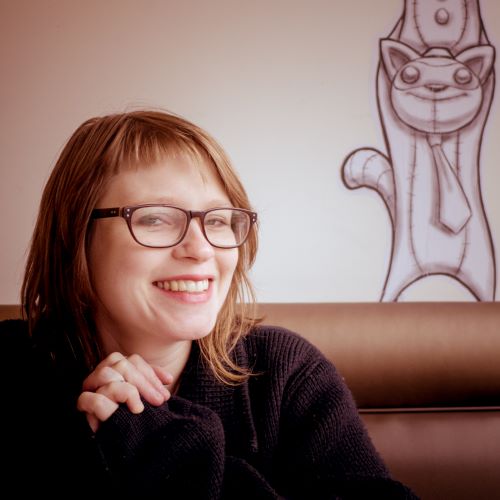 Julia (she/her/hers) is a queer, vegan, feminist. She is also a white settler who lives, mothers, writes, and teaches on unceeded Coast Salish territories. She holds a PhD in Arts Education from Simon Fraser University and her dissertation is about the application of a theatrical clowning practice to scholarship, specifically researching, teaching, and writing. Her master's degree is from Trent University's Canadian Studies and Indigenous Studies program and her M.A. thesis focused on environmental education. She completed her undergraduate studies at York University in the theatre department, specializing in theatre creation and performance. Julia is currently a Writing Services Coordinator with the Student Learning Commons, a position she took up after 2.5 years as a Writing Services Associate with the SLC.  Julia's work focuses on undergraduate writing workshops, Write Away, the annual SLC writing contest, and the SLC blog, In Common. She invites students, faculty members, and staff from across the university to get in touch with her when they are looking to access, create, or improve undergraduate writing supports.
Phone: 778.782.9705
Email: jhlane@sfu.ca
Hermine Chan (Undergraduate Writing Services)
Hermine holds a BA in English Literature from UBC and a Master's degree in Creative Writing from the University of Hong Kong. She is a TESL Canada-certified instructor who has been teaching English and EAP since 2012 at various institutions, including UBC. Prior to joining the SFU team, she served as the Writing & Learning Centre Manager and WriteAway coordinator at Alexander College. When not in the office, she enjoys screenwriting and road cycling.
Phone: 778.782.9382
Email: herminec@sfu.ca
Robyn Long (Graduate Writing Services)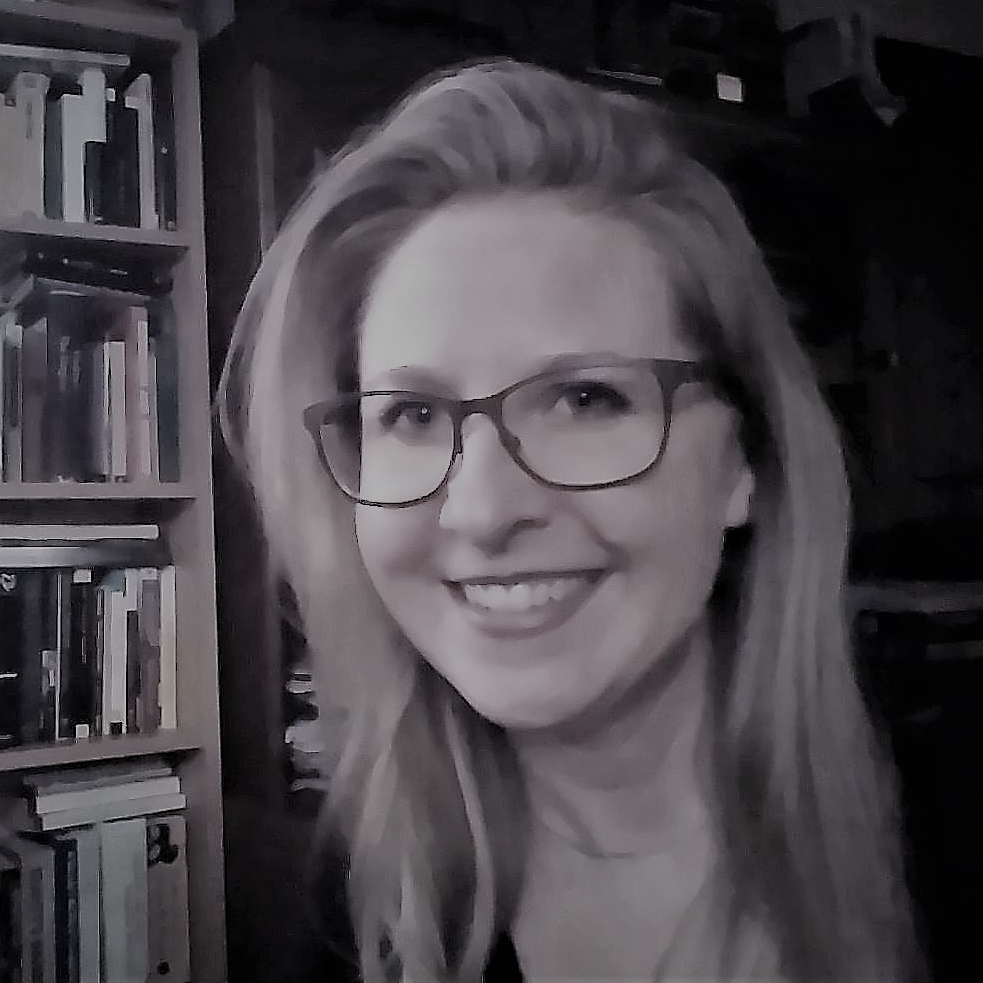 Robyn holds a BA (English and Psychology) and an MS (Educational Psychology and Methodology) from the State University of New York at Albany and a PhD in Educational Psychology from SFU. She has been working with the SLC team for over five years and has been helping individuals with their writing professionally for over eight years. Robyn's diverse interests contribute to her enthusiastic dedication to and enjoyment of learning about students' and colleagues' research across disciplines and facilitating their writing processes.
Phone: 778.782.7165
Email: robynl@sfu.ca
Surrey Coordinator
Cynthia Wright
Cynthia (pronouns: she/ her/ hers) joined SFU in October 2005 as the Coordinator of the Student Learning Commons at the Surrey campus. As Coordinator she organizes the campus' writing and learning skills workshops and -- along with the Graduate Facilitators and Peer Educators she oversees -- provides students with individual consultations in writing, learning skills, and in English conversation. She is part of the curriculum development team of the Student Success Program and teaches in the Back on Track program at both the Surrey and Burnaby campuses. She is committed to helping students at all levels achieve academic success. Cynthia has a Masters degree in Adult Education from the University of British Columbia and is a certified professional life coach.
Phone: 778.782.7614
Email: cawright@sfu.ca
Retired SLC Staff
Amanda Goldrick-Jones

Amanda started her writing life as a newspaper reporter in Toronto and Vancouver before receiving her BA and MA in English Language at UBC. After teaching writing and communication at UBC and Langara College, she studied rhetoric and professional communication at Rensselaer Polytechnic Institute in Troy, New York, where she received her PhD. She then served as assistant and associate professor at the University of Winnipeg's Centre for Academic Writing and helped develop the major program in Rhetoric, Writing, and Communications. When she moved back to the coast in 2006, she served for two years as the SLC's first writing services coordinator. At UBC, she taught academic, business, and technical writing courses from 2008-2013 and designed online writing courses for the Writing Centre. Amanda returned to the SLC in 2013, to continue to develop and coordinate a variety of writing opportunities including writing-peer training, in-class workshops, and support for TAs who work with undergraduate writers. She retired from the SLC in January 2020. 
Email: agoldric@sfu.ca
Graduate Facilitators
Every term, the SLC hires a team of qualified SFU graduate students as part-time Graduate Facilitators for English as Additional Language services, Learning services/Back on Track, and Writing services. 
English as an additional language team

Koichi H. is a PhD candidate in the Faculty of Education with a specialization in educational sociolinguistics. During his entrepreneurship and administration of an English Language school for all ages, he gained his Master's degree in Teaching English to Young Learners at University of York, UK.  As an adjunct instructor at SFU, UBC, and some foreign postsecondary institutes, he has been teaching in the areas of TEAL, Academic Literacy, and International Education.  Koichi is able to conduct consultations in Japanese.
Learning / Back on Track team
Our Learning/Back on Track team is comprised of paid SFU graduate students in the role of facilitators committed to helping students develop and improve their academic learning strategies, such as study techniques, academic reading, note-taking and time management. Graduate facilitators support the Back on Track program by working with students one-on-one to create individualized learning plans and meet with students in group settings to facilitate discussions about academic learning. They also facilitate workshops at the SLC and for campus partners.
Undergraduate writing services team Daniel C. is a PhD student in Educational Psychology and Applied Linguistics who also completed his undergraduate and master's degree at SFU. His research interests include EAL (English as an Additional Language) university students' academic literacy development, L2 reading and writing relationships, and use of metacognitive strategies in reading and writing. He likes helping multilingual EAL writers with planning and polishing their essays and is able to offer consultations in Mandarin Chinese. Kate E. recently completed her Master's in Urban Studies at SFU, and is now a PhD student in Interdisciplinary Studies. She completed her BA at UBC, and worked in research and management for the non-profit health sector before becoming an educator (BEd, University of Ottawa). Her current research interests include the informal economy, use of cemeteries as public green spaces, and access to drinking water. As a tutor, Kate hopes that her feedback helps students feel more confident as writers.

Mohsen H.M. is a PhD student in Education and a CELTA certified teacher of English. He received his MA in English Language Teaching from University of Tehran and his MEd in Educational Technology and Learning Design from SFU. He has worked as a Teaching Assistant for a variety of courses including W courses like EDUC 100W- Selected Questions and Issues in Education, FAL X99-Foundations of Academic Literacy and BUS 217W-Critical Thinking in Business. At SLC, he delivers general and course-integrated writing workshops across disciplines for undergraduate students on topics ranging from argumentation to ethical use of research material in writing assignments. He also offers individual writing consultations to undergraduates across disciplines. Mohsen holds consultations in both English and Farsi.


Suzanna M. is a PhD candidate in the School of Criminology specializing in forensic science. She has her MSc from the University of Sheffield, UK, and her BA from UBC. Suzanna facilitates writing workshops, offers writing and learning consultations, serves as a tutor for WriteAway, and is also on the SLC's Back-on-Track team. Having been a post-secondary student for over a decade, she understands the difficulties and stressors associated with university life and learning, and is looking forward to working with students to overcome these challenges. When she's not working or studying, Suzanna enjoys hiking with her dog.
Graduate writing services team
Graduate writing facilitators provide support for graduate students working on their theses, term papers, journal articles, grant applications, and other writing related to their graduate studies. Facilitators work with students one-­on-­one through in-­person consultations and online support at all three campuses and for students working at a distance. Furthermore they facilitate open and integrated workshops, the Open Writing Labs, and are active with both the Thesis Boot Camp and reBoot. Alicia M. is a PhD student in the School of Communication. Her current work focuses on the intersection of labour, gender, and political economy. She earned a MA in Applied Linguistics from Carleton University, where her work centred on language, power, and corporate legitimation. She has been a teacher and language nerd since her undergraduate, and has worked as a teaching assistant, curriculum designer, writing coach, and workshop facilitator at three different universities in Canada. Benjamin A. is a PhD Candidate in the School of Communication at Simon Fraser University where he studies work and labour in the 21st century. Before coming to BC, he earned his MA in Communication from Johns Hopkins University and BA in Communication and Theatre from Lewis & Clark College. He has worked as a teaching assistant for various courses in Communication and has served as a research assistant on studies of work in Vancouver's software industry, debt activism, and cultural worker organizing. Eleonora J. holds a B.A in Psychology, an M.Ed in Philosophy of Education, and a PhD in Philosophy of Education. She is currently working on her M.A in Counselling Psychology. Her current research is on disgust and identifying ways in which it can be meaningfully addressed in therapeutic contexts. Eleonora enjoys working at the SLC as it gives her the opportunity to work with students from across disciplines. She especially enjoys supporting students in using their existing strengths to become stronger writers.

Jacky B. is a PhD candidate in the Educational Theory and Practice (eTAP) program in the Faculty of Education in Simon Fraser University. Her research interest is located at the intersection of posthumanist theories and social justice. She holds an MA in bilingual education from the University of Delaware and an MBA from the University of Viña del Mar. In the course of her educational career, which spans more than 20 years, she has been a principal and a teacher in the K-12 system in both the USA and in Ecuador. At the university level, she has taught in Ecuador, the USA, and more recently in Canada as a Sessional Instructor. Jacky is also an Associate Editor for the SFU Educational Review Journal and a co-editor of the Intra-view section of the Matter: Journal of New Materialist Research.

Poh T. is pursuing a second doctorate in Faculty of Education. Her research focuses on science literacy in the early years. Poh also holds a PhD in Experimental Medicine and stem cell research from the University of British Columbia.  After graduating, she worked in the biotech industry and eventually became a successful entrepreneur where she is the founder and CEO of two businesses. She has extensive experience in different writing styles and formats in science, education and business. Poh also had an extensive background in public speaking and presentations.  She was a 2013 TEDx speaker and has presented to both national and international audience from a variety of levels, including academic and industry. Vanja Z. is currently a Masters Student in the School of Criminology. Before that, she completed both a BA (Hons) in criminology and a BA in political science and dialogue at SFU. Throughout her time at the university, she has worked as a Learning and Writing Peer Educator at the SLC, a Graduate Writing Facilitator with the undergraduate writing team, and as a Teaching Assistant in the school of criminology. She enjoys helping students become better, more confident, writers and is passionate about giving others the tools to battle writing stress and anxiety. She also enjoys being exposed to many different projects, students, and ideas through her facilitation work. 
Peer Educators
The SLC has two teams of Peer Educators. Both teams are comprised of student volunteers who receive in-depth and ongoing training on topics relevant to their responsibilities.
Visit the pages below to find out more about our current Peers.
To become an SLC Peer yourself, see Become a Peer Educator!   
SLC English as an Additional Language Peers
SLC EAL peers are trained, skilled, and friendly student volunteers who are able to provide conversational English language support to students for whom English is a second or additional language.

Aasim K. is a fourth year Biomedical Physiology student. He likes to spend his spare time playing sports, video games, and hanging out with friends. His aim as an EAL peer educators is to support fellow students in the SFU community. Aasim can also speak fluent Urdu, Hindi and Punjabi.

Alicia S. is a fourth year Linguistics major who was born and raised in Vancouver. Her hobbies include baking, creating digital art, and volunteering. She loves learning about different cultures and getting to know new people.

Aliyah D. is a third-year student in the French Cohort Program pursuing a double major in French and Political Science. She speaks English and French fluently, but also has some knowledge of Spanish. In her free time, she loves to read, exercise, and bake. Aliyah believes that language learning should be an enjoyable, engaging experience and that anyone can learn one with the right support.  

Anurada A. is a fourth year Psychology student minoring in Health Science. She was born and raised in the Lower Mainland, and enjoys spending time outdoors. During her spare time you can find her hiking, doing yoga, or paddle boarding. Ashley K. is a third-year Criminology and Indigenous Studies student. When she is not in school, Ashley likes to volunteer in the Downtown Eastside. Her spare time consists of reading, hiking, playing the ukulele, and painting. Ashley hopes that in her time with the EAL Peers is spent by creating a comfortable and engaging environment for fellow students.

Bita G. (she/her/hers) is a passionate third-year student completing her BA in Health Sciences, and a minor in Social Justice in Education. In addition to English, Bita is conversationally fluent in Farsi. On the weekends, Bita enjoys long walks, hiking, and biking with family and friends. Given her personal experience with the challenges of learning a new language, Bita strives to create a safe and engaging learning experience during consultations.

Caleb T. is a former IAT major and current third year Software Sciences Major. In his spare time, he enjoys learning new skills, reading, playing games, and just generally relaxing in a quiet space. Caleb hopes to both learn and teach as an EAL peer tutor in order to better the community at SFU. Carmen H. is a fourth year Political Science student. When she is not studying or working, she enjoys gaming, reading, and exercising during her spare time. One of her goals of being an EAL Peer Educator is to connect with fellow students and create a comfortable and open learning environment.

Daniel W. is currently in his third year at SFU studying Political Science, History and Computer Science. Outside of school, his hobbies include photography, gaming, and spending time with friends. He enjoys engaging with new people in the EAL Peer Educator program and learning about different cultures and interests.

Emily M. is currently a third year student majoring in French and Political Science. She has also taken courses in Philosophy, History, and Criminology. She is fluent in French and can speak and understand some basic Italian. She loves reading, travelling, and languages. and is also passionate about engaging with social causes and helping fellow students succeed at SFU. Harbir D. is currently a third-year BPK Major. During his spare time, Harbir likes volunteering at the local food bank. His hobbies consist of reading, drawing, and long-distance running. Through his association with the EAL Peers Program, Harbir plans to create an enjoyable and amicable environment for his peers.

Harman G. is a fourth-year political science major. She is fluent in Punjabi and has a verbal understanding of Hindi and Urdu. She enjoys running, hiking and reading.

Jasleen P. is a third year Mathematics and Computing Science student. She enjoys reading, playing video games, and volunteering in her spare time. Jasleen hopes she is able to create a friendly and supportive environment for students within the EAL program. Jeremy S. is a fourth year Criminology student who works in the public sector and is a Weight Room Supervisor for SFU Recreation. Outside of school, he is a fashion and sneaker enthusiast and also enjoys keeping up with the major league sports, especially hockey. Being Korean, Jeremy is able to speak Korean and hopes to regain his fluency in Mandarin in the future.

Jun K. (Simply Jun) is a Korean international student in 4th year Business, concentrating in MIS. He is taking Fall 2020 courses online from Korea, but wanted to continue his volunteer for the SFU community. Jun has experience running English conversation club during his military service, and is fluent in Japanese and Korean.

Jyotnoor K. (Jyot) is a third year Behavioral Neuroscience major. She enjoys volunteering with elementary schools, and the local food banks. When she is not doing schoolwork, or  volunteering in her community, you can find her binge watching crime TV series or cooking. She aims to make this a comfortable and supportive environment for her peers.

Mizuki G. (she/her/hers) is an SFU student pursuing an Honours Degree in World Literature with a concentration on Japanese literature. She has experience taking courses in a wide range of departments, including archaeology, business, sociology, history, and Japanese language. Mizuki is also a volunteer for the Writing and Learning Peer program. She looks forward to creating a friendly, understanding environment in her meetings while assisting fellow students to improve their spoken English.

Noah S. is a returning student who is changing his major from 3rd year Science to Sociology. He was born in Singapore and arrived in Canada as an immigrant. Noah enjoys meeting new people and learning more about other people's cultures. In his spare time he can be found reading, gaming, or cycling. Riddhi S. is a third year Psychology major, pursuing a Certificate in Forensic Studies and minoring in Philosophy. She was born and raised in Mumbai, India. Her spare time consists of reading, hiking and kayaking. She is comfortable communicating in Hindi.

Samantha S. is a Linguistics student minoring in French. Samantha grew up in the Okanagan, a place she loves to be, where she enjoys wakeboarding and snowboarding. Sam values spending time with friends, dogs, and family. Sam is super thrilled to be a part of the EAL team and cannot wait to build connections with fellow students. Viet N. is fourth year Economics student with a minor in Education. Even though he is an Economics major, He aims to be an English teacher once he finishes university. He joined the EAL Peer Education team with hopes of meeting and sharing stories with others. Viet is an international student from Vietnam and is currently taking courses remotely from his home in Vietnam. He enjoys playing videogames, playing guitar, discussing philosophical questions, and occasionally, playing badminton. Weiwei L. is a fourth-year Communications student. She is interested in studying  social media platforms and working in the Journalism Industry. In her spare time, she enjoys watching Korean dramas, listening to popular music, and learning new languages. She is also comfortable speaking in Mandarin.

William H. is a fourth year biology student who's interested in pursuing a teaching career. He has participated in many volunteer teaching positions. From being a tutor to a summer English camp instructor in Asia , he is appreciative with the opportunity given to him, and he is excited to explore different methods of helping students learn effectively.  William is currently studying Japanese because his goal is to enter the JET program and teach English abroad in Japan. During his free time, William enjoys playing the piano and reading books about social interaction and interpersonal exploration.

Zoë L. is currently a second-year biology student with an interest in neuroscience and healthcare. She is currently studying Japanese in hopes of studying abroad in Japan and studied Mandarin in high school. She also has some familiarity with Cantonese and is slowly self-learning Korean. Outside of school, some of her interests include music, gaming, reading, martial arts, and spending time with her dog, Murphy.
SLC Writing and Learning Peers
Writing and Learning Peer Educators are student volunteers who help their fellow students in learning strategies -- such as study skills, note-taking, time management, and exam preparation -- and a variety of academic writing strategies. They are selected based on their transcripts, writing samples, faculty recommendations, and an interview process, and receive in-depth ongoing training on topics such as interpersonal communications, effective and ethical tutoring techniques, writing-in-the-disciplines, and language structure.
The SLC Writing and Learning Peer Program has earned an internationally recognized tutoring credential (Level 2 of the College Reading and Learning Association's International Tutor Program Certification).
If you might be interested in becoming a Writing and Learning Peer Educator, more information is available here.

April R. (pronouns: she/her/hers) is a Psychology major with a minor in Learning and Developmental Disabilities. She has completed various writing-intensive courses such as PSYC 201W, PSYC 300W, ENGL 115W, and ENGL 199W. April has also volunteered for the EAL peer educator program at SFU. She is passionate about education, communication, and equity and also strives to provide a friendly and open-minded atmosphere for her consultations.
NOTE: April cannot take consultations for HIST101, EDUC 315 and EDUC 422 as she is currently taking these courses.

Cassia M. is a Psychology major and Counselling and Human Development minor. She has also completed a certificate in Criminology. Cassia is passionate about teaching, helping others, and mental health. In the future, she intends to pursue graduate studies in Clinical Psychology with the hopes of building her career around enhancing the health and wellbeing of individuals with developmental disabilities and their families. Throughout her undergraduate studies, Cassia has taken various courses within the Faculty of Arts and Social Sciences and understands the challenges that university students can encounter during their degree. In her consultations, she hopes to create a space that allows students to feel comfortable with asking for help in order to ultimately help them reach their academic goals.
NOTE: Cassia cannot take consultations for PSYC 241, PSYC 308, PSYC 363, or EDUC 324 as she is currently taking those courses.

Emily L. (she/her) is a 3rd-year SFU student studying Health Sciences (Population-Quantitative Health) and Business (Entrepreneurship & Innovation). She speaks fluent French and Cantonese and can understand and speak some Spanish. Emily is a strong advocate for social equity and compassion who is dedicated to supporting her peers in improving their writing and learning skills. She is always happy to listen and learn from those around her.
Emily lives on and privileges from the stolen and unceded lands of the Tsleil-Waututh (səl̓ilw̓ətaʔɬ), Kwikwetlem (kʷikʷəƛ̓əm), Squamish (Sḵwx̱wú7mesh Úxwumixw) and Musqueam (xʷməθkʷəy̓əm) Nations and actively seeks to decolonize by listening, learning and challenging those around her to do the same.
NOTE: Emily cannot take consultations for HSCI 212, HSCI 324, HSCI 495, BUS 238, BUS 453, and BUS 494, as she is currently a teaching assistant or taking those courses.

Grace L. is a guest peer consultant who has just completed her undergraduate degree, with a joint-major in criminology and sociology and minor in dialogue. She has taken a diverse array of classes outside her main areas of study from world literature to archaeology to psychology.

Hanan A. is a graduate student at SFU's School for International Studies. She has recently completed her BA (Hons.) degree in Political Science and History. In addition to both disciplines, she has also taken various courses in Sociology & Anthropology (SA), Philosophy, Criminology, Business, and Health Sciences. Hanan wishes to make a positive contribution by helping others enrich their learning and writing strategies during all of her consultations.
NOTE: Hanan cannot take consultations for IS800, IS801 or IS808 as she is currently taking these courses.

Kaitlyn R. (she/her) is a fourth year Criminology major and Communications minor. She has also taken classes in Psychology, Philosophy, Sociology, and Humanities. When Kaitlyn is not in class or at the Student Learning Commons, she volunteers with the Criminology Student Association here at SFU and teaches dance classes at a local dance studio. Her interests also include anything law-related as she hopes to attend law school next year. This is Kaitlyn's second year as a Writing and Learning Peer Educator and she is excited to continue remotely!
NOTE: Kaitlyn cannot take consultations for CRIM 315, CRIM 330, CRIM 335, CRIM 338, or CRIM 414 as she is currently taking these courses.

Molly M. is currently completing a double major in World Literature and Resource and Environmental Management.  At SFU, she is lucky enough to be am a member of the WLLSU Union, as well as Editor-in-Chief of SFU's literary magazine, The Lyre.  On the side, Molly is passionate about researching food security issues throughout the world (a recent interview she did surrounding religion and food will be published in The Canadian Food Studies Journal) and hopes to pursue such a field in graduate school. This is Molly's second year as an Writing and Learning Peer, and is determined to make her slots at the SLC a safe place for students to navigate online learning, through asking questions and gaining clarification! 
NOTE: Molly cannot take consultations for REM 381 and WL 320 as she is currently taking those courses.

Russell C. is a graduate of SFU's Geography program, with a Minor in Health Sciences.  He is currently pursuing his Masters degree.
Last Modified: September 18, 2020