The Excellent Mistakes Toolkit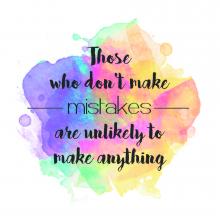 Introducing the Excellent Mistakes toolkit
Published by Julia Lane
Background
On Tuesday March 5th, I was fortunate to attend the event "Learning and Working in a Culture of Well-Being and Support." The event began with a panel discussion featuring professors and students (both graduate and undergraduate), who highlighted the ways that they are supporting well-being at SFU, in the classroom and beyond. 
One student shared a story of a TA who opened the first tutorial with the words "it's okay to feel nervous and overwhelmed" and went on to talk about where to get food on campus and comfortable places to study. Another student - one of the SLC's fantastic Graduate Writing Facilitators! - spoke about her experiences as a TM working to create community for students who never see each other face-to-face. A Gerontology professor shared the ways that she works to engage her students as whole people in the classroom, even in large lecture halls. And a lecturer from the Biological Sciences gave insight into two projects he has taken on during his study leave: the first focuses on making videos of members of the SFU community sharing about their experiences of challenges and "failure;" the second seeks to create a database of activities that instructors can do in the five minutes before lecture begins to support students' well-being. 
It was a fantastic and inspiring day. And I was there to talk about our "Excellent Mistake" six word story initiative. 
The Excellent Mistakes Toolkit
A growing body of research has identified that students, especially high achieving students, are struggling to bounce back from experiences of failure. This includes the kinds of "everyday failures" that might one normally expect to accompany the pursuit of post-secondary education, such as not making it into a student club or failing a low-stakes quiz or assignment. Some students even experience average grades (Bs and Cs) as indicating a failure on their part. 
Many in our community are keenly aware that SFU is a "tough school" with exceptionally high academic standards. But many of us are unaware that efforts to highlight and celebrate outstanding student successes can have a dark side: students can experience these images of success as an indication of what every student should be capable of accomplishing and find their own efforts and results lacking in comparison.
While our high academic standards and recognition of the accomplishments of our outstanding students are both worthy of commendation, the resilience research suggests that SFU students would also be well served by efforts taken to make more visible the struggles, challenges, and failures that accompany university-level study.
Enter: The "Excellent Mistakes" Toolkit. In brief, this toolkit will support you to encourage students (and others within the SFU community as well!) to reflect on their experiences of challenge, their struggles, their mistakes, and, yes, even their failures. Taking its inspiration from the Stanford Resilience Project Six Word Story collages, the "Excellent Mistakes" toolkit consists of trading cards that ask participants to "tell us about a mistake that you made and/or what you learned from it" in six words.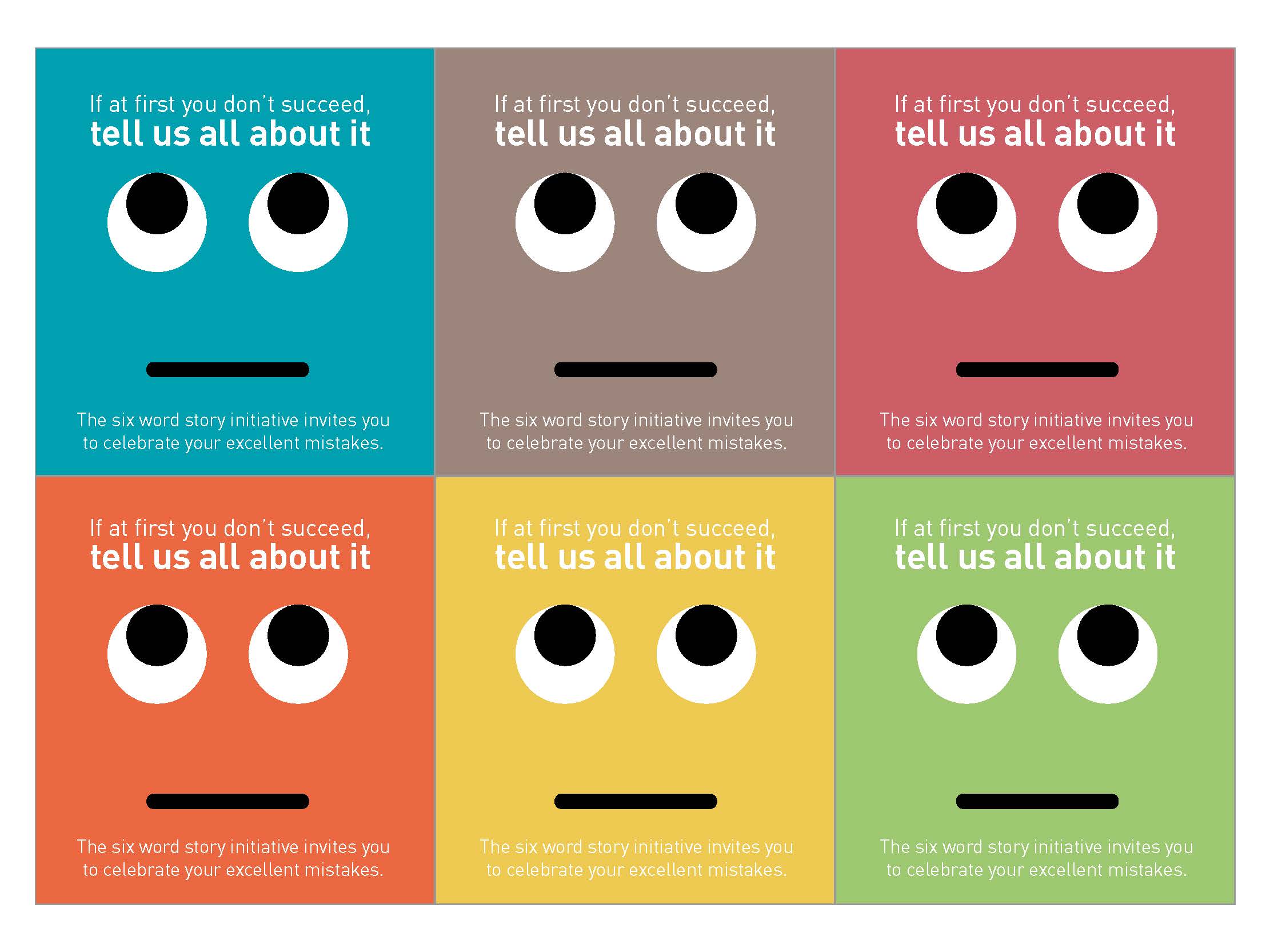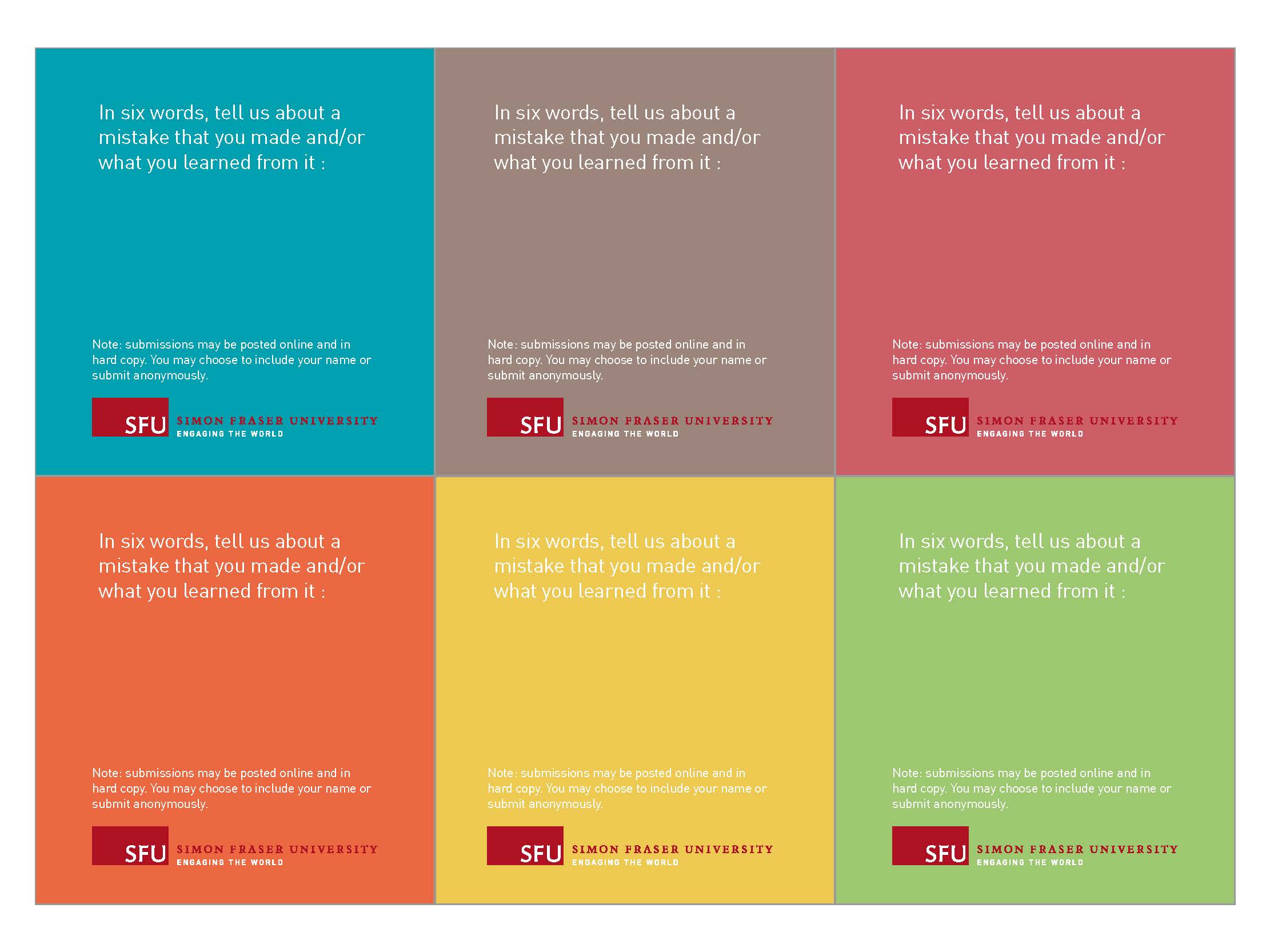 Excellent Mistakes story cards (text version)
How to use the Excellent Mistakes cards
At the most basic level, you can simply distribute the cards to participants and ask them to fill them in (anonymously is fine!). If you like, you can provide a place where cards can be collected (a drop box) or displayed (on a wall or poster board).
We would love it if you also shared your cards with us! If you plan to share your cards with us, please make sure that participants know that their submissions may be added to a display, or posted here on our SLC blog. 
Other ideas for using the cards:
Consider asking participants to write two six word stories: one that encapsulates their mistake and one that reflects on what they've learned through the experience.

You can even have participants write their six word stories and then distribute them (anonymously is probably best) around the room and ask others to think about what might have been or could be learned through this experience. The Liberating Structures activity "Troika Consulting" could be an interesting approach to use here.

 Initiatives like the "Stanford, I Screwed Up!" event and the Post Secret Online Community Art project demonstrate the powerful catharsis that can come from sharing (and hearing) others' stories of struggle. You may  find it powerful to have speakers read their six word stories aloud, or to submit them and have them read aloud (anonymously) by one another or by the session facilitator.

Create a "pop up" display by posting a few "Excellent Mistake" cards that have been filled in in advance and providing some blank cards and tape so that others can contribute their own stories anonymously.
Note: the story cards can be downloaded and printed or you can request that we mail you a set of cards through intercampus mail. Please direct requests, questions, and your six word stories to Julia Lane at jhlane@sfu.ca. You can also contact me if you have questions about how to use the toolkit or would like to bring in an external facilitator. 
We will post more six word stories in future In Common blog entries. 
Additional Resources 
To learn more about the resources available to support your mental health and well-being at SFU, please visit: https://www.sfu.ca/students/health/
Bouncing Back Resilience and Well-being Course