Overview
Launched in 2016, the SFU-UVic Digital Pedagogy Network was established to build the existing interdisciplinary and interinstitutional connections between Simon Fraser University and University of Victoria. Our multi-lab, cross-institutional regional network emphasises the exchange and mobilisation of knowledge and training between faculty, students, librarians, educational partners, and the general public in the field of digital research and learning. Funding provided by a SSHRC Connections grant will be used to host a year-long series of events in 2016-2017 that will enable us to share new methods, training opportunities, and research on digital pedagogy.
Events
Indigenous Wikipedia Edit-a-thon (with a focus on Film and Media)
23 November 2016 | 6:00PM -- 9:00PM | Surrey, Galleria 5, RM 5080
Professor Deanna Reder (SFU English and First Nations), a leading scholar of Indigenous literature and culture, led SFU's first Indigenous Wikipedia Edit-a-thon (co-sponsored by the SFU-UVic Digital Pedagogy Network). Participants use their knowledge of indigenous film and digital media — including podcasts, online installations and video games — to enhance Wikipedia's coverage of Indigenous media arts, and to question how larger structures of authority are mobilized in digital knowledge aggregates. With support from technical experts in Wikipedia editing Sara Humphreys (St. Jerome University), Heather De Forest (SFU Research Commons Librarian), and Rebecca Dowson (SFU Digital Scholarship Librarian), this workshop provides hands-on guidance for everyone to edit and add to the world's largest encyclopedia. See the results on the event's Wikipedia page.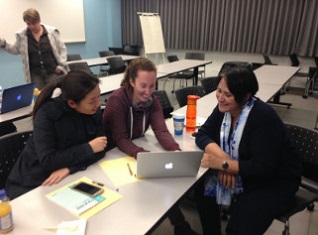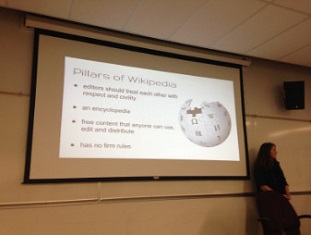 Student Digital Showcase 2017 (SFU)
26 January 2017 | 9:15AM -- 3:15AM | RM 1410, Joseph and Rosalie Segal Centre
Students of SFU and UVic, in disciplines ranging from English and Publishing to History and Interactive Arts, are continually using digital methods to do new creative and critical work. This event sees those students come together to showcase that work. Featuring a variety of digital projects (maps, collections, tools, and more), the Student Digital Showcase is a full-day event to present the collected critically-driven digital work of our students, both graduates and undergraduates. In sharing these projects, we foster a relationship of collaborative mentoring and training between our two campuses, and highlight the methods, tools, and skills being used to expand the boundaries of traditional humanities academic inquiry and communication. Learn more: showcase programme; blog post on the event.
Digital Pedagogy Symposium (UVic)
4-5 May 2017 | University of Victoria
In Victoria at UVic Library's new Digital Scholarship Commons, the SFU-UVic Digital Pedagogy Network met again over two days to consolidate the exchange of knowledge and skills that began with the Indigenous Wikipedia Editathon and the Student Digital Showcase in January in Vancouver. The day featured panels on open and networked digital pedagogy practices, group breakouts, and workshops by faculty, students, librarians, and community partners such as BCcampus. Learn more: symposium programme;  blog post on the event.
DH Fieldwork Methods (DHSI 2018 short course)
Fieldwork has been central to pedagogy in many scholarly disciplines. Archaeological digs, geographical surveys, and ethnographic interviews readily come to mind, but the proliferation of international general education and study abroad programs has also introduced new opportunities for humanities-based fieldwork. As a pedagogical practice, fieldwork involve learning by doing through an immersive encounter with research in action. It might encompass learning by travelling and dwelling in a spatially-demarcated field, or bringing cultural artifacts here through digitization. We think that digital culture, and the new methods and tools it is introducing, are transforming the practice of fieldwork, for scholars and students alike. This workshop will introduce participants to digital methods in humanities fieldwork, drawing on case studies and focusing on Omeka and WordPress content management systems. Participants will leave with an introduction to digital fieldwork methods, inspiration for implementing them in research and teaching, and critical insights about fieldwork as a practice in digital environments.
Student Digital Showcase 2018 (SFU)
6 November 2018 | Simon Fraser University, Harbour Centre Campus
Graduate and undergraduate Digital Humanities students from Simon Fraser University, University of Victoria, University of Toronto, and McGill University gathered at SFU's Vancouver campus for the second Student Digital Showcase, an opportunity for new and previous attendees to exhibit their Digital Humanities projects, methodologies, research questions, and practices. The full-day cross-disciplinary event hosted by the SFU-UVic Digital Pedagogy Network featured presentations on digital exhibits, digital editions, mapping and networks, teaching, and more. Coming together as a community for the second Showcase allowed students to engage with developing projects, new research paths, and continuing critical conversations about issues like decolonial DH, accessibility, and recovered histories. Learn more: showcase programme.
Outreach with international partners on DH international training
Summer | France & UK
With existing international partnerships between Université of Francois Rabelais and Université Grenoble Alpes (both in France) and the British Wordsworth Trust/Dove Cottage in Grasmere, we will explore how we can extend our regional digital pedagogy network into an initiative for international digital humanities and pedagogy training.
Outcomes
The larger goal of the SFU-UVic Digital Pedagogy Network is to mobilize knowledge in two key areas of digital humanities research: digital pedagogy and open pedagogy. We anticipate publishing our year's work, and are looking forward to developing our connections regionally and internationally for 2017-2018.
With thanks to sponsoring institutions:
UVic Electronic Textual Cultures Lab | UVic Library | SFU Library and Research Commons | SFU Digital Humanities Innovation Lab | SFU Department of English | SFU Department of English Print Culture Program | SFU Faculty of Arts and Social Sciences | Social Sciences and Humanities Research Council of Canada