5 Steps to Help You Recover from Midterm Season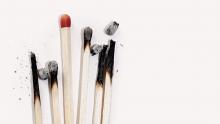 Follow these 5 steps to help you recover from midterms and avoid burning out before the end of the semester.
Published by Julia Lane
Step 1: Give yourself credit
You did it! You survived the dreaded midterm season.
Midterm season is a period in the semester that NOBODY looks forward to. You don't get enough sleep, hardly eat, and you're filled with anxiety. The fact that you were able to push through is enough to warrant celebration. Give yourself credit for all the hard work you've done these past few weeks.
Step 2: Try not to worry about midterm scores.
I know that this is something that is very hard to avoid. I had a midterm the other day, and 24 hours after writing it, I was still thinking about my answers. I find myself trying to calculate my possible score or even figure out what the curve for the class will be. The truth is, what's done is done. If you feel like you didn't do so great, there is no use thinking about the past. Redirect your energy into your future exams.
If you are concerned about your performance, you can find some excellent SLC resources to help you prepare more effectively for your next exams through the following links:
Exam Prep through Reading and Lectures
Step 3: Sleep
I know you are running on 5 seconds of sleep. Your eyes are heavy and droopy as you're reading this. Guess what? Now is the time to catch up on sleep. After midterms, there is a brief period before final exams come knocking on the door. There is no better time than now to fix your sleep schedule. I understand that you might feel guilty because you could be using your time for something else, but without adequate sleep your body won't function well anyway. So, go for it!
You can find more information about sleep as a study strategy.
Step 4: Catch up on your assignments
I'm sure there are a couple of assignments you neglected because you wanted to focus on just studying for your midterms. I understand that, because I do it too. Now is the time to catch up on them. Assignments form a crucial portion of your overall score (even though the % weight might not be as significant as midterms or exams). They deserve a little of your love as well.
To help you avoid putting those assignments off any further, here is where you can find some resources on procrastination.
Step 5: Have fun!
This is the most important step to me. As students, we are often too hard on ourselves. Take a couple of hours out of your day to do something fun. Whatever fun might be to you. My definition of fun is lying down on my bed in comfy clothes, with my heater on, a bag of chips in my hand, and a movie playing. Something fun to you might be going clubbing, going on a shopping spree, or having dinner with friends or family members you didn't see enough of during midterms. My point is, it doesn't matter. Reward yourself for all your hard work, no matter how little the reward is. You've earned it!
You can proactively structure your next few weeks to make time for sleep, your studies, and yourself. The SLC has resources on time management that can help!
--  Ayomide G.