A trauma-informed approach to difficult course material: Part 1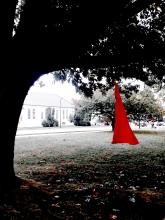 Red dress displays like the one photographed here have become powerful symbols of the genocide of missing and murdered Indigenous women and girls across Canada
Published by Julia Lane
How do we take care of ourselves when we are introduced to difficult material in class? This is something I think about when I attend my Criminology, History, Humanities, or First Nations Studies courses. Thus, for this post, I would like to reflect on my History 436 class, British Columbia. This course, taught by Professor Elise Chenier, undertakes a close reading of Reclaiming Power and Place: The Final Report of the National Inquiry into Missing and Murdered Indigenous Women and Girls. Reading this report is hard, emotional work and demands that we pay kind attention to ourselves and to our peers.
Being intrigued by the material we were learning and the structure of this class, I wanted to know more about Professor Chenier's perspective and what she hopes for her students. Below is the transcript of an interview I conducted with Professor Chenier:
What made you want to create a course that solely looked at the report? 
In the summer of 2019 I invited Viola Thomas (Tk'emlúps te Secwépemc), a Two Spirit woman from the interior, to participate in a monthly oral history event I hold called Lesbian Lives Live. When I approached her about this, the first question she asked was, "how is Lesbian Lives Live going to change the world?" Thomas has been a political leader for decades, and wants to focus her time and energy on things that are really going to create change. Rather than agree to be interviewed, she said, "if you want to know what I think, read my testimony" to the national inquiry on murdered and missing indigenous girls, women, and Two Spirit people.
After that phone call, Chenier thought yeah, you know, I gotta take this seriously so I finally downloaded the inquiry's final report. It was 700-pages long. Immediately she got the idea to build a seminar course around it. But would anyone want to take it?
I was teaching at a fourth-year oral history class at the time and I thought my students would think a course dedicated to this report would be too bleak. To her surprise, they were excited about the idea and suggested that other students would be intrigued by it as well. 
Did you have any reservations about teaching this course?
Yes, at first, I had to ask myself, "Am I up to this?" Another really big one was "Will students be traumatized by this material?" and if students are traumatized and you don't have the tools or the resources to help them through that, then you are not creating a good environment. It could potentially be a damaging environment. So that was my main preoccupation in setting up the course and my main hurdle I had to overcome.
What do you want your students to take away from this course?
There are many First Nations Studies Majors in this class, but only two Indigenous students, so we are mostly settlers. For Indigenous students, I would hope that the course could, first of all, provide an opportunity to spend time thinking seriously about issues that touch them in ways that are not generally paid attention to in the academy. So, having an opportunity where their life experience is the center. The white western European experience is used to being the center and it's considered the norm and it's what we study. We study Shakespeare, we study Canadian history, which is about white settlers. We think that is normal and everything else is specialized and narrow. So, [hopefully] Indigenous students will have a moment of being at the center and given some tools that might possibly help them process these parts of their experiences.
My personal hope would be that this would provide an opportunity for healing, but I don't send that off as a pedagogical goal because it's not measurable, but rather, a benefit of education. As feminist history and feminist theory has been for me; it's been a tool to help heal. For white students my main goals is not just know the breadth and depth of the problem intellectually, but to know it in their bodies. In my opinion, when you know it in your body, then it changes you, but to know it intellectually, you can still hold that at a distance and you don't necessarily see why you should change anything about the way you do anything. And what does that mean to know something in your body something that's not your own experience? So, my argument is, what's happening in the world around us, it is our experience. We might not be tuned into it, we may not connect with it, but it's our experience and it's happening all around us. So, we're stopping and tuning into that which we know is out there. Of course, people who choose to take the course, they are selecting into it. They are not just randomly falling in into the seats of the room, then choosing to know it because they want to know it. So, my hope is not to just know about the problem but to be transformed through knowing deeply, in an embodied way, and hopefully then to carry that forward in our life. It's not just in terms of understanding the missing and murdered Indigenous women. My hope would be that out of this class, you would understand that it is really important to listen and not formulate an opinion. Also, healing. I think that settlers are wounded by history. We need to heal too, because if we want to be in good relation, we can't be broken. We need to heal ourselves so we can go out and do good work.
As we approach the middle of this semester, what have you, as a professor, taken away from teaching this course?
So much. This course is so much more than I imagined it would be. I don't really know what I imagined. It's kind of like you set a table right and you don't know what the dinner conversation will be like. I feel like everyone is really present in class and the energy feels really good to me, so that says to me that people are in a really good mindset for taking in, in a non-judgement and non-reactive way, and just being with it. I think people are learning how to be comfortable with the discomfort. I may be projecting that but it's a hard, dark subject, and when I walk into the room, people are chattering away happily, laughing, and talking -- full energy. If people were feeling overwhelmed by the sadness of it, that wouldn't be the mood in the room. I think people would be somber, they would be more quiet, maybe bit more withdrawn, not really sure how to talk, but that's not the case at all. For me, a lot of teaching is feeling. You can walk in and you can tell when a lecture isn't landing with students. You just pick it up. A lot of the time our guest speakers come, and the room is silent. Usually you can hear students, a little fidgeting, or the noise of movement and stuff, but when we have speakers, you could hear a pin drop because nobody's moving. Their attention is so focused, and to me that's a really beautiful thing. You're present, you're there, you're honouring that person, you're being respectful and, for most of us, these encounters change us. What's really unexpected is how healing our guests have found participating. I did not expect that at all, but some of them have been so excited by we are doing. So, that makes me know, "OK, what we are doing is good and we are doing the right thing."
In our second week of class, we met with Jen Lee and Jen D to participate in work about taking care of ourselves when we are introduced to heavy subjects. In other words, using a trauma-informed approach. What is a trauma-informed approach and what are some things students can do to release tension?
I do not know a lot about a trauma-informed approach. I have never studied [the trauma-informed approach], but the person who put me on to them was a counsellor from the Indigenous Student Centre, who I sought advice from about the kind of supports that exist and how to set this course up in a good way. Initially, as the teacher, I felt it was my responsibility to take care of everyone and as I was trying to figure out how to do that. Then I realized it wasn't practical or possible. My next idea was to have an Elder with us in class all the time, because Elders have a way of holding space and just kind of making you feel grounded. But that just, economically, was not viable. Then I realized that what I needed to do was teach students how to take care of themselves. Of course, as a community, we have to look out for each other too and I think that's what all of this is all about. Learning about missing Indigenous women is about taking care, being careful about the world around us. That's what an arts education and humanities education is all about – being good citizens. The "engaged university" we at SFU are, it means also to engage with each other, be present with each other.
I learned some practices around that as I studied Buddhism, which, much to my surprise, is complimentary with a lot of Indigenous ways of healing. So, we begin class with meditation practice, which helps bring us together as a group. This calms us down but also teaches students to calm themselves down, and that breath can be a very effective way of dealing with anxiety. I make myself available in the traditional way of office hours, chatting with people after class, and so on. I keep my eye on people but lots of people are good at hiding what's going on inside them. It's not a perfect system but the best thing is to help students be responsible for themselves, and so journaling is another way to process our thoughts and feelings post-class. And then having Jennifer-Lee Koble and Jennifer Dehoney come to the class to give us a bit of training to do that work ourselves. We end class with a practice they taught us, which is to pick up what we want to take with us from that day, but also to leave behind that which we don't need.
When discussing difficult material, it is common to show our vulnerable side to one another. We often think that professors, and not students, are immune to vulnerability. Thus, when speaking to the class about allowing yourself to be vulnerable, what did you mean when you said: "Professors are supposed to appear professorial?" Are you, as a professor, comfortable with the idea of being vulnerable to your students?
Yes, I am, totally. It's interesting, there are a lot of things I say in class, and the end of one of them, a student came up to me later and said how much they appreciated me being vulnerable in revealing that. And it's funny because that doesn't make me feel vulnerable. There are some things I would I say that some people may think is vulnerable but it's not to me. Like having courage. A friend of mine, she texted me the other day about this course saying, "you're so brave to do this." I just think brave and courageous is when you do things you are afraid to do. I am not afraid to do it, so it doesn't feel brave to me. I mean, I guess it is in the big scheme of things, because you are taking risks. But I have been out as a queer person since I was in my early twenties, and you risk, maybe not so much today, and being a feminist, you still get a hostile reaction from people. So, I'm not afraid of it, I anticipate those kind of things. In this class, at the very beginning, I talked about the reservations I had about doing a course like this and how would it be for students, and how it would be for me. Sharing with other people the fact I am a person that has feelings, and sometimes those feelings are bigger than my intellect. Sometimes I'm going to be upset by what we are reading and talking about, and that was important for me because I think carefully about most things I say in class. For me, that was a way of making my students conscious that, you know, I am not a robot. I'm a person with feelings and some days, I am going to be off my game as a teacher. To also have compassion for me and understanding for me too as a teacher, and that we're in this together, sharing this together. That's not something I would normally do in class, because there's no call for it. I'm not present with everybody in the way that I am being present with everybody in this class, so it's specific to what I am trying to create with this particular class, which is unlike any other class I have ever taught.
- Interview by Ashley K. and Dr. Elise Chenier 
If you are in need of support, please reach out. A particularly good resource for accessing immediate support is My SSP. 
Image credit: 
Art installation inspired by Métis artist Jaime Black. At Seaforth Peace Park, Vancouver, today, the National Day for Vigils for Missing and Murdered Indigenous Women. Accessed through Edna Winti's Flickr.