Come OUT! and Write with us…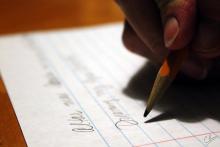 Sharpen your pencils and your writing skills with write OUT -- a joint SLC/OOC writing initiative.
Published by Julia Lane
Only a few months ago, we could wander into a physical space to a group of people quietly crafting paragraphs and lines of verse, or sharing their writing with others. One of those spaces was inside Out on Campus. For two hours every Monday, the Student Learning Commons joined Out on Campus during WriteOUT! to co-create a collaborative writing environment.
While gathering in that physical space on campus is not possible at the moment, there's a large virtual OOC space on Discord that welcomes those who'd like to wander in. Like many virtual spaces, the Out on Campus Discord is a place of many rooms where people come to participate in a variety of activities: chatting, gaming, watching movies, and sharing jokes, memes, and photos of their very important housemates (dogs and cats), and, of course, writing.
In the virtual WriteOUT! sessions -- still on Mondays from 11:00-1:00 -- people gather to get their ideas started, practice different genres of writing, and share strategies for writing, from outlining our projects to muting our inner critics. Each session begins with a short writing activity to get our creativity flowing, and continues with time to write quietly together. In the second half of the session, people are encouraged to share anything their working on that they'd like help or feedback on.
This is also the perfect environment to just come and write. Think of what you might accomplish if you sat down to write for a couple of hours every Monday!
Consider joining us on Discord next Monday. Summer WriteOUT! sessions will include tips and tricks for:
Time Management (June 8th)
Writing Logically and Cohesively (June 15th)
Offering and Receiving Feedback (June 22nd)
Writing for Different Audiences (June 29th)
Making your Writing Interesting (July 6th)
Writing in English as an Additional Language (July 13th)
Respecting Writing in Different Disciplines (July 20th)
Descriptive and Creative Writing (July 26th)
Looking forward to seeing you there! 
- Kate E., SLC Graduate Writing Facilitator
Image credit: 
Caleb Roenigk, "Writing? Yeah." on Flickr