5 popular time management strategies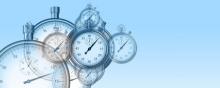 Now is the time to brush up on your time management strategies
Published by Julia Lane
Welcome to a brand new fall semester. We hope you are feeling full of "back to school" energy!! You can make the most of that energy by thinking now about how you are going to get through the inevitable crunch time. 
Here are 5 time management strategies students tell us they find helpful:
This calendar provides a visual for the four months of the semester and keeps you focused on the 'big picture.' First, pull out your syllabus for each class and take a look at all of the due dates and exam dates. Then, transfer all of the dates onto the four-month calendar. Include any special events like holidays or personal commitments that will impact your study time. With all the dates in one calendar, you'll be able to see your busy times, those hectic weeks when you will have multiple priorities. Having this knowledge upfront can help you prepare in advance and feel more in control of your time and your commitments.
Now that you see the big picture, break your work down week by week. Start each week by reflecting on the things you need to accomplish and plot them in your weekly calendar. Review your weekly calendar every day and make revisions as needed.
Put a large piece of paper on your wall with three columns: To Do, Doing, and Done. Write your projects on sticky notes. Put the sticky notes in the To Do column. As you start working on each task, move the note to the Doing column, and then to the Done column once complete. This creates a strong visual reminder of your tasks and that you are indeed making progress.
4. Set a routine and stick to it as much as possible
Creating habits and setting routines can help you get to your priorities and avoid procrastination. For example, if you have class every Tuesday from 2:30-4:20pm, book the next two hours for lecture review and readings. Protect this time in your schedule as a fixed task every week.
5. Disconnect.
We all know how much our phones and people can distract us from a task at hand and eat up precious time. When you need to study, isolate yourself from distractions. Turn off your notifications. Better yet, put your phone away. Put up a "do not disturb" sign or close your door. Hide away in study space in the library where no one can interrupt you.
Summary -- and for more support
Spending some time early in the semester thinking about your priorities and setting the tools in place to manage your time effectively will help you stay in charge of your life and put you on the path for success.
If you have questions about this, or would like some support getting organized for the semester, come see our Writing and Learning Peers in the SLC.
Happy planning!   
- Dal Sohal, MA, SLC Learning Services Coordinator