Exams are over! More learning?!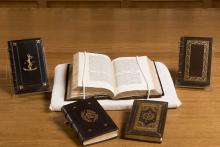 Summer exams are over, but the learning never stops!
Published by Julia Lane
I'm definitely not going to stop you from enjoying these 2 weeks between semesters. You deserve it and in fact need some rest and relaxation, and I hope you can get some! I did, however, just want to point out that there still is an opportunity to learn from this term's courses, even now that they are over. (Neat, huh?)
What did you do this term that worked for you?
Did you:
Make a semester-at-a-glance calendar at the beginning of term to manage your deadlines?
Ask for time off from work based on that calendar?
Go to office hours as soon as you had any questions? 
Form a study group with classmates to share ideas and be more accountable for completing your readings? 
Make a list of your actions that helped you succeed in this term's courses -- you can even make it while you are sitting on a beach in the sun!
Put it somewhere that you can access easily the next time you take courses. That way, you can start taking those same positive actions right from the beginning of next term.
What didn't work so well for you this term? 
Did you: 
Make a note of these actions too, as well as any ideas you have for improvement.
Even more ways to learn...
There are 2 bodies of knowledge required to succeed on exams:
Knowledge of the course content. (That ship has sailed for summer term courses.)
Knowledge of effective processes for preparing for and writing exams.
The second body of knowledge requires you to gain insight into the process errors that you tend to make on your exams. Students tend to repeat the same process errors from term-to-term and course-to-course, so you can learn from what just happened on your summer exams to help you with your future courses. 
Examples of process errors include: 
Making avoidable errors, such as not noticing important instructions or negative signs on math exams;
Not understanding which course concepts will be important for the exam. 
To gain insight into the process errors you typically make, it is well worth making an appointment with your professor or TA to go through your exam. You can take along this worksheet to help track your process errors. Once you have identified ways the errors you made, you can find strategies to address them in SLC resources, workshops, and/or consultations.
If you would like in-person help to maximize your learning from the summer term, the Burnaby SLC has limited consultation hours available until August 28, and re-opens on September 9.
-- Ruth Silverman, SLC Learning Services Coordinator 
Image Credit: 
SFU Library -- Special Collections and Rare Books Collection Highlights, on Flickr