The SLC Multilingual Students' Story Hub: A place to share your stories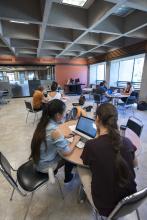 The SLC Multilingual Story Hub is a place to share your language learning stories
Published by Julia Lane
Metro Vancouver has a rich linguistic and cultural landscape, with 1.1 million of the region's population of 2.44 million (45%) speaking a mother tongue other than English or French (Statistics Canada, 2016, Census of Population). Impacted by the shifting demographics of Metro Vancouver, SFU is experiencing significant growth in its multilingual student population, with approximately 40% of students speaking English as an Additional Language (EAL).  EAL students at SFU include international students, immigrants, and "domestic EAL" students, including those who were born and raised in Canada (2nd generation) and those who immigrated to Canada when they were between the ages of 5-14. This latter group is referred to as first generation by Statistics Canada and often as "Generation 1.5" in academic publications.
The Student Learning Commons at SFU wants to provide a forum for multilingual students to share their stories about events or critical incidents that occurred while learning or using English. Whether you are an international student, immigrant, or "domestic EAL" student, we want to hear from you because your stories of language learning provide insight into the multilingual community that is SFU and, more broadly, Metro Vancouver.
To submit a story, please send it as an attachment (in Word format) to the email address slc-incommon-blog@sfu.ca. Please use the subject line "Story Hub." We will review all stories submitted to us and accepted submissions will be uploaded to the Multilingual Students' Story Hub for others to read. Submissions to the Story Hub may also be compiled in an Open Journal, details to be announced. If you have any questions about how to submit your story, email us and use the subject line "Story Hub Question." We will respond to you as soon as possible.  
If you are hesitant to identify yourself as the author of your story, you are welcome to submit anonymously or request that your submission be posted anonymously. If you want to work on language and style issues in your story before submitting, please book a consultation at the SLC.
We look forward to reading and sharing your stories!
Acknowledgment: The Multilingual Students' Story Hub is based on the model used at the ESL Open Learning Centre at York University in Toronto, Ontario, created by Brenda McComb. We would like to thank ESL OLC Director Geoff Lawrence for giving us permission to use this idea.
- Timothy Mossman