Filling the gap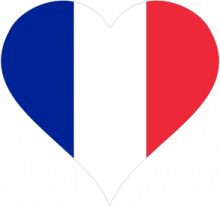 What elements do we choose when we define ourselves? What are the pieces of our lives that shape our identities?
Published by Julia Lane
by Jean-François Bruxelle, PhD
Who I am?
The way I define myself is pretty simple: I am Jean-Francois Bruxelle, a French postdoc.  In other words, I consider that my name, my nationality, and my work are the fundamentals of my identity. I could also say that, I am, to date, a 26-year-old man that has just moved to New Westminster, BC, Canada, and who works at SFU.  Or again, that I am the son of Mr. Bruxelle and Mrs. Bruxelle.  But no, in my opinion, my age, location, family or any other specificities of my life don't define my identity, but simply characterize my life.  
I was immersed in French culture all my life.  I was born in Lyon, the capital of French gastronomy; I grew up in Dijon at the heart of Burgundy in one of the most famous wine regions of the world, and I studied in the suburbs of the economic, political, and cultural capital of France, Paris.  All my family is French; my parents are French and my grandparents as well.  I would even say that the French culture is as much implemented in my identity as my love for it.
Critical incident
I realized how my roots, my culture, and my love for France defined me a few years ago. It started when I did my Erasmus[1] experience in Oslo, Norway.  There, I experienced the "culture-gap" many times; this was a shock, although it allowed me to become more aware of the importance of my identity and the expression of it in my social behavior.  My first time I noticed this was during one of the first social events for international students.  I visited Oslo with a group of French and Japanese students.  At the end of our tour, when it was time to say goodbye, following French custom I naturally kissed the French girls on the cheeks, and when I took aim at the Japanese girls, they awkwardly stepped backwards.  Afraid, offended or maybe only surprised, the Japanese girls were very embarrassed by my move—but I was only being polite and friendly.  At the time, I immediately realized how reckless I was and humbly apologized.  Of course, I explained this gesture, and realized that kissing on the cheeks is a quintessential French habit and it is definitely not internationally accepted.  I decided that from that time on, I wouldn't make the same faux pas anymore.  Who knew how such a naive gesture in France could be that awkward for others?
Commentary
Experiencing culture-gaps clearly can shape the way people think about the world.  Douglas Brown (1986), for example, demonstrates that "culture shock", as he names it, is a common experience that can be a positive social experience and may have a considerable emotional impact.  Indeed, culture shock may be considered as a stage of adaptation to a new culture, or acculturation.  This stage involves self-awareness of cultural differences and may lead to a meaningful cross-cultural experience that can shape one's identity.  Bateson (1972) defines this phenomenon as an experience that "takes place when the individual encounters a different culture and as a result (a) examines the degree to which he is influenced by his own culture, and (b) understands the culturally derived values, attitudes and outlooks of other people" (p. 211).
I learned that a culture gap may not necessarily oppose people, but instead may help individuals identify the singularity of each other culture and then, by sharing, facilitate connections. The 'gap' is there, but waits to be filled.  
Sharing our culture and explaining our identity is a way to fill this gap and connect with people.  One could say that in our multicultural society: our identity is multiple, dynamic, and variable according to the context (Kumaravidelu 2008; Weedon 2004), but in my opinion, life is easier; our identity is unique and based on a simple personal representation of ourselves.  This self-identification should not be negotiated and variable, but should be shared to explain eventual differences, clarify misunderstanding, and remove any potential cultural stereotypes that create culture-gaps.  Why would we have to change when we can just explain who we are?  In Oslo I was still myself; I was still Jean-Francois Bruxelle, the young French scientist.  My first failure to approach these Japanese girls was remedied by my explanation; we all laughed afterwards and we remained friends for a while.
Given the intimate interplay between culture and language, language is an essential factor in culture-gap. Good communication is essential to fill the culture-gap and connect with people. I believe that when mutual effort in communication is missing, networking and integration is often more difficult. In France for instance, French is the national language, and the French are in general very bad at English; they expect you to speak French, and most of the time English is often an awkward consensus as good as sign language.  Thus, it is not surprising that France has a bad reputation for welcoming foreigners.  In North America and in most English-speaking countries, it is normal for people to expect you to speak English since English is dominant and the international language. In this kind of situation, the culture gap could easily deepen; it could become a culture-language gap that might be more difficult to fill given possible communication expectations.  The foreigner may be identified as such, and the connection becomes therefore biased. In this scenario, there is on one side, the "native" speaker, and on the other the foreigner, who is more likely to be the only one making an extra effort to communicate (Lippi-Green, 1997). Personally, once I moved to Canada, I felt this kind of polarity in my relationships with other local English speakers.  Although people often told me that I speak good English with "a lovely French accent", I can't help comparing my English to others as well as feel that I have bad or incomprehensible English.  I am annoyed when people don't understand me, and am even willing to try and lose my French accent and adopt an American accent.
On the contrary, when two persons with different languages and cultures make a mutual effort to communicate, there is a good chance to establish a very strong connection. This was my case during my Erasmus experience; it was the first time in my life that I lived in a foreign country and to speak another language, and it was during this time that I met my closest friends. Norwegian is the national language of Norway, and yet most Norwegian can speak very good English.  The Norwegians and others that I met in Norway did not expect me to speak Norwegian, and since English is the international language, it was the consensus for communication.  In this international context, we all had an accent and different levels of English, but I did not feel any different and I did not care when people did not understand me.  Therefore, although I am a non-native English speaker, my integration was very easy and comfortable.  This was most likely because by communicating in English, I made the same effort as most of my interlocutors.
In front of a culture-gap, sharing both culture and language may allow people to establish stronger relationship, which may put in perspective individual identity in relation to other. Our identity can be understood as unique and based on a simple personal representation of ourselves, but this representation may be dependent of our social environment. In other words, our identity may also be defined by others.  This was my case with an American girl that I met in Oslo, named B. One year after my Erasmus experience, B. visited France, and I offered her my help as a guide.  Not only did she want to visit France as a simple tourist, but she had a willingness to literally discover France, to learn French culture, and to live French.  We did a three-week long road trip in the South East of France, and I was her guide during this intense French journey.  Gastronomy, history, music, cinema, architecture, French idioms, way of life—I shared with her so much of my culture that I ended sharing myself and my love for her.  She learned French with me, and she corrected my English. In addition to sharing my culture with her, we also had this mutual exchange of language; we both wanted to learn from each other.  
This mutuality undoubtedly contributed to establishing a strong relationship between us.  B. made me realize how French I was, and how much I loved my culture. She once said: "You are the most French person I ever met". She then explained to me what the archetypical French for her was, and how I was a perfect match. According to her, I am perfect French because: I have the tendency to conceptualize most of things; I put a lot of importance on meals and food in general; I am patriotic, and finally I am romantic with some degree of sophistication. Even if I agree with most of how she defined me, I have more difficulty to picture myself as sophisticated.  It is interesting to realize that I am French not only because I was born in France and grew up in France, but also because I express my French culture and that my attitude corresponds to an external definition of "being French". Of note, I appreciate this adequacy between others and my representation of myself; it is always pleasant to have the confirmation that you are not a fraud.  In addition, by sharing my life with B. for only 3 weeks, she was able to help me identify my strengths, my weaknesses, my very self. I am Jean-Francois, a French scientist who has an interesting tendency to face difficult life challenges, such as my current challenge: doing a post-doc on vaccine development against HIV in Canada.
I believe that a culture-gap can be very stressful; the reaction to this experience is likely dependent of the person and the context. In Norway, I was ecstatic before the newness of my surroundings and life; I did not feel any extra stress due to culture-gaps.  However, my current life here in Canada makes me realize how difficult culture-gaps can be. The fear of not being understood and the distance of emotional support from my family are new feelings that I did not face when I was in Norway.  Douglas Brown (1980) reminds us that this feeling can be very emotionally impactful; it can be associated with feelings such as "anger, hostility, indecision, frustration, unhappiness, sadness, loneliness, homesickness, and even physical distress." (p. 35). It could also be considered a form of anxiety, resulting in the expression of natural defensive attitudes such as the isolation or the rejection, and can lead to disorientation and doubt (Adler, 1972).
Epilogue
My past experience in Norway and my current situation in Canada have allowed me to identify how context can limit or intensify culture-gaps. For instance, Erasmus is a student exchange program in Europe, and as all exchange programs, it is a great opportunity for students and young adults to open their minds to the world in an atmosphere of tolerance, respect, and humility. This environment allows people to share their culture and their experience easily; it creates a positive environment to establish meaningful relationships. This may be facilitated by a respectful effort in communication, a lack of expectations, or even the absence of awkward feelings such as being perceived as a foreigner.  Clearly, experiencing a culture-gap is a great opportunity to become aware of our unique identities and learn how we can leverage this to connect with people. For me, each culture-gap that I lived has allowed me to be more aware of the place of my French nationality and culture in my identity. This sense of belonging to a core national identity is consistent with Phan (2008), who maintains that a national identity may serve as a basis to construct ourselves in a dynamic way. Identity may be considered multiple, yet it can also be seen as constructed on one foundation (Phan, 2008) that we should share with others to avoid cultural stereotyping, misunderstanding, and exclusion.  I would even add that trusting someone by sharing our culture, our identity—our very selves—is a formidable way to establish positive relationships.
References
Adler, Peter S. (1972). Culture shock and cross-cultural learning experience. Readings in Intercultural education, Vol. 2. Pittsburgh: Intercultural Communication Network.
Brown, H. D. (1986). Learning a second culture. Cambridge: Cambridge University press.
Bateson, G. (1972). Steps to an ecology of mind. New York: Ballantine.
Kumaravidelu, B. (2008). Cultural globalization and language education. New Haven and London: Yale University Press.
Lippi-Green, R. (1997). English with an accent: Language, ideology, and discrimination in the United States. London and New York: Routledge.
Phan, L. H. (2008). Teaching English as an international language: Identity, resistance and Negotiation. Clevedon: Multilingual Matters.
Weedon, C. (2004). Identity and culture.  UK: Open University Press
Want to share your story? 
To submit a story, to the SLC Multilingual Story Hub please send it as an attachment (in Word format) to the email address slc-incommon-blog@sfu.ca. Please use the subject line "Story Hub." We will review all stories submitted to us and accepted submissions will be uploaded to the Multilingual Students' Story Hub for others to read.
If you have any questions about how to submit your story, email us and use the subject line "Story Hub Question." We will respond to you as soon as possible.   
---
[1] Erasmus Programme. The Erasmus Programme (European Region Action Scheme for the Mobility of University Students) is a European Union (EU) student exchange programme established in 1987.