The SLC Writing Contest: Students' Perspectives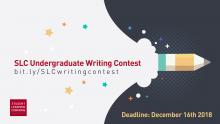 Get your submissions in now!
Published by Julia Lane
I was a later peer entry into the 2017 SLC Writing Contest. I hesitated for so long because I didn't initially think my writing was worth entering. Then, I remembered that there is always something to learn, because writing is a skill that we can never perfect.
I'm very glad that I did choose to enter, because the essay I chose to submit was one I quite enjoyed writing and did very well on. It was an essay about Oppenheimer Park's history as a place of resistance in East Vancouver.
I have since shared this essay with my module mates in teacher education, and they have given me some kind suggestions as to how I might include this information, presented in this fashion, in future lessons. That excited me, because I greatly enjoy local history and making it meaningful.
I would recommend the SLC Writing Contest to anyone who wants to stretch their writing skills in a supportive environment.
- Kate E., former SLC Learning and Writing Peer 
I decided to take part in the Peer Category in the 2017 SLC Writing Contest almost on a whim. When I learned about the contest, I hesitated about entering due to my busy schedule, but I must confess that the prize money was tempting. Most of my fellow SLC peers said they weren't going to submit papers, so I thought I had a good shot of winning. I talked with Julia, one of the coordinators of the contest, and negotiated an extension, which I needed so that I could translate one of my papers, all of which were in French.
I submitted a political science paper where I pretended to be the Canadian Minister of Foreign Affairs. In the paper, I argued that Canada should reopen its embassy in Tehran so that it could better serve and protect its citizens in the country, engage with an important regional power, and increase commerce with the country. I used the paper to defend my position during a debate seminar with my classmates. I did well on the paper and on the debate, but my professor docked some marks because he disagreed with my analysis.
It took me roughly two hours to complete the translation and in the end I received an Honourable Mention in the contest. I was invited to attend a ceremony for the winners of the contest and I attended with one of my friends and the professor for whom I had written the paper. During the ceremony, I did a short presentation on my paper to the audience, noting wryly that though my professor may have disagreed with my analysis, it was good enough to win an Honourable Mention in a writing contest.
When I first received news that I was receiving an Honourable Mention, I was quite content that the judges thought so highly of my writing. During the ceremony though, I felt embarrassed because I was receiving all this attention and praise. Having my friend with me reduced some of my nervousness and the experience was a great bonding moment for us both. Overall, the ceremony made me feel warm and fuzzy inside and it helped me gain a new confidence in myself.
- Mariam A., former SLC EAL Peer and current SLC Learning and Writing Peer
You can read Kate and Mariam's papers, along with all the winners of the 2017 SLC Writing Contest, in this Open Journal. 
Click here to submit your essay to the contest now.