So many reasons to read these winning papers!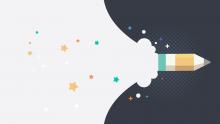 SLC Undergraduate Writing Contest - papers to inspire you to reach for the stars!
Published by Julia Lane
You're a busy student, so I'll first mention the pragmatic reasons to read the papers in Volume 2 of the SLC Undergraduate Writing Contest Open Journal. 
These papers are models of what writing excellence looks like in various disciplines at different levels. Are you writing one of your first University papers? The Lower Division winners can show you what to strive for. Are you worried about writing a paper in an unfamiliar discipline this term? Papers in Volume 2 come from English, Sociology, Communications, Political Science, Psychology, Health Science, History and First Nations Studies – not to mention the disciplines represented in Volume 1 – and are great guides to writing outside your comfort zone. Frustrated that you always seem to hit a wall with average grades on your papers? Take a look at what sets winning papers apart. Will you be writing an Upper Division paper for the first time this term? Peruse the Upper Division winners for insights into how to up your game. (And speaking of upping your game, coming into the SLC for a writing consultation or using our online WriteAway service for your own writing are always good ideas!)
I couldn't resist the opportunity to promote SLC services for a moment, but now let's get away from pragmatic considerations about your own writing. There's no better reason to read the papers in our open journal than the fact that they're fun and fascinating! As a fan of the Supergirl TV show, as soon as I saw the list of winners, I dove right into Madeleine Chan's Supergirl and Ideology:  Truth, Neoliberal Feminism, and the Heartland Way. But perhaps you're more of a Stanley Kubrick fan, in which case see Aishah Harden's "We're Mean Marines, sir": Involuntary Resocialization as Illustrated by Full Metal Jacket. Or more of an outdoors person than a TV/ Movie person (Dan Prisk's The Place of Helicopters: Exploring the Ways of Valuing Nature in Mountain Biking). Or curious about the dark side of those beautiful totem poles in Stanley Park (Anastasia Kosteckyj's Dispossession, Erasure, and Replacement:  Appropriated Totem Poles in the Urban and Indigenous Histories of Vancouver and Seattle).  There's something for everyone!  Maybe reading one of these model papers will spur your interest in a whole new discipline, or inspire you to reach for the stars in your own writing. 
Volumes 1 (2018) and 2 (2019) of the SLC Writing Contest Open Journal are now available, for your enjoyment and edification.  
Happy reading! 
- Ruth Silverman, SLC Learning Services Coordinator