Podcasting for Scholarly Communication Workshop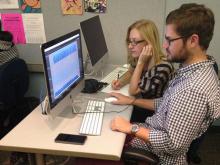 Participants working with Hindenberg, an audio editing software
Published by Rebecca Dowson
On September 21, 2016, SFU's Research Commons and the Digital Humanities Innovation Lab hosted a half-day workshop focusing on the scholarly and pedagogical applications of podcasting. Hosted by Colette Colligan and Rebecca Dowson, this first workshop in the Digital Skills Workshop Series attracted graduate students, faculty, and librarians from a diverse spectrum of disciplines in the humanities, including Education, Philosophy, English, History, Communication, and Psychology.
The morning opened with a panel discussion by Hannah McGregor, an assistant professor in SFU's Publishing program, and Roxanne Panchasi and Nicolas Kenny, both associate professors in the History Department. McGregor talked about the concept, development, and branding of her feminist, book-historical Harry Potter podcast, Witch, Please!, using segments, music and sound effects to create an overall audio style.
Panchasi spoke about her podcast, New Books in French Studies, a monthly podcast featuring interviews with scholars of France and the Francophone world about their latest books. She gave tips on capturing audio, editing, and interviewing, and talked about the unique opportunities for scholarly networking and communication that podcasting provides.
Kenny introduced a student-led podcasting project that was a component of an upper-level undergraduate History class. Vancouver Walks are a series of guided historical walking tours of Vancouver, which focus on sites of social and political change and contestation. All three speakers emphasized the importance of podcasting in broadening the scope of scholarly dissemination to include student, community, and non-specialist audiences.
In the second half of the workshop, McGregor led a hands-on demonstration of the audio editing software, Hindenberg. Participants learned how to mix together different kinds of sound, including music, speech and sound effects to create their own podcast. They also experimented with Creative Commons licensed sounds from repositories such as freesound.org and freemusic.org.
This workshop was the first in a series of events hosted by the Research Commons and DHIL. The next workshop will be on visualizing data in the Humanities using Tableau software on Wednesday, October 26, 2016, from 1:30 to 4:30pm, Harbour Centre, Room 1510. For more information or to register for upcoming events, please visit our website.