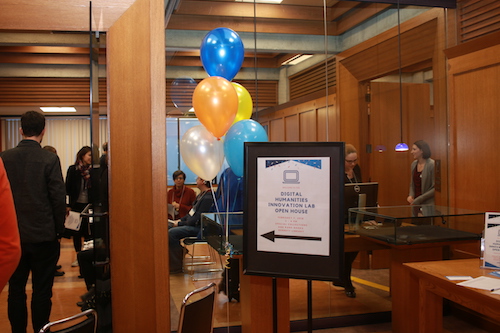 The Digital Humanities Innovation Lab began offering support to digital humanities and social science researchers in the fall semester of 2016, with funding until the end of the summer semester of 2019. After helping to develop more than fifteen projects, and nearing the midway point of our term, we thought it was time to bring our growing community together to celebrate our Lab and our researchers. On February 7, 2018, we held an Open House to do just that. We wanted to give our communities at SFU and in Greater Vancouver more information about what we do at the Lab, what our researchers are working on, and what ways we might be able to help those who are interested in collaborating with us.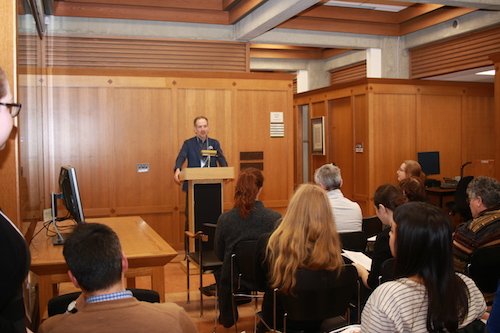 We gathered on Wednesday afternoon at Special Collections and Rare Books at the W. A. C. Bennett Library at SFU Burnaby. Not only was this a beautiful location to hold our celebration, but it also houses many of the research objects that are being digitized by our project partners. We began the afternoon with a brief program of introductions. The DHIL is one of the pillars of KEY, SFU's Big Data Initiative, and the Executive Director, Fred Popowich, kicked off the festivities with a welcome to all and an introduction to KEY. The Lab was introduced by Co-director Michelle Levy. Michelle's introduction featured the good news that the Lab had received some extra funding to go towards developer and research assistant hiring for the next academic year. Brian Owen, SFU's Associate Dean of Libraries, introduced the SFU Library and spoke to their commitment to support digital humanities research. We were lucky to have many of our partner researchers generously give introductions to their project or allow the DHIL to introduce their work. The full list of speakers follows below, with links to some projects. Finally, Kandice Sharren, Kim O'Donnell, and Erik Hanson - the Lab's Digital Fellows - introduced themselves.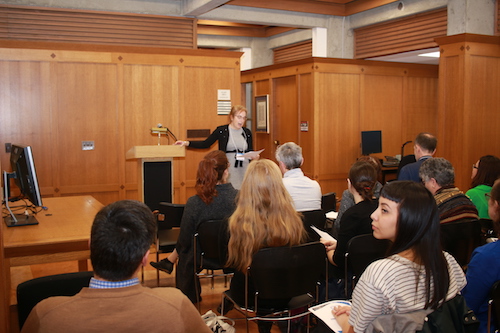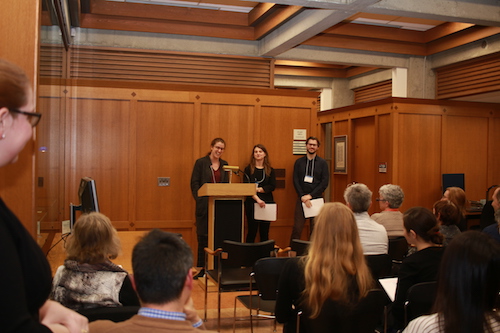 Following introductions, attendees and participants mingled and snacked at our reception. Many of our partners demonstrated their projects for interested attendees at stations set up around Special Collections. Some wandered across the hall to the DHIL office to see our space. And, of course, Lab members were on hand to answer questions about the kind of help we can provide and how to submit a proposal to work with the Lab.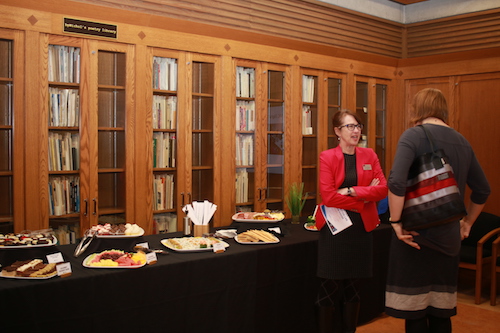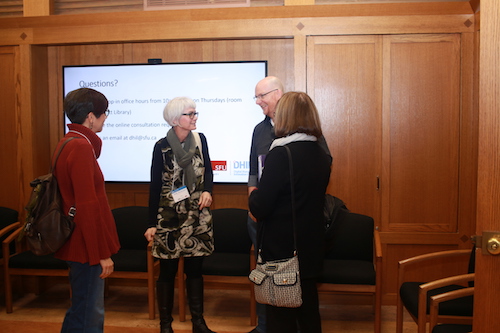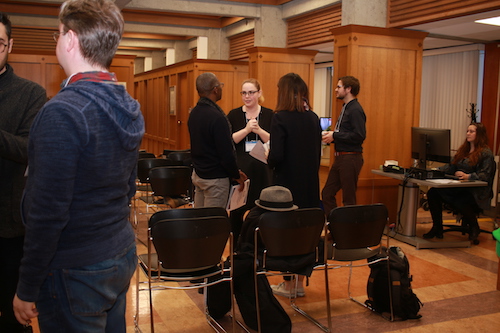 We are so grateful to all who joined us on February 7th. If you weren't able to attend but would like to know more about the lab, we encourage you to email us at dhil@sfu.ca or book a consultation.
Featured Open House Projects
Database of Canada's Early Women Writers (Carole Gerson, SFU Department of English & Karyn Huenemann, SFU Department of English) 
TechBC Memory Project (Holly Hendrigan, SFU Library) 
Astley's Circus in Georgian London (Leith Davis, SFU Department of English)
Aldus@SFU (Alessandra Bordini, SFU Publishing Program) 
Photoshop Genres on YouTube (Fred Lesage, SFU School of Communication)
Women's Print History Project, 1750-1836 (Michelle Levy, SFU Department of English & Kandice Sharren, SFU Department of English)
E. Pauline Johnson and Chief Capilano's Legends of Vancouver: A TEI Digital Edition (Alix Shield, SFU Department of English)
Archive of Lesbian Oral Testimony (Meghan Walley, MUN Department of Archaeology) 
Artistic Performance Archive (Henry Daniel, SFU Faculty of Communication, Arts and Technology)
The World Republic of Childhood (Melek Ortabasi, SFU World Literature Program)
The Wilde Trials Web App (Colette Colligan, SFU Department of English)
Fred Wah Digital Archive (Deanna Fong, SFU Department of English) 
Lake District Online (Margaret Linley, SFU Department of English)
New Narratives in the History of Philosophy (Lisa Shapiro, SFU Department of Philosophy) 
Blog Categories