HIV and the Network Society
Published by Alison Moore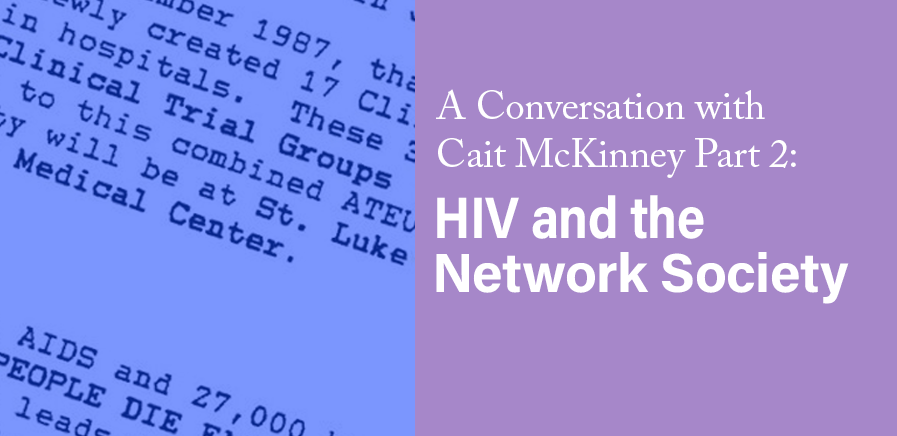 This blog post was contributed by Sophia Han, a former Digital Fellow in the Digital Humanities Innovation Lab. 
We continue our conversation with Professor McKinney, discussing their upcoming collaboration with DHIL on a searchable database tool to surface connections in the No More Silence data set.  
DHIL is supporting the creation of a database to enable part of your research for the project, "HIV and the network society." What research questions are you hoping to address through this project?
How do you see digital research methods being important to this project?
We're really excited about the histories that digital research methods can help surface in open access digital collections. At this point, we have pretty good mainstream histories of consumer computing. Increasingly, there's been a move in media history to examine the histories of marginalized groups to see how they took up computing in those communities. For example, Black Software by Charlton McIlwain tells the story of how computing mattered in Black communities. We need these comparative media histories so that we can tell more precise and nuanced stories about how, when and for whom, technologies come to matter.
With the HIV Network Society project, we're trying to tell an AIDS-centered history of computing. How did the ability to create databases and share information online graphically connect people in different places in real time? What did possibilities of computing mean to people who were trying to address the AIDS crisis by addressing problems like a lack of access to information, a lack of access to health care, or a lack of access to material resources?

What outcomes are you hoping to explore through the process of working with a searchable database tool.
We want to surface connections between people, organizations, and events, and potentially even highlight shared ways of talking about or using new computing technologies. We also plan to write about the experience of working with this data set as researchers, and make that process more transparent to help other researchers of queer and disability-informed media history. 

Professor McKinney's HIV Network Society project is currently in development with DHIL.