Reflections on the 2022 Digital Pedagogy Institute
Published by Alison Moore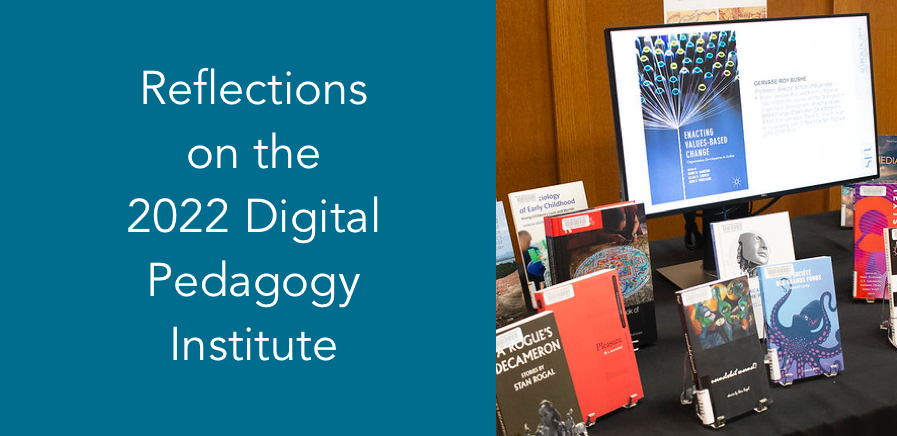 This blog post was contributed by Sulan R., Digital Fellow, Digital Pedagogy in the DHIL. 
This post will be updated to include links to the two Keynote Speaker recordings, once available.
I am the new Digital Fellow in Digital Pedagogy at the Digital Humanities Innovation Lab. I had the pleasure of attending the 8th Digital Pedagogy Institute conference in August of this year. I had a really great time at the conference, and I wanted to share my experience so that folks who may not have been able to attend can hear a bit about it. The conference lasted 2 days, and was structured so that there was one keynote speaker at the start of each day, followed by presentations, workshops, and digital tool training in support of teaching and learning at both the undergraduate and graduate levels. This year the conference had four themes: 
Critical ideologies & digital pedagogy

Digital (de)colonialism

Inclusivity, accessibility and digital pedagogy

Sustainability, renewability, and environmental costs in the digital sphere
In this blog post, I will explore each of the DPI 2022 conference themes by addressing the questions raised under each theme based on the DPI 2022 presentations. I encourage you to reflect on the DPI 2022 theme questions based on your academic field and your own teaching and learning experiences. And perhaps my ponderings/responses can offer you some food for thought! 
I would like to thank all the DPI 2022 presenters who shared their fine work with me for this blog and or gave permission for me to share their content. It was not an easy feat narrowing down the resources to write about, as there were so many interesting topics covered at the conference. If your work was not included here, please know it was meaningful for me. 
What is digital pedagogy?
I'll admit that the field of digital pedagogy is new to me, so attending the conference provided me with a good introduction to its vast reach, and the interesting work being done in digital pedagogy by faculty, educational developers, librarians, as well as graduate and undergraduate students. Digital pedagogy encompasses online education, hybrid teaching, and social media. Educators shared innovative ways in which they were opening students' worlds to digital pedagogy through coursework and assignments. It was a privilege to listen to DPI 2022 presenters openly share about the lessons they learned during the shift to online teaching during the pandemic. Presenter Dr. Karin Admiraal shared "It has been often repeated – and correctly – that emergency remote learning is not the same thing as online education. That does not mean, however, that we didn't learn anything about online education or digital pedagogy in general from the COVID experience." Admiraal's statement resonated with me, and it likely resonated with many educators in attendance.
I was thrilled the conference kicked off with an engaging keynote speaker, Dr. Roopika Risam on Day 1, and followed with a charismatic and creative keynote speaker, Dr. Aimée Morrison on Day 2. Risam pointed out that the conditions of teacher labour are the conditions of student learning. Echoing this sentiment, Morrison shared "I started redesigning my courses using a resilient pedagogy frame because, if I can be perfectly honest, I was barely hanging on. Like [bell] hooks, I learned in fairly profound ways that unless my teaching attended to my own well being, it wasn't going to work." In addition to the formal conference themes, the theme of care was apparent in many of the presentations; it was apparent that presenters cared deeply about the social impact of the work they are doing. Presenters showed care for themselves, care for their students, and care for future researchers as they considered the longevity of the work being undertaken through thoughtful and intentional documentation, curation, or archiving. Dr. Ruth Mcquirter's presentation and Dr. Mattie Burkert and Kate Thornhill's presentation are great examples of care in curation and archiving, with the latter also honouring the persons being studied.
Critical ideologies & digital pedagogy
How do we question and challenge dominant beliefs and practices in the field of digital pedagogy?
As defined by presenters Dr. Claire Battershill & Dr. Shawna Ross, digital critical pedagogy is an emerging term defined in part by the work of bell hooks, interrogating the intersection of critical pedagogy and the use of technology for teaching and learning. Battershill and Ross' presentation addressed how digital pedagogy challenges dominant beliefs about how we learn. In their presentation, they considered the "myth of learning styles," and addressed how educators might enhance coursework based on multiple intelligences. The presentation acknowledged how "digital pedagogy in the humanities already crosses customary boundaries that rigidly associate particular disciplines with particular intelligences." Battershill and Ross provided recommendations on how to cultivate multiple intelligences, including thinking about what intelligences are underrepresented in the classroom. To explore more on this, you may consider referring to Battershill & Ross' book: Using Digital Humanities in the Classroom.
Digital (de)colonialism
How have digital pedagogy techniques and tools helped instructors and students address anti-racist and decolonization practices in their curriculum and research?
It was a pleasure to listen to and learn from Day 1's keynote speaker, Dr. Roopika Risam. She spoke passionately about her learnings in digital pedagogy as a humanities educator. Through her presentation (and on her website), she explains
[A]t the heart of my research is the concern that while digital knowledge production has accelerated rapidly in the last few decades, the exclusions and biases that have long shaped print culture — products of colonialism, racism, and patriarchy — are being reproduced and amplified as we construct the digital cultural record of humanity. Representation alone will not address these issues. Therefore, my scholarship examines the methodologies, reward structures, labour models, and ethics of research necessary for more fully realizing the promise of knowledge production in the digital age.
Risam addresses anti-racist and decolonization practices in her curriculum and research through placing Black, Brown, and Indigenous people at the centre of her work instead of the dominant white epistemologies of the Global North. Three key takeaways from Risam's presentation were:
It is important for digital humanities educators to highlight the value of the humanities and its importance for our society (especially because humanities funding has been under threat in recent years)

All digital-pedagogy must be

outcome-driven

The conditions of teacher labour are the conditions of our students' learning
My response below addresses decolonizing practices/techniques presenters shared for decolonizing the classroom for inclusivity.
Presenter Dr. Karin Admiraal discussed the issue of power differentials in the classroom and empowering pedagogies. As the term "decolonizing" pedagogies is used in different ways, Admiraal offered her own definition. In her definition, "decolonizing" pedagogies is related to the characteristics of what Lilia Bartolome calls "humanizing pedagogy," which includes recognizing and working against power differentials in the classroom. Admiraal explained that "part of this is treating students as competent individuals whose knowledge and experience is a valuable part of the learning experience." Admiraal also referred to what hooks calls "engaged pedagogy," which includes creating a community where students and teacher are learners together, there is more room for emotion and personal experience than in the typical classroom, and the emphasis is on connection to life outside the classroom. 
Presenters Dr. Laura Angelone and Dr. Ashley Hinck of Xavier University shared similar sentiments, identifying themes that arose from interviews with faculty at their institution. From their conversations with faculty, they discovered that digital critical pedagogy affects "the power of, agency of, and relationships between students and teachers." Specifically, they stated "Critical Digital Pedagogy affects the distribution of power across students and teachers, re-envisioning the relationships between students and teachers, and cultivating agency in students." Another theme that arose from Angelone and Hinck's interviews was that "Digital critical pedagogy not only facilitates learning in the classroom, but also teaches the kinds of literacies, skills, and habits demanded in a digital world." In Angelone and Hinck's interviews, these literacies and skills were often framed as empowering for students, and the presenters highlighted that this aligns with Paulo Freire's ideas about the possibilities of education. Several presentations demonstrated how the work of Freire, Bartolome, and hooks are central to the work of de-colonizing digital scholarship and digital classrooms.
Inclusivity, accessibility, and digital pedagogy
What barriers have you encountered in your research and practice? How have you resolved them?
Issues related to inclusivity and accessibility are at the forefront of many educational institution initiatives as well as the field of digital pedagogy. Conference participants shared that they encountered several barriers to inclusivity/accessibility in their digital classrooms. Some of these barriers were:
"Too many different [digital] tools being used by different instructors on top of various different LMS [Learning Management Systems] and platforms being used by instructors even if the university uses a specific LMS."

"Introducing a tool and getting everyone going with it always takes more time than anticipated - can be a distraction from the main point or message."

"Not all tools work on all devices."
Conference participants shared practices and tools that they felt were most empowering for their students: real-time collaborative documents; small groups (more effective than the whole class as less cognitive load for reading/responding); annotating videos with text; and tools like Padlet, Wooclap, Mentimeter, and Hemingway. I am familiar with only some of these digital tools, and look forward to exploring new tools. I appreciated Risam's advice regarding using digital tools and how to avoid being overwhelmed by the digital "buffet": "keeping it simple, starting small, gaining confidence and helping students gain theirs; if you like it, great, if you don't add something new next time."
Risam, as well as presenters Dr. Sarah Ketchley and Helene Williams from the University of Washington, discussed a curriculum design approach called Backwards Design as a framework that ensures accessibility and inclusion. Central to the ideas of backward design is the alignment between learning outcomes and the chosen assignment/assessments. Risam suggests developing assessments based on the following questions:
"How will I know if my students are able to do this?" 

"How will I measure it?" 

"What kinds of evidence do I need?"
Sustainability, renewability, and environmental costs in the digital sphere
How should we reconcile the benefits of digital pedagogy with its environmental costs? Can digital pedagogy proponents be good environmental stewards?
DPI 2022 recognized that "digital pedagogy is not immune to environmental critique. There are environmental impacts associated with generating the power and equipment needed to support digital initiatives". Digital pedagogy and digital humanities projects often consider sustainability and being resource-aware in the work processes themselves. Educators can also create opportunities for developing students' environmental thinking in seemingly unrelated educational programs.
Toronto Metropolitan University's Violetta Cupial and Sally Abu Sabba's presentation was entitled "The Power in UN's Sustainable Goals: Transforming Language Classrooms into Incubators of Critical Environmental Thought." Cupial and Sabba see strengthening learners' awareness of global sustainability as necessary for future generations. They articulated a model for language pathway programs by instilling the UN's pillars of Sustainable Development Goals, allowing learners to identify and develop their role in sustainable citizenship. Framing language curriculum through sustainability goals allowed them to move pedagogy beyond simple language teaching and learning by connecting sustainability action to the development of learners' academic language skills. With the strategic use of UN Sustainability Goals, Cupial and Sabba assert learners in the "transformed language classrooms" can grow to be environmental stewards who positively affect the future through sustainability practices.     
Thanks for reading!
I hope you enjoyed getting a glimpse into DPI 2022. I found many of the DPI 2022 presentations complementary to each other and aligned with this year's conference themes. I wish I could share more, as I was truly amazed by the work being undertaken by digital pedagogy and digital humanities scholars and educators across the country and globe. There were many more captivating presenters that I have not mentioned, but are worth checking out as they are doing innovative and meaningful work. Below is a list of resources for further reading on the topics explored at Digital Pedagogy Institute 2022.
Beyond the blog
This post will be updated with keynote speaker recordings, once available.