@Us Critical Digital Humanities Discussion Series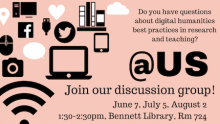 Published by Rebecca Dowson
As a part of our support for researchers' digital humanities projects, the DHIL regularly offers tool- and skill-based workshops, like qualitative analysis with NVivo or spatial data visualization with Story Maps. In an effort to include more "yack" along with the "hack" – for more critical discussion to complement our digital humanities workshops – we wanted to offer a space for our community to focus on some of the cultural and political questions that have arisen as humanities departments have embraced the digital. This past summer, we launched @Us, a critical DH discussion group designed to take an unflinching look at the assumptions, inequalities, and opportunities that might be hidden in our databases and our digital editions.
#transformdh
On each of the first Thursday afternoons in June, July, and August 2018, our inaugural series tackled three topics: Social Media, Research, and Teaching; Feminism and the Digital Humanities; and Intersectionality and Digital Projects. These topics were inspired by calls to #transformdh, and by the feminist and postcolonial digital humanists who have been paving the way. We soon gained momentum as we gathered to ask questions of each other and ourselves (and eat donuts, of course!). Each session was guided by two or three articles or blog posts on the month's topic, which provided context and specific critiques to jumpstart discussion.  
Theory + Praxis
In "Beyond the Margins: Intersectionality and the Digital Humanities," Roopika Risam talks about the way the Digital Humanities prides itself on niceness, collegiality, and openness. However, she cautions that the privilege of niceness often belongs to the privileged, and the exhortation to be nice can be used to quiet dissent. During @Us, we strove to create a space that was collegial and open, but one which extended that openness towards critique, disagreement, and uncertainty. Drawing on our readings (shared below), we asked why it's important that we share our research and teaching online; we asked what feminism suggests we should value in creating, labouring for, and evaluating digital projects; and what an intersectional practice looks like at all stages of a digital project, from metadata to interactivity.
@ Us and With Us
We wanted to tackle some of the stickier questions in the Digital Humanities and in doing so, we wondered what it looks like to embrace making a mess as a feminist technology, as FemTechNet has suggested. Inspired by our participants, I think that our thinking together counts, and I was honoured to be a part of the intersectional analyses, and the "feminism, generosity, and mess" that Elizabeth Losh, Jacqueline Wernimont, Laura Wexler, and Hong-An Wu insist are a part of "putting the human back into the Digital Humanities."
Join Us!
@Us is back in Spring 2019 for a series on "Disorienting Democracy." We'll be discussing what democracy means when it comes to our DH tools and practices, thinking about questions of equality, openness, and freedom in relation to the technologies that structure our data, our research, and our methodologies. Our first meeting will be on February 28, 3-4pm, at SFU Harbour Centre, Room 2200. Find more information and registration here.
Suggested Readings from Summer 2018:
Flaherty, Colleen. "A Pedagogy Questioned." Inside Higher Ed, 20 October 2017.
McPherson, Megan, et al. "New practices in doing academic development: Twitter as an informal learning space."  International Journal for Academic Development, vol. 20, no. 2, 2015, pp. 126-136.
Eagon, Cayla D. "Embracing 'Situated Knowledges.'" Theory and Practice of "Doing": From Digital Humanities to Posthumanities, 26 October 2015.
"Manifesto."FemTechNet.
Losh, Elizabeth, Jacqueline Wernimont, Laura Wexler, and Hong-An Wu. "Putting the Human Back in the Digital Humanities: Feminism, Generosity, and Mess." Debates in the Digital Humanities 2016, edited by Matthew K. Gold and Lauren F. Klein, U of Minnesota P, 2016, pp. 92-103.
Risam, Roopika. "Beyond the Margins: Intersectionality and the Digital Humanities." Digital Humanities Quarterly, vol. 9, num. 2, 2015.
Ettarh, Fobazi M. "Black OR Queer? Life at the Intersection." Hack Library School, 19 November 2013.
McKenzie, Lindsay. "Digital Humanities for Social Good." Inside Higher Ed, 9 July 2018.