Welcome to Grammar Camp!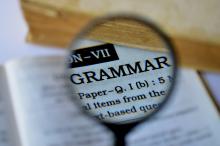 Take a closer look at grammar with the In Common Blog series Grammar Camp
Published by Julia Lane
Perhaps you know when an expression sounds or looks "right," but you can't explain why. Perhaps you don't feel confident about revising your own writing, or perhaps you're working toward greater fluency in English. The blog series "Grammar Camp" aims to help you learn more about English-language rules and patterns--in other words, grammar.
Yes, grammar! Did you know there's an historical relationship between "grammar" and "glamour" . . . as in magic? (and yes, "an historical" is the grammatically correct sentence construction!) There's magic in being able to recognize, understand, and apply basic elements of grammar, sentence structure, and punctuation, giving you more power to shape your communication.
Grammar Camp posts will appear regularly on the SLC In Common Blog. Links to quick quizzes allow you to test your knowledge and review solutions and explanations as soon as you submit your answers. Check back regularly to learn more grammar tips and tricks. If you want to see only the Grammar Camp posts, click on #Grammar Camp on the right hand taskbar. Come back any time to review topics and even re-take quizzes.
This first quiz let's you find out if you are a grammar geek. And don't worry, if you aren't one yet, we can help you become one.
Welcome to Grammar Camp!
- Amanda Goldrick-Jones