Happy birthday to our blog!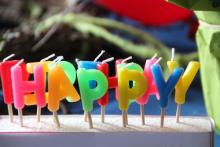 Happy second birthday to our SLC blog, established July 17, 2018
Published by Julia Lane
We first posted to this blog two years ago on July 17th (you can read that post here). 
To celebrate our blog birthday, we did a short interview with the Graduate Writing Facilitator who first suggested the idea, Daniel C. 
What inspired you to suggest that the SLC start a blog? 
That time Amanda (recently retired Writing Services Coordinator) and I submitted
a co-authored article
to the journal "Dangling Modifier". The journal operates in the format of blog posts. I was thinking if the SLC can have such a platform for students to learn information about writing practice, that will be good! 
What function do you see a blog serving within an academic success centre like the Student Learning Commons? 
I think modeling is a very important aspect of learning. Students need to see successful examples and examples of failure to reflect on their learning. If a blog post can showcase both successful experiences and failing experiences, then blog readers can learn from both examples and reflect on them and how they relate to their own learning and academic work. 
What is your vision for the blog? 
I think the SLC is a very successful writing centre model in Canada. 
I am hoping the SLC can push out more creative content using the blog. Here are some of my own ideas for future content: 
interviews with faculty members - especially those instructors who teach disciplinary filter courses (for example, BUS 360 and LING 350)
having multilingual blog posts to promote multilingualism
encouraging (and publishing!) student-led research on writing centre pedagogy 
creating a newsletter that can push information out to the entire university, and even beyond the university community
having a Youtuber (who is also an SFU student, or an international Youtuber) introduce the SLC and how the SLC works (indirectly introducing the community of writing practice)
Can you tell us a little bit about your own academic journey and your doctoral research? 
I have two degrees from Linguistics (BA and MA). A PhD in Education will allow me to focus on the practical side of language (i.e., writing skill development). My doctoral research identifies several features of successful argumentative thesis statements, and preliminary analysis indicates that some features of thesis statements in fact predict the quality of writing or achievement. 
What's the best piece of advice you've ever received as a student? 
I think I am quite careless, and I always make some silly mistakes and errors. But my two great supervisors at the SLC -- Amanda and Julia -- were so kind to accept my errors and mistakes, and once Julia told me that "
to err is human
." So I make more errors now (just kidding). No, bearing this in mind, I have become more careful in all my aspects of work. 
We can all benefit from learning to slow down and be more careful (and caring!) in our work, so thank you for this reminder, Daniel. Thank you, too, for this interview, the idea to create an SLC blog, and the excellent creative suggestions going forward. 
Wishing you all care and creativity during this remote summer term. 
-- Julia, SLC Writing Services Coordinator