Sage Business Cases: 500+ new case studies, with more on the way!
Published by Mark Bodnar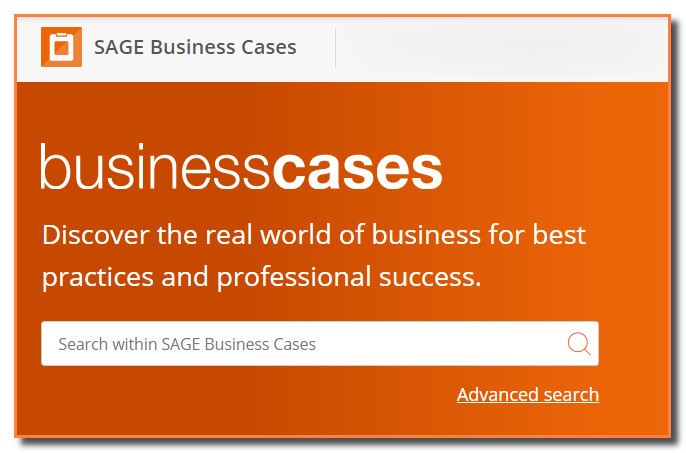 I'm excited to announce that SFU just gained over 500 new business case studies. They've been added to our Sage Business Cases (SBC) database, bringing us to 4772 cases in one resource!
I wrote a long post about Sage Business Cases when we first got it last spring. The highlights are...
SBC is incredibly diverse. The cases are published by partners around the world, and SAGE fills in gaps by commissioning cases on undertreated perspectives and issues.
We own the SBC content. That is, we've purchased the cases that are currently in the database rather than simply paying for an annual subscription that could be cancelled at any point. This allows you to be certain the cases will be there semester after semester if you decide to use them in a course.
Our alumni get remote access to the cases. See the "off-campus" section of our Alumni Services guide for a list of other resources available to alumni.
More than 75% of the cases include Teaching Notes. Instructors just need to email me (mbodnar@sfu.ca) to get the special code needed to access the Notes.
Many cases include enhancements such as embedded video or datasets.
And, regarding the "more on the way" part of this post's title, 50 more Express Cases will be added later this year at a rate of 10 cases every two months.  Express Cases are short case studies about topics in the news. They are designed to be used with little or no prep work by the students and can be great discussion starters that help students apply classroom theories to current events.
To further whet your appetite... here are a few examples from among the 2022 SBC cases we've purchased: 
"The Policy Is Nice but Not Really Written for Us": LGBTQ+ Workplace Challenges
- Includes some video content.
Environmental Stewardship in Fashion: A Water-Conscious Approach to Stay in Vogue
- Includes some embedded data content.
Advancing the CardioGen Pipeline
- Also has embedded data.
Supply and Demand in the Canadian Healthcare System
- SFU author! 
Brain Trust: Assessing the Viability of a New Concussion Management Social Enterprise 
and Change in the Time of COVID: Determining How a Lived Experience Circle on Homelessness Adapts Their Team Development Model
- Both are about situations in BC's Okanagan region.
Facebook's New Chapter: Rebranding to Meta
- One of the 113 Express Cases currently in the database. (Again, 50 more will be added before the end of 2022.)
Questions?  I'm just an email away...
-- Mark
-----------------
Mark Bodnar
mbodnar@sfu.ca
Business & Economics Librarian