Your Interdisciplinary Web Archive Collaboration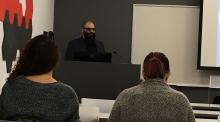 Nick Ruest presenting on web archive collaboration
Published by Rebecca Dowson
As part of the BC Research Libraries Group Lecture Series, the SFU Library was pleased to welcome Nick Ruest on February 16, 2018. Nick is the Digital Assets Librarian at York University and was visiting BC for Love Data Week. In his talk entitled "Your Interdisciplinary Web Archive Collaboration," he spoke about the challenges of working with the overabundance of information that can be found in web archives and some of his current projects, which work toward making web archives approachable and accessible to everyone.
Nick phrases the challenge of web archives as a problem facing our collective cultural heritage. Web archives represent repositories of information, such as websites or tweets, that are part of our born digital cultural heritage. There are some tools such as the Internet Archive that catalogue some of our digital artifacts, but these are often incomplete and the how and why of the information available from them is opaque and difficult to decipher. In order to successfully use web archives for research right now, you need to be an expert in the technology behind them. According to Nick, what we need are search and discovery tools that help make web archives as accessible as possible to all researchers of all disciplines. He says, "The goal is to have web archives cited on page 153 of a random book."
His current projects work toward achieving this goal. Nick is co-Principal Investigator of the Andrew W. Mellon Foundation funded The Archives Unleashed Project, co-Principal Investigator of the SSHRC grant "A Longitudinal Analysis of the Canadian World Wide Web as a Historical Resource, 1996-2014", and co-Principal Investigator of the Compute Canada Research Platforms and Portals Web Archives for Longitudinal Knowledge. The Archives Unleashed Project aims to create user friendly search and data analysis tools to allow students and researchers to use data from web archives without needing the previously required technical knowledge. Nick concluded his talk with an audience discussion, much of which was centred around the ethics of collecting the kind of data that goes into web archives. While ethical considerations are always tricky, Nick says, if the information is public and on the web, you can usually just go ahead.
A recording of Nick's talk is available online from the SFU Library.