DH & Digital Scholarship: A Conversation with Ali Moore
Published by Alison Moore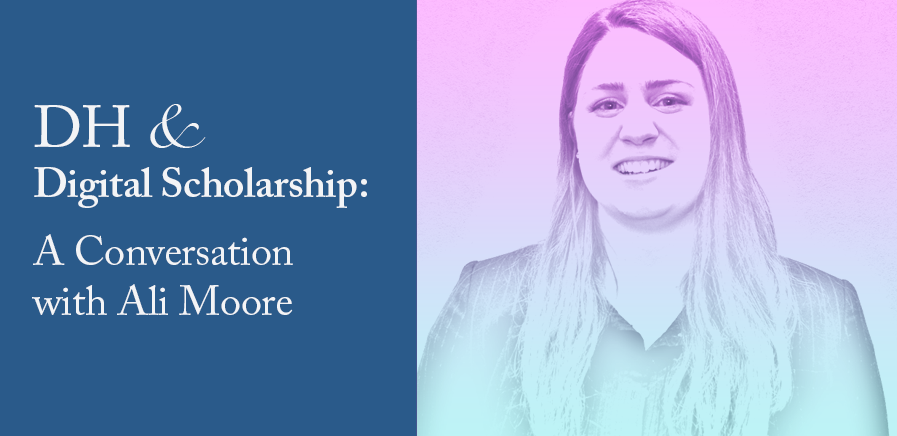 This blog post was contributed by Sophia Han, a former Digital Fellow in the Digital Humanities Innovation Lab. 
What sort of interests led to your involvement in digital scholarship and your current work with the DHIL?
I've had a number of different roles at the SFU Library over the last seven years, working in the Research Commons and Digital Publishing units among others, and so I've spent a significant amount of time in areas that we might include in a "digital scholarship" portfolio – things like scholarly communication, open access, research impact, and knowledge mobilization. I really enjoy thinking about the ways that academics can communicate their research, and how as a librarian, I can best support them. For instance, I've supported training for our citation management tools as well as software for qualitative data analysis. I've always had an interest in data visualization as well. I've been one of the go-to people at SFU Library for Tableau, and in 2019, I took the Intro to Network Analysis class with the Digital Humanities Summer Institute, where I learned to use Gephi.
On the research side of things, I had an eye-opening experience attending the DH conference in Montreal in 2017. It gave me an expansive look at what DH could be – through the work of libraries but also in other interactive research environments. 
Can you tell us more about your own research interests?
My own research has been informed by the different roles I've had at the library. In terms of DHIL,  much of the research that I have done is in digital scholarship and open scholarship. For example, when I was in Digital Publishing, I co-authored a paper with my colleagues Kate Shuttleworth and Kevin Stranack that introduced the concept of "course journals," which are student-produced papers published online using open source software. That paper engaged with the concept of "open pedagogy." 
More recently, I co-authored a publication outlining the development, implementation and review of  SFU's  open access policy. Rebecca Dowson was a co-author on that paper, as well as Jennifer Zerkee, Kate Shuttleworth, and Gwen Bird.  
Right now, I also have a $7000 SSHRC grant to support research that my SFU Knowledge Mobilization Hub colleagues, Lupin Battersby and Valorie Crooks, and I are doing – we're conducting a scoping review of the way that knowledge mobilization practices and activities are represented and reported in academic CVs.We know that academics are increasingly encouraged to do knowledge mobilization work but many people aren't sure how to include this work in their CVs. Our project will look at existing practices and potentially support the creation of some guidelines.
How would you describe the relationship between DH work and work in digital scholarship?
Well, what we call a "digital scholarship" portfolio at one university might be described as "scholarly communication" at another and "digital humanities" at a third. If I was to put these things into buckets, though, for me DH work involves supporting humanities-based digital research projects. But it can also mean presenting and sharing tools for digital pedagogy – tools and approaches that are more classroom and teaching focused.
What advice do you have for a researcher who might like to embark on a digital research project?
I think that the best thing to do is to reach out to us. We know that there are a lot of people who are keen to get started working in this space. DHIL is here to consult with them, to talk about their ideas, or point them in the direction of some great resources. In fact, I think one of the strengths we have at DHIL and within the library is the close relationships between the different units: digital publishing, special collections, knowledge mobilization hub, etc. We have a good sense of the different supports that are out there so even if the project doesn't quite fit at DHIL, we'll be able to facilitate a connection to another area of the library. 
Is DHIL currently looking to work with any particular type of proposal?
While there are some great examples of our projects up on our website, we're also really interested in new ideas, so if you have something in mind that isn't represented by one of our current projects, that doesn't mean we can't support you. 
Also, keep in mind that DH projects are really varied. Just as an example, we're excited to support the work of Hannah McGregor and the Amplified Podcast Network. This project involves the creation of a tool for uploading and preserving scholarly podcasts but we're also working on a different kind of collaboration with Lisa Shapiro in a history of philosophy project.
What is the importance of having a unit like the DHIL hosted within the institution of a library? 
Where we locate a unit automatically sends signals about the kinds of users that we expect to welcome into the space. Because libraries are inherently interdisciplinary spaces, this means that DHIL can be approached by any researcher–not just researchers in the Faculty of Arts and Social Sciences, but also researchers from FCAT or the Faculty of Environment, for example. We also support researchers at all stages, including students and early career researchers too.
 The DHIL's new digital scholarship librarian, Alison Moore, can be reached at ajm30@sfu.ca. To learn more about working with the DHIL, visit our website or read about active collaborations on our project page. Descriptions of upcoming sessions in our Digital Humanities Workshop series are available here.