Building Better Galleries, Libraries, Archives and Museum Labs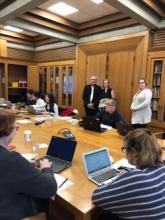 Mahendra Mahey (BL Labs) Data Workshop
Published by Rebecca Dowson
British Library Labs
On February 25, 2019, the DHIL was excited to host a keynote and workshop by Mahendra Mahey, British Library Labs (BL Labs) Manager. The British Library is one of the largest reference libraries in the world, created in 1753 as a part of the British Museum and made a separate institution in 1973. BL Labs is a part of the British Library's Digital Scholarship team, and it works to connect researchers, artists, and educators with the BL's digital collections in innovative ways.
Mahendra's talk was called  "Building Better Galleries, Libraries, Archives and Museum Labs" and we had a full house of participants eager to hear the lessons Mahendra has learned managing the lab at the British Library. Mahendra was happy to share the ways in which BL Labs has engaged with researchers because, as he put it, without engagement and outreach there is no lab. He mentioned that BL Labs tends to attract projects with "fuzzier" boundaries, so it needs to be open to flexible, collaborative work.
Cultural Data, Old Sources, New Ideas
BL Labs has collection guides for the 234 datasets that are available to researchers, and Mahendra has created a portal so researchers can download large amounts of data, not only providing efficient access to thousands of items, but also enabling users to reconceptualise the collections in new data forms. This is one of the ways he sees BL Labs helping users navigate the Library's digital collections, a significant challenge almost all GLAM labs face. Other challenges include the cost of digitization and a lack of physical space. BL Labs wants to ensure that they can support discovering the diversity of old culture and creating new culture through remixing.
One of the ways BL Labs encourages engagement is through competitions. In one case, BL Labs asks researchers to propose a project with the collections. They then work with two winners over four to six months, holding a big event at the end to show the results to the world. In another example, researchers submit work they have already done with BL Labs collections. There are several categories in which to submit (including staff) and an awards show to celebrate the winners.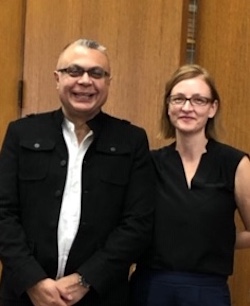 Mahendra Mahey (BL Labs Manager) and Colette Colligan (DHIL Co-Director)
Lessons Learned
Mahendra shared some tips gathered from his years managing BL Labs, which he hopes will help other GLAM labs grow in researcher support and collaboration. Some key suggestions included:
·     Engagement starts with people, not technology
·     Start small, but remember that it's ok to think big
·     Be open to all approaches
·     Have policies and processes in place for digital reuse
·     Collaborate or take advantage of training resources to develop or supplement skills when working with data
·     Celebrate the use of collections
·     Don't worry if the project isn't a success; embrace failure
Hands-On
Mahendra gave some examples of collaborative projects with BL Labs, like the Victorian Meme Machine, a database of Victorian jokes that can be paired with images from the BL's digitized collection and other participating archives to generate memes for users. He also took questions from an enthusiastic audience, including questions about deciding what gets digitized, and regarding partnering with galleries and museums.
Later that afternoon, he led a workshop for participants to explore some of the BL Labs datasets. These ranged from metadata on the Library's 19th-century books to OCR scans of old playbills. Excited for the challenge, interdisciplinary researchers engaged with these sets to find patterns and create visualizations.
The slides for Mahendra's keynote can be found here.