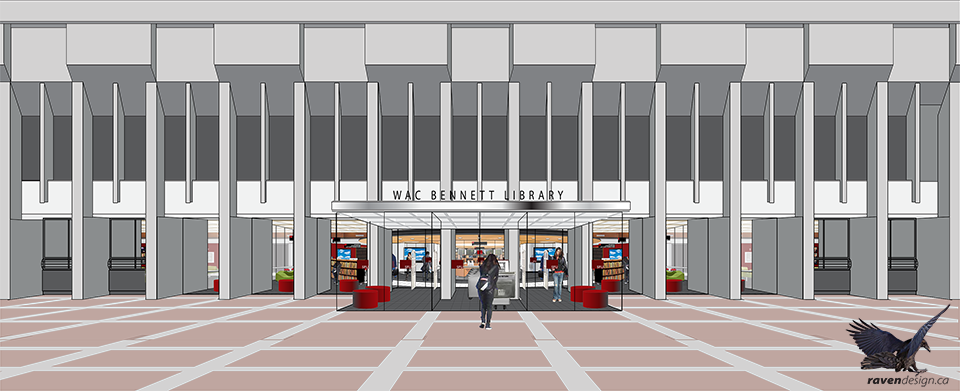 2015 Merit Award for Building Projects
On May 23, the British Columbia Library Association 2015 Building Project Merit Award was presented to SFU Library for the WAC Bennett Main Floor Renewal.
The Award application includes a summary of the project, outcomes, and community response, along with before and after photographs.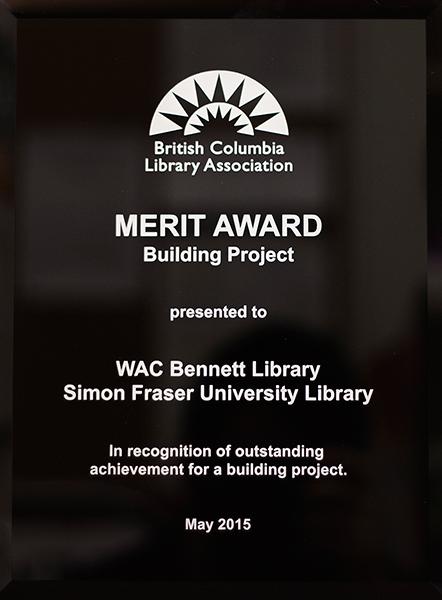 A renovation of a substantial portion of the Main (Third) Floor of the WAC Bennett Library (SFU Burnaby) is planned for June to December 2013 (extended to April 2014).  The renovation will:
upgrade the entrance to improve climate control and the book return
integrate check-out, reference, and reserves into a single service location
increase seating with a new student lounge and a new reading area
create a programming room for Student Learning Commons teaching and other library events
expand the Student Learning Commons consultation area
improve exhibition space for new books and add Special Collections materials
Work will be completed in two phases in order to keep the Library operational.
Post-renovation plan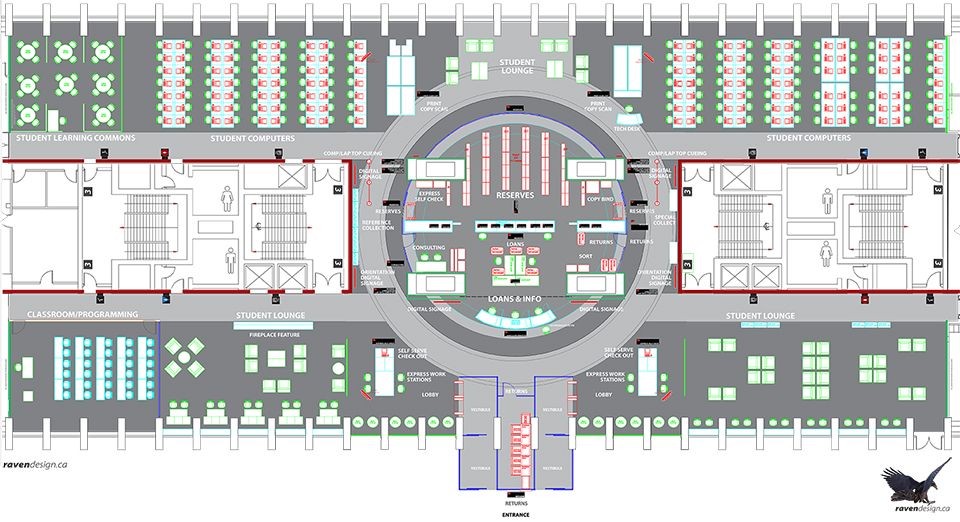 Phase one
Phase one commences 19 June 2013.  An integrated service desk for Information and Checkout, and a new Reserves area, will be constructed in the centre of the floor.  The east side of the Library entrance will be renovated to provide better climate control and integration with Convocation Mall, and space for a new book return.
Several services have been temporarily relocated to allow for the construction, see plan below.  Hoarding will be installed around the work areas, and access to and from the north side of the floor will be through the stairwells.  During phase one the west Library door, currently the exit, will be used for both entering and exiting the building.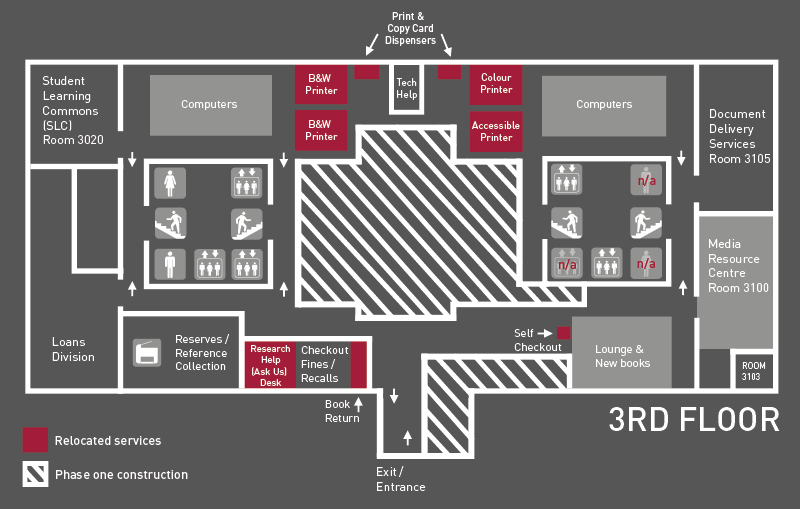 Phase two
Phase two commenced 18 November 2013 and planned completion is April 2014.  Checkout, Information and Reserves will move to the new centre area, and a new Student Learning Commons Classroom and Fireplace Lounge will be constructed in their old location.  Additional study space will be added to the north side of the building.  The west entrance door will be renovated to match the new east door.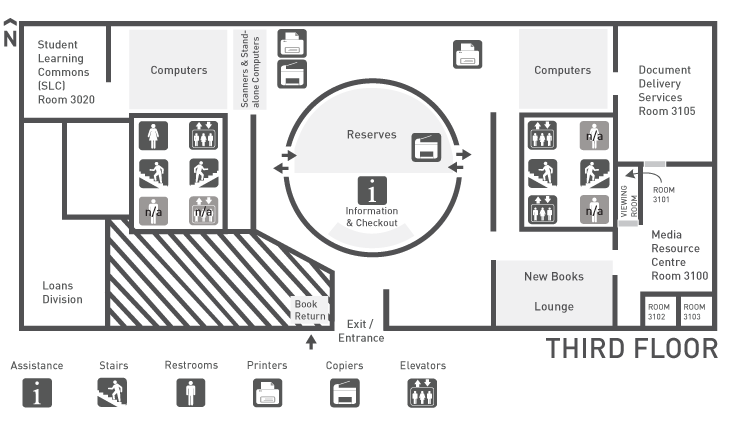 View of the planned classroom, with facade removed: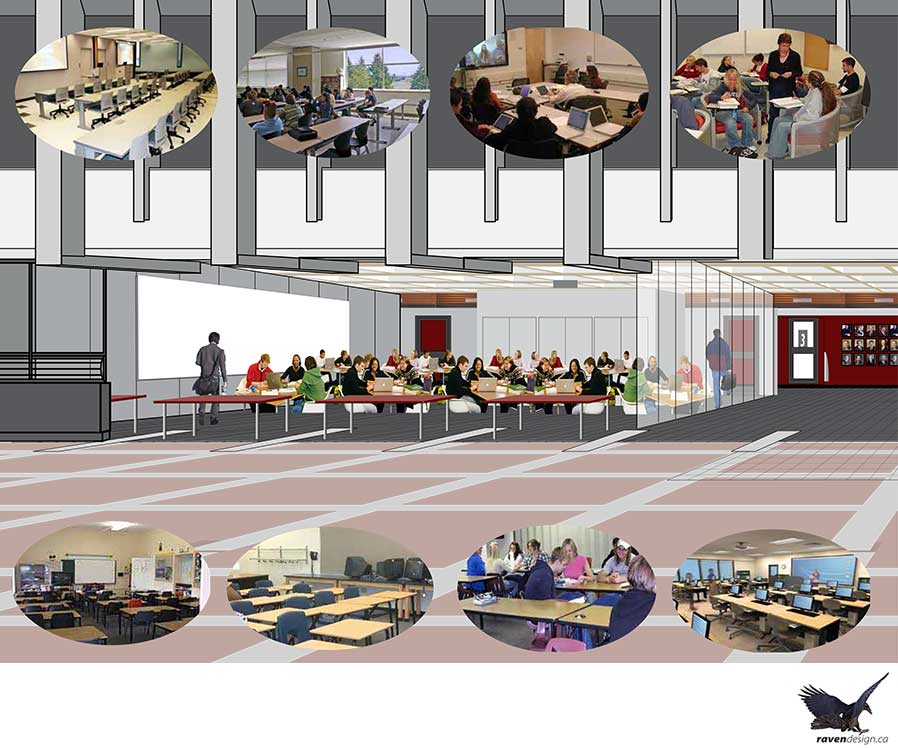 Planning Phase, May to November 2012

Concept planning
Detailed program of requirements
Preliminary design
Feasibility budget

Construction Documents Phase, December 2012 to May 2013

Design development
Quantity surveyor budget
Building permit application
Tender
Contract award

Preparation, May and June 2013

Relocate or temporarily store computers affected by construction hoarding
Relocate printers to north centre of floor
Temporarily relocate Ask Us service point to Checkout Desk
Temporarily relocate honed Reference Collection to Reserves area

Construction Phase 1, estimated June to September 2013 (extended to November 2013)

Build new Reserves Room and Integrated Service Desk
Modify west entry to allow both entry and exit
Renovate east entry
Move from old Reserves and Checkout Desk to new

Construction Phase 2, estimated October to December 2013 (revised November 2013 to April 2014)

Renovate west entry
Build new programming room and student lounge
Update Student Learning Commons consultation space
Reinstall computers affected by Phase 1
The nature of library services has changed dramatically in 45 years since the WAC Bennett Library opened, including: 
Increasing reliance on digital books and journals
Growth of virtual reference and technology support services
Requirements for student productivity services and peer tutoring offered out of the Student Learning Commons (for undergraduates) and the new Research Commons (for graduate students)
Expansion of services related to the critical evaluation, packaging and re-presenting, and publishing of information
In addition, demand for collaborative and individual study spaces in the Library have increased as the University has grown.
Student and Library User Surveys for the past several years have consistently identified the need for improvements to library facilities and comfort
Bennett Library is the fourth-highest student priority for building improvements, requiring more more/improved carrels, seating, study spaces and electrical outlets
SFU Library most falls below user expectations in the Library as Place category, specifically by not providing a comfortable and inviting location that inspires study and learning
Undergraduate student, Faculty of Science:
I think there is a lack of study spaces in the library, and in SFU in general. I think there should be more quiet open areas such the one corner on the 6th floor of the library instead of simply cubicles. Also, there seems to be a lack fo rooms for group work, as well. The library is a great place for effective studying but very ineffective if time is wasted on looking for a place to sit!
Graduate student, Faculty of Applied Science:
SFU does not seem to have an adequate library/student study space given the number of students who use the library during the school week. It also does not have an adequate number of computers available given the number of students needing to use computers during school library hours, especially "peak" hours.
A comparison with other institutions shows that SFU currently has the lowest "library seats per student FTE" ratio among the four BC research universities: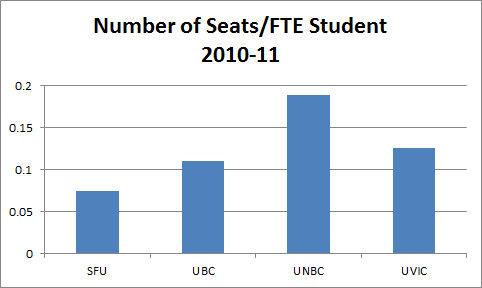 2011
In January 2011, money was allocated to a Third Floor renovation by the the Vice-President, Research.  A Third Floor Task Group was convened and made the following recommendations on a renewed Bennett third floor suite of services:
Be welcoming, engaging, lively and intuitive
Design for current and future requirements
Focus on service and information and provide an excellent user experience
Highlight high demand services and functions and combine service points where logical
Hone the print reference collection and relocate nearer the service point
Display Library and Special Collections materials
Relocate some of the workstations elsewhere
Zone for different activities and different noise levels
Promote self-service
2012
In May 2012 a Concept Planning Team was convened to program the Third Floor requirements, create a Preliminary Plan and establish a Feasibility budget, based on the Third Floor Task Group recommendations, above, and staff consultations.  This group included  representatives from Library staff, University Facilities, B. Gordon Hlynsky Architects and Raven Design, and added the following recommendations:
Improve climate control at the entrance
Add an automated book return and sorter to the entrance
Enhance the relationship between the Library and Convocation Mall through improved visibility and flow
Increase student seating through the creation of a new lounge and reading area
Facilitate teaching and programming with a new Student Learning Commons and Library classroom
A Preliminary Plan was developed:
An application was made to the University Priority Fund in Fall 2012 for additional bridge funding to enable the renovation, and was approved for 2013/14.
With funding approved, a Design Team was assembled, again with representatives from Library staff, University Facilities, B. Gordon Hlynsky Architects and Raven Design.  Work began on Design Development.
2013
See Timeline section above.