In the time of Zoom: internationally-based students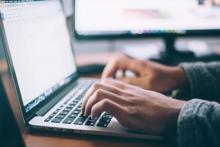 Students are spending more time than ever online
Published by Hermine Chan
The pandemic has changed the way we live and learn. As classes and work move online, many of us have to adapt to this new normal. Some students reported feeling disengaged but at the same time overwhelmed with information. Others want more social interaction but are also feeling demotivated to sit through yet more video chats in front of a screen.     
When this all began, some students have chosen to return to their home countries to be closer to family while still pursuing their education in a Canadian university. While the internet and Zoom have made it possible for them to study from anywhere in the world, their struggles can be felt more intensely.  Here are just a few examples of what some of our fellow students have been dealing with.   
Stayin' awake! Stayin' awake! 
Some internationally-based students are attending classes at odd hours. A 9am lecture in Vancouver is 11pm for a student based in India and 2 am for a student based in Japan. Even though asynchronous options are available for some classes such as recorded lectures, the general expectation is for all students to attend in real-time to get the most out of their online learning experience. Some students are reportedly already feeling detached when taking classes on Zoom, and not being able to participate in real-time group discussions or ask questions make it even more difficult to engage.   
Staying up late or waking up in the middle of the night for prolonged months is not great for health and wellness either. As we enter the eighth month of studying from home, some internationally-based students are entering the eighth month of having their sleeping patterns disrupted. To accommodate their classes, many of these students also have to live on opposite schedules to their family members and friends, which makes it even more difficult to have a normal life or socialize, resulting in increased feelings of isolation even though they are right at home.  
But they got lots of free time, don't they?  
Time zone differences may present a barrier to some students' ability to attend required course activities, such as office hours, tests, or group project meetings. Instead, they may choose to pick up extra course work to make up for their absence.  There is sometimes the misconception that because classes are all online, students have more free time on their hands. While this may be true to a certain extent, many students are still juggling different responsibilities with their studies and part-time work. Having to take on more course work adds to the stress and pressure.  This practice may also create unfairness as not all students are graded the same way.  
With no access to their professors or TAs' office hours, some internationally-based students reported not feeling adequately prepared for their exams, especially in the Spring term. Access to advising services or tutoring services are not easily available to them, and even if they do have access, with everything conducted via videoconferencing, sessions can feel more transaction rather than personal.  
Part of the reason why many students choose to study abroad is because of the community and the ability to network with people from different backgrounds and walks of life. While this is still true in the online environment, it is just that much harder to feel connected when they are working in a different time zone with all these barriers. Staying up till 4am for a chess club meeting just isn't something that is sustainable, and these students lose out on opportunities to enjoy the sense of community that they could be more easily fostered in the in-person environment.  
Isn't everyone on Instagram?  
Without physical notice boards to stick posters on, universities are trying to get creative when it comes to announcing events and sharing messages.  They turn to social media platforms like Instagram or Facebook, assuming that most students regularly check their feeds. However, that option is not available to some internationally based students who are living in countries that have barred these social media platforms.   
A fast Internet connection is also not a given in all countries, and neither is a stable power supply. With some energy-saving measures in place in some countries, it can be a real challenge for some students to write an exam at 3am!   
Supporting internationally-based students  
While this new normal has presented many, many challenges, it has also presented opportunities for us to be more understanding of each other and to think about how to support one another. Here's what some of our EAL peers have said about working with internationally based students, or they themselves are internationally based and working with students in a different time zone:  
"Virtually talking with my conversation partner halfway across the world has provided a unique learning experience while maintaining the program's goals of helping students improve their English, all while at the comfort of my home." 
- Jeremy S  
"It's sometimes interesting to say good morning to someone when I am about to eat dinner with my family. While I am finishing up a long day, I get to hear someone else's hopes and plans for a new day and suddenly I feel motivated to end mine in the best mindset possible! Regardless of how many kilometres we are apart and how different our backgrounds may seem at times, it is exciting knowing that someone on the other side of the planet wants to start their day by talking to me and shares the same goals of learning more about different cultures." 
- Zoe L  
"Having to do schoolwork and volunteer overseas really emphasizes the fact that the world is a much larger place than we think; it feels like I am living in a different universe. Whenever I attend my online classes, the difference is literally night and day. The same thing can be said about my conversation partners; it is always bright and sunny where I live whereas the webcam from my partners in Canada shows a dark and silent night. When I am eating dinner, I think about what my family is eating for breakfast. When I am out during a hot day in a crowded city, I think about how quiet and cold it is in Vancouver. Going through this experience, I realized how much of the world we often miss, and how narrow my perception was of it.  This is why I feel it is important to connect with people around the globe to show them a part of the world that they have never seen before, and to show them that the world is much bigger than people think. Experiencing the world in different time zones has made me develop an appreciation for travelling; not only is it fun to do, but also it can provide an insightful inspiration, as it has done for me." 
- William H