Fall 2020 SLC Undergrad Writing Contest Winners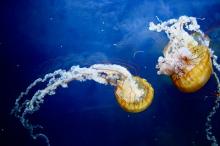 Curious about jellyfish? Read our winner's entry
Published by Hermine Chan
We are pleased to announce the results of the fifth SLC Undergraduate Writing Contest, which opened last November to enthusiastic responses and keen competition. The upper division applications filled up within days, and we received wonderful submissions that cover a wide variety of topics. From jellyfish to digital assistants, blood plasma donations to housing alternatives, we were treated to excellent papers from all disciplines. In the lower division, we also received over 25 well-written submissions with topics as diverse as children's temperaments to working memory, to constructive storytelling and gaming. Judges and reviewers agreed that it was an absolute treat to read through these inspiring entries—and a most challenging task to pick the winners.   
In the upper division, we'd like to extend our congratulations to Jonson Lee the 1st place winner, for the paper "Jellies and Fish: A Bad Sting for Fisheries". 2nd place goes to Christina Manning's "The Quest for Liquid Gold: Why Canada Should Provide Remuneration for Plasma Donations". In 3rd place, Yutaka Yen writes about "Housing alternatives under a commodified system". Honourable mentions for the upper division include Seana Semchishen's "The Influence of Puberty on Depression Symptoms and Altered Cortisol Secretion in Adulthood: A Literature Review", Ashley Lee's "Using Autoethnography to Examine Settler-Colonial Farming Practices Within the Okanagan Valley", Breyden Chong's "The Gendered Digital Assistant: An Evaluation of Their Use in Domestic Spaces" and Daria Elrick's "National Canadian Pharmacare: Pros, Cons, and Challenges".
In the lower division, congratulations to 1st place winner Melissa Thoen for the paper "Tempering Temperament: A Critical Evaluation of Insights into Children's Temperaments". 2nd place winner Chelsea Davis's paper is titled "Clearing the Way for Constructive Storytelling". In 3rd place Kebira Khattak writes about "The Effects of Binaural Beats on Working Memory". Honourable mentions in the lower division category include Jasmeen K Gill's "Canada's Prime Minister Wields Excessive Power", Alexa Reardon's "Gamers as a Commodity: Mining Players for Profit", Tabatha Mason's "The Incorporation of English Noun Loanwords into Japanese Syntax" and Carissa Gauthier's "De-stigmatizing Relationship Statuses: The Benefits of Being Raised by a Village".
All contest winners and honourable mentions will be published in the SLC writing contest journal in March, and we invite you to read through these excellent undergraduate academic writing and be inspired! Prior to the publication of this issue, you can also peruse our last three issues of the writing contest journal. And if you're keen to enter the next SLC undergraduate writing contest, why not book a writing consultation with one of our peer educators? We can help you develop your arguments, go over your thesis statement, give feedback on the flow and cohesion, and more!
Best of luck with your assignments, and we look forward to reading your contest entries in fall 2021!