Asian Heritage Month Book Recommendations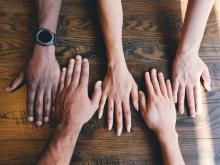 Reach out to our common world
Published by Hermine Chan
May is Asian Heritage Month, and we are proud to celebrate the contributions that Canadians of Asian descent have brought to Canada. What better way to learn more about the vibrant languages, cultures, communities, religions, and traditions of the 48 Asian countries than by reading about them? 
There are so, so, so many books written by Asian authors in English and also in translation, and it's difficult to just pick a list. I'm so excited to be joined by two of our Writing & Learning Peers, Kitty C. and Jaden T., both avid readers, who bring many recommendations for your reading pleasures. I'm sure you'll find your next favourite book from this long list!
Kitty's Recommendations: 
Tales from Firozsha Baag by Rohinton Mistry
Tales from Firozsha Baag is a short story collection by Indian Canadian author Rohinton Mistry. The stories centre around the intersecting lives of a mostly Parsi community living in an apartment complex in Mumbai, India. I came across this book in a World Literature course for creative writing and it is an especially great text for emerging writers who are looking for examples of quality character-driven stories. Mistry's stories are entertaining, kooky, sometimes outrageous, but always very human.
Dear Girls by Ali Wong
Dear Girls: Intimate Tales, Untold Secrets & Advice for Living Your Best Life is a hilarious memoir by American comedian Ali Wong. Similar to her stand-up sets, Wong's stories are brash and unapologetically raunchy. She writes a series of letters for her daughters, discussing her mixed Vietnamese and Chinese heritage, sexuality, experiences with motherhood, and more. I recommend listening to the audiobook, which Wong narrates herself with stellar comedic delivery.
Wild Swans by Jung Chang 
Wild Swans: Three Daughters of China is a family biography by Chinese British writer Jung Chang. Starting with a biography of her grandmother, then mother, then her own autobiography, Wild Swans is a devastating yet triumphant account of three generations of women in China. As a Chinese Canadian, there is a lot about my family history and Chinese history that I did not know before reading Chang's book. Beware readers, this story is heavy and heartbreaking, but it is tremendously important. 
Jaden's Recommendations: 
Dim Sum Stories by Larry Wong and Paper Shadows by Wayson Choy
These books are both memoirs from Chinese men growing up in Vancouver's 1940s-1960s Chinatown. Personally, I enjoyed the writing and anecdotes from Wong's memoir more than Choy's, but Choy's memoir was really interesting because of his discovery (and exploration) of his status as one of the many "paper sons" that were sent to Canada. Fans of Choy's novel, The Jade Peony, might also be interested in reading more about his life.
Chop Suey Nation: The Legion Café and Other Stories from Canada's Chinese Restaurants by Ann Hui
Part investigative journey, and part memoir, Hui's book chronicles her road trip across Canada as she tries to figure out why there is a Chinese restaurant in every small town, the stories of the families who run these restaurants, as well as her own family's history with immigration and Chinese restaurants. This book also delves into the history of the Canadian/Western take on Chinese food, which I found particularly interesting. Having grown up eating more "traditional" Chinese dinner every Sunday with my grandparents, seeing the differences in the "Chinese" food from Chinese restaurants here in Canada was always a bit strange, so it was really neat to see the history behind many of these iconic Chinese restaurant dishes. Fans of this book might also enjoy The Fortune Cookie Chronicles by Jennifer 8 Lee, which also explores Westernized (specifically Americanized) Chinese food, and its ties with Asian immigration to the West.
Minor Feelings: An Asian American Reckoning by Cathy Park Hong  
This is a memoir/series of essays about the Asian-American experience. I liked the first half of the book and Hong's discussion around "minor feelings" – essentially ugly feelings like shame and anger relating to identity – and how Asians' status as invisible minorities plays into the larger conversation of race/racism in America. 
The Singing Hills Cycle by Nghi Vo 
This is a novella series set in a world inspired by ancient China. The first book, The Empress of Salt and Fortune, details handmaiden Rabbit's friendship with empress In-Yo, and In-Yo's political journey and political rise. The second book, When the Tiger Came Down the Mountain, examines the romance between a tiger and her scholar lover – and how the surviving "truth" is dictated by who exactly is telling the story. Despite their small size (about 120 pages each), the worldbuilding/setting in both books is fully realized and Vo's beautiful prose makes these worlds wonderfully immersive. Both novellas also follow a story-within-a-story format and can be read as a stand-alone. Vo's debut novel, The Chosen and the Beautiful is also set to be released later this year, and is a retelling of The Great Gatsby, featuring a queer, adopted, Asian-American Jordan Baker as the main character. 
The Magic Fish by Trung Le Nguyen 
This is a graphic novel about a thirteen-year-old Vietnamese boy who is trying to figure out how to come out as gay to his mother. Struggling with the language barrier between him and his parents, he does so through his and his mother's shared love of fairy tales. Through the use of colour, Nguyen weaves together different stories and timelines into one beautiful story. 
Hermine's Recommendations 
Human Acts by Han Kang 
This is an extremely heavy and depressing read, but also an important book. Set in 1980 in South Korea during the Gwangju student uprising in which 600 people were massacred, the story follows a young boy who is brutally killed and those close to him as they struggle to find a voice through censorship and the massacre that follow. I have never felt as shocked to the core by the power of written words as they act as a lens into a historical event through the trauma that is left in the wake of violent suppression. Even though it is not at all an easy book to read, I highly recommend setting aside time to do so. 
The Memory Police by Yoko Ogawa 
In an unnamed dystopia, objects are disappearing one by one—hats, ribbons, birds, roses, and along with it everybody's memories of them. A young novelist slowly forgets how to write and form a sentence as she loses the power of memory. Although this book was written in 1994, there is a timeless quality to it, and it especially resonated with me when I read it during the earlier months of the pandemic lockdown when we were becoming more and more distant from what is "normal" in our days and adapted to the new reality. This work of literature is incredibly layered and meaningful, dealing with the ideas of "living" and "memory"—both only meaningful if we understand the emotions behind the objects that are left behind and have someone else to share them with.
The Silence of Bones by June Hur 
I'm an avid reader of crime noir and I cannot finish this list without at least mentioning one murder mystery! This YA mystery is unlike anything I've read before. Set in 1800 Joseon (Korea) in a world where Catholics were still persecuted for spreading Western influences, an orphaned teen is bound to serve a young police inspector as they investigate the death of a noblewoman. It's hard not to be drawn in by the lyrical writing into an immersive tale set in olden times. I devoured this story to get to the ending in one sitting!    
Shahnameh by Ferdowsi 
I'll finish off the list with an Iranian national epic on my to-read list, recommended by an Iranian friend. This is a long poem of the Persian Empire, a tale that encapsulating the history and religion of Iran before Islam. This classic served a crucial role in preserving the language and still has tremendous influence over modern works of literature in Iran and beyond. 
Hope you all have wonderful reading adventures this May!