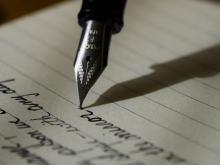 Published by Hermine Chan
SLC Graduate Facilitator, Daniel C. shares his thesis statement tips with us in a video! 
Published by Julia Lane
Former Writing and Learning Peer Deeya B. returns with another post to help you do well in your writing courses this semester. 
In this post, Deeya debunks myths about "flowery language' and the value of such language in academic writing. 
As Deeya explains, flowery language occurs when elaborate words are substituted for simple ones and longer sentences are used to try to convey multiple ideas. However, flowery language often backfires and makes students sound less confident in their understanding of a subject.
In this post, Deeya will explain more about what flowery language is, why students choose to use it, and why it often has the reverse of the intended outcome. 

Published by Julia Lane
Imagine this: you're typing away ferociously with the little time left for you to hand in your term paper. It's due tonight, and although you had three weeks to write it, there were other more important assignments on your plate. It's not that you didn't know you had to write this paper too, but you were pretty confident you knew what you wanted to say and could put all of your ideas into words in one afternoon. It is now the afternoon of your paper's due date. You're scrambling, fumbling over the keyboard, ideas circling in your head but all of them sounding like a thought vomit on paper. You're tired, overwhelmed and unable to comprehend your own words. You rush to the SLC for a drop-in session, praying that your peer educator can work a miracle and save your grade...
In this post, Writing and Learning Peer Deeya B. shares pro tips to help you get your writing done this semester and get the most out of the Student Learning Commons. 
It isn't a miracle, a magic spell, or a silver bullet, but if you follow these steps, you may find that your writing process this semester is that much easier (or, at the very least, slightly less painful).