On this page
Fall 2022: This guide is for Professor Alder's class, section D100
Psyc 100
This guide begins with some broad information on finding scholarly articles in PsycINFO, followed by more specific information on locating both a true experiment and a non-experimental empirical study for your assignment.
Finding a scholarly article in PsycINFO
For your assignment, you are required to locate two peer-reviewed, scholarly articles using the Psychology-specific database, PsycINFO. Notably, almost all of PsycINFO's indexed journals are scholarly. This distinguishes PsycINFO from other databases such as Academic Search Premier which contain a mixture of academic journals and popular/practitioner periodicals. 
Peer-review: while almost all scholarly journals are peer-reviewed, there are a few that are not. Accordingly, you should check the "peer reviewed" box in PsycINFO as an added measure.
After finding your article you will still need to look at the article and double-check whether or not it is a scholarly article. For example, you may find an article that comes from a "peer-reviewed scholarly journal", but is, in fact, a book review.
To learn more about how to identify a scholarly article, please view What is a Scholarly Journal?
Full text access to your articles
Some databases provide the full content (i.e., the full text) of all of the articles listed in it, while others provide only the citation. PsycINFO provides a combination of full text articles and citations to articles. 
Your articles must be cited in PsycINFO to meet your assignment criteria. However, you may obtain the actual full text of the article from any of our databases. Simply click on the Get@SFU link in PsycINFO and follow the links to see which other databases might have the full text.
(Note: SFU Library provides access to over 100,000 online journals, and over 500 databases, so we often have access elsewhere! If we do not have access, you may still likely obtain online access by submitting a free interlibrary loan request.)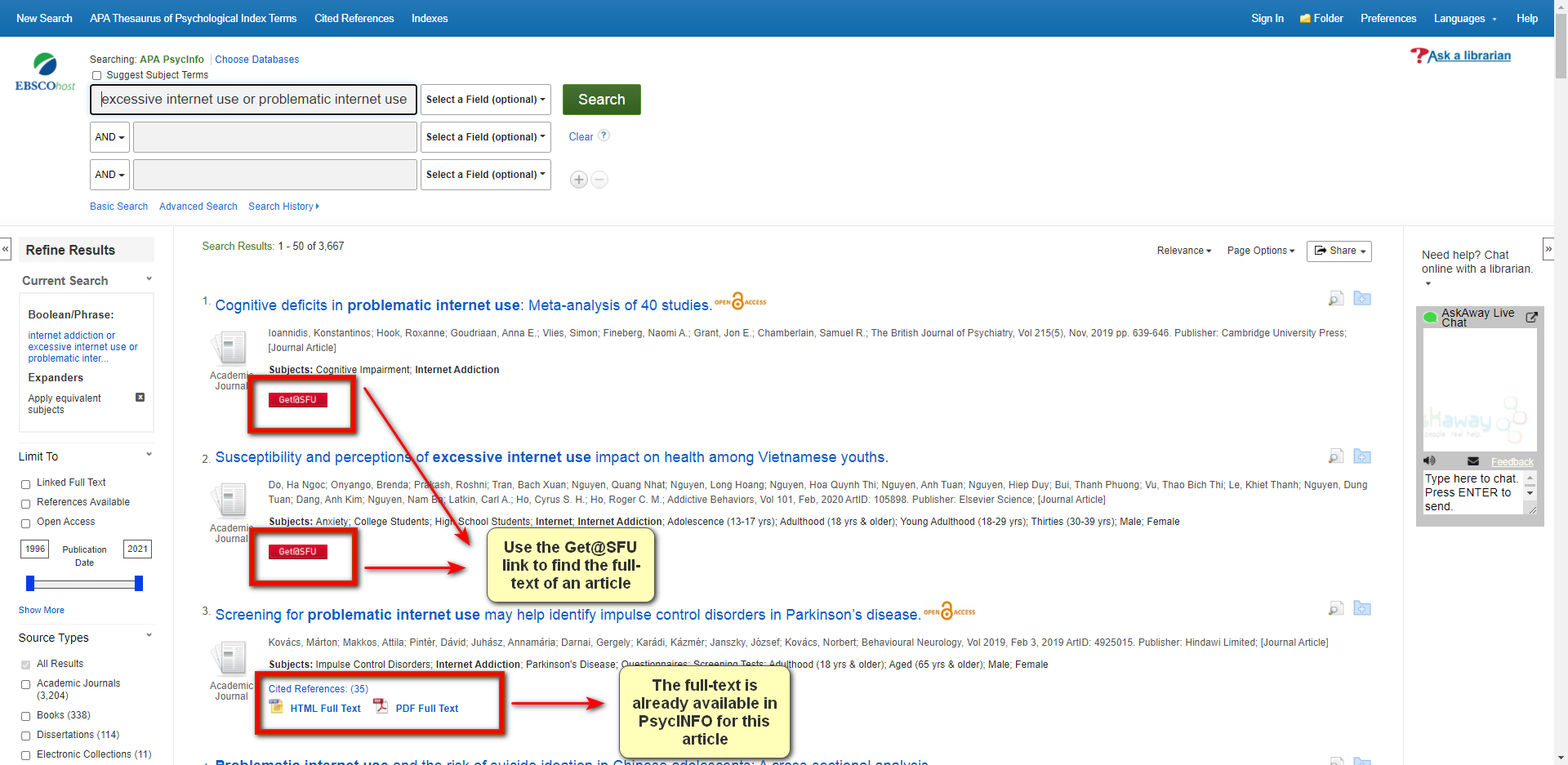 If you are still having trouble locating the full text of an article cited in PsycINFO, please Ask A Librarian.
Finding on-topic articles
Before you start searching, it helps to clearly understand your topic.
Identify the KEY CONCEPT(S) of your assigned topic, for example: drug abuse. You may need to read ahead in your textbook if you are assigned a topic not covered in class yet.
Make a list of RELATED SEARCH TERMS for each concept that you can include to increase your results. If a simple search for drug abuse, for instance, is not providing a large enough pool of results, you may wish to add more keywords that represent similar or synonymous concepts: alcohol abuse, drug dependency, drug addiction, etc.
Research Concepts Worksheet. Use this worksheet to help brainstorm keyword ideas.
A good strategy to enter search terms into a database like PsycINFO is to devote one search box to each concept.

Using Search Limiters - Date Range & Author Last Name
On either the main search screen of PsycINFO, or the left-hand side bar once you've run your search, you can limit your article by various parameters. For instance:
Your research articles from PsycINFO should be academic articles (also called scholarly articles). Because PsycINFO indexes other sources such as dissertations, book chapters, and encyclopedias as well, try limiting your search to academic articles only, by selecting "academic journals" under the source type limiter.
To limit to articles published within a certain time range, make use of the publication year limiter. 
Unfortunately, there is no direct way to limit your search by the first letter of one of the authors' last names. You will have to manually skim the results.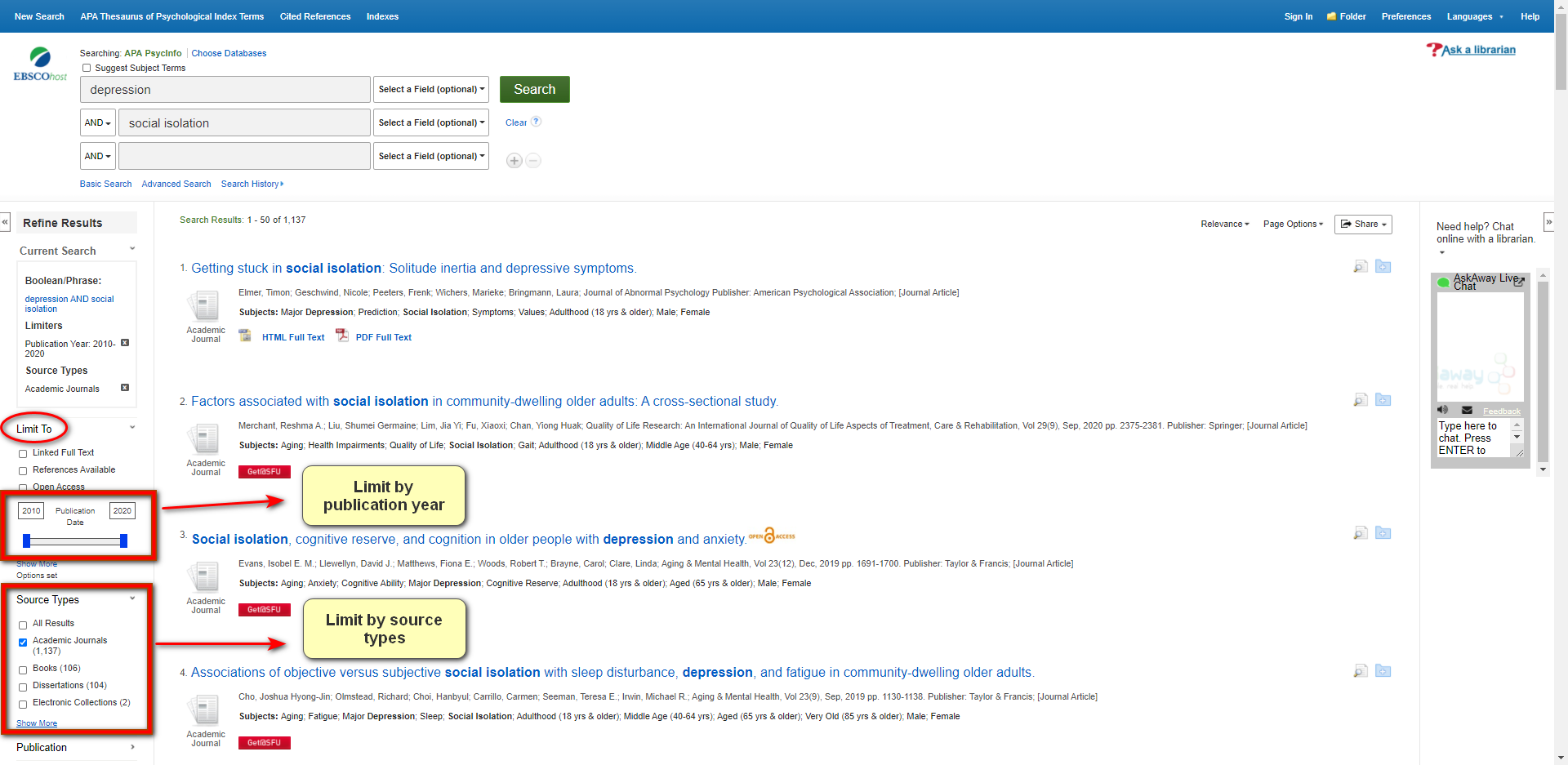 Assignment Search Tips
For your assignment, you are required to locate both a true experiment and a non-experimental empirical study. Unfortunately, there is no technical way to run a search in PsycINFO that will limit your search results to strictly true experiments or non-experimental empirical studies. This is because when the articles are added to PsycINFO, the articles are not originally classified either way. The only way to truly determine what kind of study you are looking at is to first read the abstract closely, and, if promising, continue reading the full article.
There are techniques you can use, though, to get more of the kind of search results you would like.
1. Use the Methodology limiter
On either the main search screen of PsycINFO, or the left-hand side bar once you've run your search, you can limit your article by methodology used. Choose the limit empirical study. This will help eliminate articles that fall outside your assignment requirements, such as literature reviews and case studies.
Note that all true experiments are classified as empirical studies in PsycINFO. However, many non-experimental studies are also classified as empirical studies. By limiting to empirical studies, you will simply remove some of the extraneous types of articles from your search results, such as literature reviews. Also, an article may have more than one methodology classification in PsycINFO, so you do not need to worry about, for example, losing any twin study (methodology limiter) by selecting the empirical study limiter. 
Using the Methodology Limiter in PsycINFO (YouTube tutorial)
2. Add keywords related to methodology to your search
In addition to your topical keywords entered (e.g., drug abuse, memory, dreaming, etc.), you can add keywords that are more likely to show up in either type of study - true experiment or non-experimental study. Of course, there is no guaranteed inclusion of these keywords in an article to indicate a particular type of study. In fact, it's entirely possible these keywords will appear in the kind of study you are NOT looking for as they are only keywords. However, adding them can help when you are browsing through a large amount of results and need a better chance of narrowing down one or the other. Sample common keywords for each type of article include:
True experiment keywords: control, randomization, manipulation, "independent variable", "dependent variable"
Non-experimental keywords: survey, correlation
Can you think of any other research methodology keywords you could try adding?
3. Apply your article date and author limits after you run your topical search
You may find it beneficial to focus on getting your pool of search results on-topic first before you begin to apply the necessary author and date limits (remember, for each of the articles, only ONE of the author's last name needs to be within the restriction). This way you can try different combinations of subject keywords, making your search results as topically relevant as possible before you start adding those limiters. 
4. Think again: true experiments vs. non experimental research
Ultimately, a close reading of the abstract is essential. Articles that seem like true experiments may not be and vice-versa. It may be helpful to ask yourself what the independent and dependent variables are in the study. Are these variables that can be manipulated? 
Notably, the percentage of true experimental versus non-experimental designs will vary by Psychology sub-discipline, but in most sub-disciplines, there are usually fewer true experiments conducted. If you find the article that describes a true experiment first, you might discover that it cites and references articles reporting non-experimental research on the same topic. To find out, you will need to read the introduction carefully.
Please be aware that librarians cannot help in identifying what kind of article you are looking at as this determination is a key part of your assignment.
APA citing and style
The American Psychological Association (APA) Style Manual provides the main writing, formatting, and citation style guidelines used in the field of Psychology. Importantly, the Manual provides guidance on how to cite your sources in-text and in your reference list.
APA released the 7th edition of the APA Style Guide in late 2019. This is the first new edition in 10 years. 
Helpful online 7th edition APA resources:
Note: The SFU Library also lends out physical copies of the full APA style manual itself. (Unfortunately, no digital copies of the APA style manual are available for institutional purchase at this time).