A feast of resources for those researching alternative protein markets!
Published by Mark Bodnar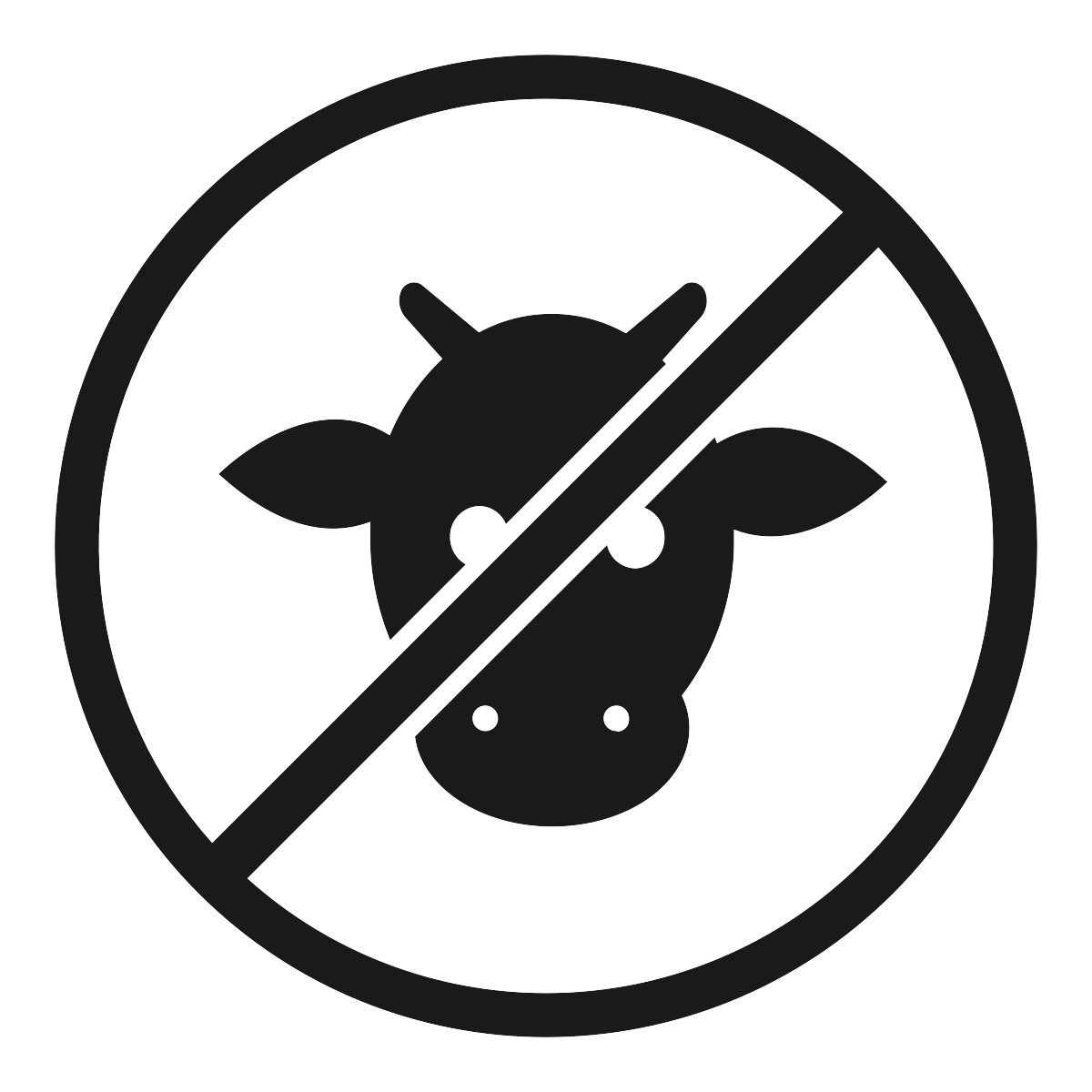 A couple of our marketing classes are going to be doing some primary research on alternative protein products & consumers this semester. 
A key step in any primary research project is, of course, secondary research... you need to look for related articles, reports, and data that will help you frame, justify, and develop your own research.  (For more on the secondary/primary balance, see this post.)
In support of those classes, I've listed some key resources below, but students in other classes may also want to use this post as a case study to learn about the powerful market research tools available to SFU researchers. 
Bon appetit!
1. News
Protein alternatives have been a hot news topic lately with articles about Impossible, Awesome, Beyond Meat, and even Futuro burgers appearing daily, not to mention stories about major meat processors rebranding themselves as protein firms. 
Try searching our main news database, Factiva, for recent articles. A good news article may provide useful information on new brands, recent research, major stakeholders, and emerging consumer trends.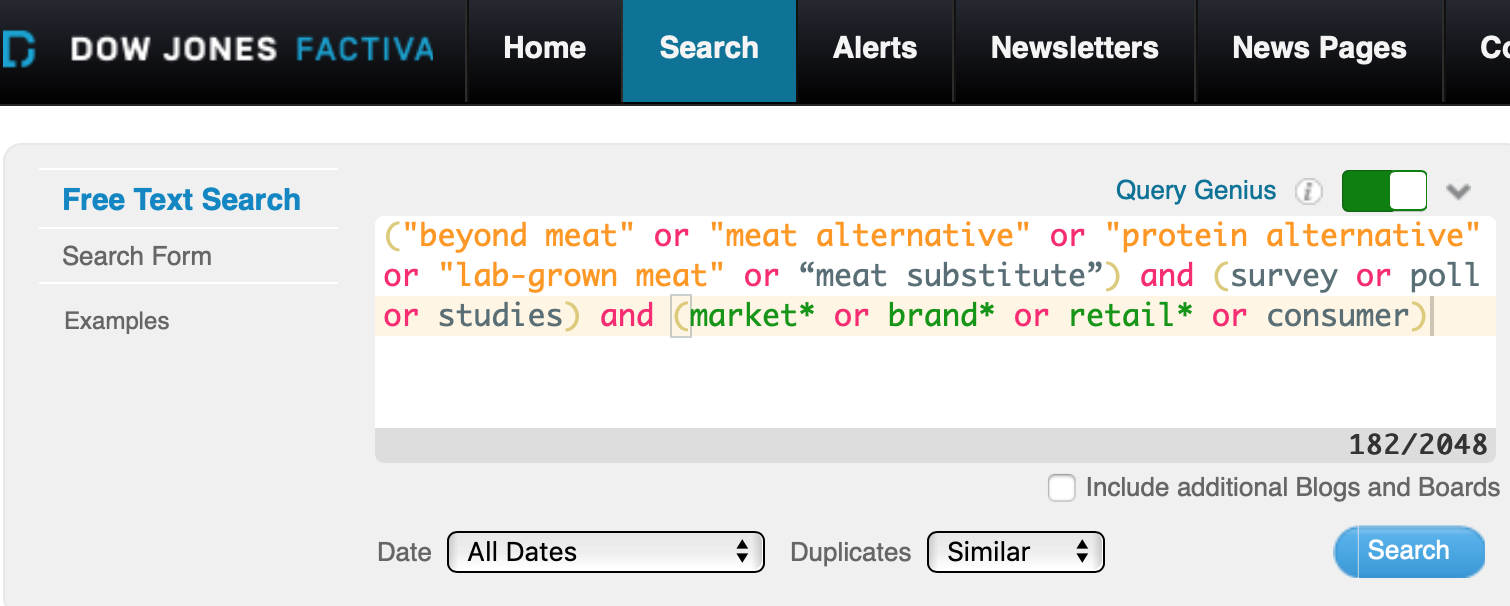 2. Statista
Statista can provide a shortcut to relevant statistics buried in articles and r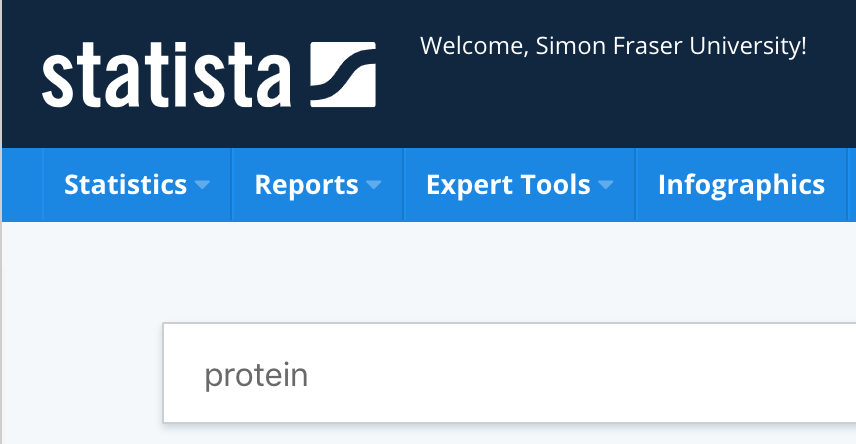 eports throughout the web (including some sources that aren't freely available). 
Start with basic searches for terms such as protein, meat substitute, reduce meat, meat alternative.... 
Be sure to follow the links to original sources under the Source tab to the right of each of the charts.  The original sources of the data presented by Statista often have additional numbers and context on the same topic.
For instance, this chart on Canadians' views on eating less meat uses data from this Angus Reid study  Similarly, this chart on Canadians' interest in plant-based substitutes for meat is based on this 2018 Ipsos report on changing food habits around the world. (Be sure to scroll to the bottom of both the Angus Reid and Ipsos pages for links to the detailed results, questionnaires, full reports, etc.).
Further examples of the information you will find in Statista:
Consumers who would eat a plant-based substitute for meat in Canada as of September 2018
Meat substitutes market in the U.S. (dossier)
Consumers who agree with considering insects or bugs as an alternative to regular meat in Canada as of September 2018
Meat consumption and vegetarianism in Europe - Statistics and Facts
Retail sales value of meat substitutes in Canada from 2012 to 2022
Consumers who agree that lab-grown meat is a meat alternative in Canada as of September 2018, by generation [MB: From a study done at Dalhousie.]
3. Passport
Adjust the main search box in Passport to focus on Analysis, then search for terms such as vegetarian, or meat alternative, or alternative protein… or even just meat. 
You should find briefings, reports, articles, and videos such as:
Meat, Plants, the Planet – NGOs, Brand Owners and Consumers' Connecting Points
Food Technology: The Future Potential for Lab Grown Meat?
Meat Substitutes Continue to Gain Momentum
Meat-free protein products: shifts in meat alternatives and snack-based products
4. Vividata
Vividata provides detailed data on Canadian consumers: the places they shop, magazines they read, brands they buy, activities they enjoy, and much more. Start by browsing the Personal Characteristics/Views section to find topics such as the following, then build tables to learn more about the characteristics of respondents.
"I mainly eat vegetarian food"
"I always check food nutritional content"
"I consider my diet to be very healthy"
"I am prepared to pay more for environmentally friendly products"
"I like to try out new food products"
5.  PsycInfo and Business Source Complete
Be sure to search both PsycInfo and Business Source Complete for research articles about your topic as the two databases cover different, though overlapping, groups of journals.
In PsycInfo, start with this rough search to find articles such as:
Slade, P. (2018). If you build it, will they eat it? Consumer preferences for plant-based and cultured meat burgers. Appetite, 125, 428–437. https://doi.org/10.1016/j.appet.2018.02.030
 
Hoek, A. C., Elzerman, J. E., Hageman, R., Kok, F. J., Luning, P. A., & de Graaf, C. (2013). Are meat substitutes liked better over time? A repeated in-home use test with meat substitutes or meat in meals. Food Quality and Preference, 28(1), 253–263. https://doi.org/10.1016/j.foodqual.2012.07.002 
In Business Source Complete, start with this rough search  to find articles such as:
6. Books & ebooks
A good ebook can be a huge timesaver as it can provide broad coverage of a topic with a minimum of searching required! Here's a great example: 
Still with books, the many volumes in the Marketing Scales Handbook series are worth browsing if you are hoping to find examples of pre-tested scales -- ones that have been used in published academic market research. On a quick scan, I found scales for topics such as: 
Purchase Intention (Organic Food)
Last word
This long post is just scratching the surface (a "tiny taste" if you'll pardon yet another pun).
If you are creative about what sorts of information might be useful for your goals, and if you're flexible about applying research done in other countries and on related sectors and similar topics, I'm certain you'll quickly find useful information both in the library databases and on the open web. 
Be sure to also search the sites of key stakeholders such as industry associations and government agencies.
Good luck with your research!
-- Mark
P.S.: Alternative protein isn't just about burgers: World's first' realistic vegan hot dog to go on sale next week
P.P.S.: (12 June): A reminder to keep an eye on the news for articles on this hot topic, especially ones that mention new research. For example, this article from today's Guardian mentions this report.
-----------------
Mark Bodnar
mbodnar@sfu.ca
Business & Economics Librarian