New feature in Statista: Business Plan Export for fast access to relevant data
Published by Mark Bodnar

Our Statista database has a new feature: Business Plan Export. 
Just to be absolutely clear: Business Plan Export does not deliver a business plan!  It does, however, gather secondary data that you might need when creating such a plan (or for many other purposes) and make it very simple to download with just a few clicks.  
Although this tool appears to be primarily aimed at those who are starting a new business, I think it has a wider audience as it is a real timesaver regardless of what you plan to do with the result.
Access
Just 3 clicks: Within Statista, click on Expert Tools, then on Business Plan Export, then on Start Data Export.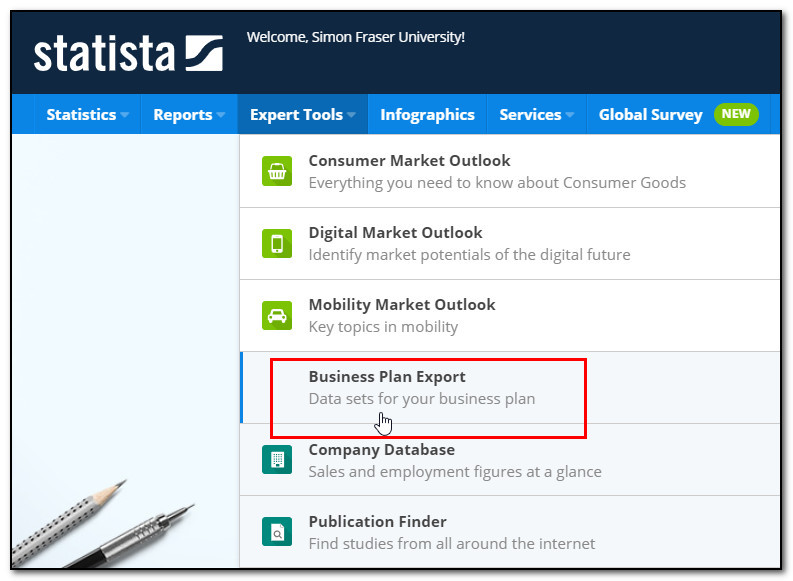 Search
Just 3 clicks (again): Once you have the tool launched...
1. Select your market:  At the moment, there are 22 broad consumer markets available, a mix of standard products (alcoholic drinks, furniture, toys...) and newer categories (fintech, connected car, smart home...).  [Click here for a list of the available markets.]
2. Select your region:  There are currently almost 50 countries available, including Canada!
3. Start the data export: Your excel workbook will begin downloading immediately.
Result
You will receive a complete data set consisting of
secondary data from well-known sources (World Bank, UN, International Monetary Fund and many more); 
projections based on secondary data carried out by Statista's experienced analysts using the latest mathematical models; and
the results of Statista's market analyses from the Digital Market Outlook (DMO) and the Consumer Market Outlook (CMO).
Apart from pure data, the Business Plan Export includes additional template spreadsheets that will allow you to integrate your chosen data into 
your market modeling (external perspective); 
your case/PL statement (profit/loss statement; internal perspective); and
the visually clear incorporation of your case into the market.
That is, Statista's experts make assumptions about the types of data you might need -- both broadly contextual (e.g., population & economic forecasts) and category specific (e.g., forecasts on connected devices & home construction for the Smart Home category for your chosen country plus the region/World).
They then gather that data into one easy-to-download sheet for you. In addition, they provide you with templates for market modeling and profit/loss spreadsheets that can easily incorporate any of the data provided.  
Speaking of saving time, even if you aren't creating a business plan, the Business Plan Export tool may be useful as it provides fast and easy access to a wealth of data on major market categories.  I suggest using this tool as a starting point, then exploring Statista and our other databases for additional data once you have a foundation of information to build on.
Let me know if you have any questions at all, 
-- Mark
~~~~~~~~~~~
Mark Bodnar
mbodnar@sfu.ca
Economics & Business Librarian