Mergent Intellect - information on industries, companies, and individuals for SFU researchers (including alumni!)
Published by Mark Bodnar
SFU students, faculty, staff, and alumni now have access to Mergent Intellect, a database of information on industries, companies, and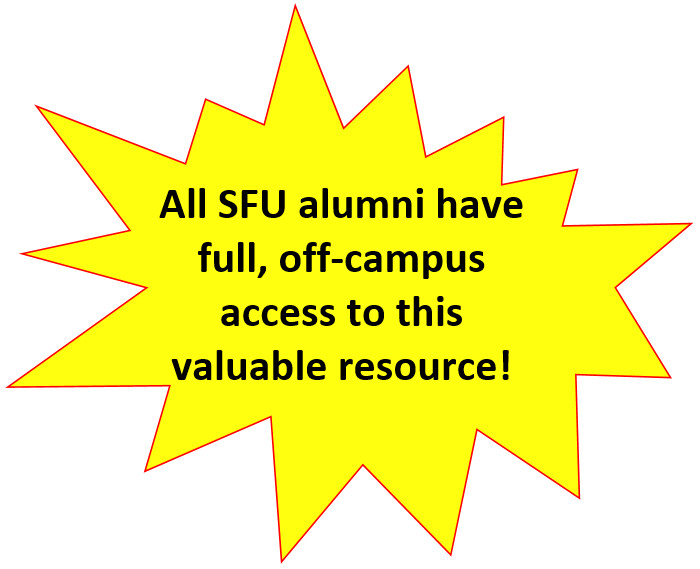 people from such well-known business organizations as Hoover's, Dun & Bradstreet®, Mergent, Career Beam, Whitepages, and First Research. 

Mergent Intellect includes a mix of industry profiles, global company information, and North American resident/consumer information... 
Industry Profiles
The result of a partnership between First Research and Career Beam, this regularly-updated collection covers over 500 industries (1000 segments) from Abrasives Manufacturing to Wood, Window & Door Manufacturing.  First Research profiles seem to be generally US-centric, but many of them do make an effort to cover global trends & companies.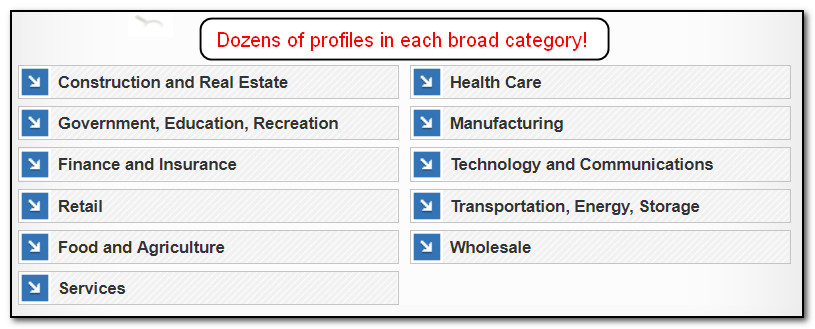 In addition to the sorts of things you might expect in a typical industry profile (forecasts, key financials, industry websites, etc.), First Research industry profiles also include some useful features for those who are seeking to gather knowledge prior to a networking event, job interview, or sales meeting: 
Overviews of the critical issues, trends, challenges & opportunities currently affecting each industry (updated quarterly).
Executive Insight: Industry-specific notes on the top-of-mind concerns of C-Suite members (CEO, CIO, CFO, HR, and Sales).
Call Prep Questions: Customized by industry, this is a cheat sheet of everything you need to know before you walk into a meeting with potential clients or employers... or at least a list of topics you could bring up to begin an informative conversation with such people.
Key Business Ratios (Dun & Bradstreet®)

Key Business Ratios on the Web (KBR) provides online access to competitive benchmarking data. This powerful tool lets researchers examine industry benchmarks compiled from D&B®'s database of public and private companies, featuring 14 key business ratios in 800 lines of business over a period of one to five years (depending on the industry).
Company Information
Based on data from Dun & Bradstreet®, this segment of Mergent Intellect covers over 265 million global companies, of which 165 million are active and the vast majority are privately held.  The amount of information available on each firm varies, but generally includes at least location -- country, state/prov, city, and even lat/long -- as well as industry classification, and some method of gauging size (rough sales or employee count numbers). 
For many of the firms covered (esp. the larger ones), you can also retrieve lists of key competitors, surrounding companies,  detailed global family trees with lists of subsidiaries, and contact information for over 100 million executives.
And, as with the industry profiles, there are some features in this portion of the database that could be of use to those who are focused on career/sales research. For instance, you can quickly search for all the companies in specific industries in a region, then segment them by size or sub-industry, and export the resulting lists.
People Information
Mergent Intellect
is largely focused on US residents, so may be somewhat less useful for most SFU researchers.
This section of
Residential search: Essentially a Whitepages tool with contact information for most U.S. and Canadian households. Core variables provided include name, address, and phone number, but in some cases (esp. the US records), you can also get age, household members, surrounding neighbours, and previous home addresses. The database also includes a reverse phone lookup capability.
 
Demographics (US): The latest U.S. census data by zip code or MSA. Content includes income per household, average house value, population breakdown and persons per household. This section of the database also includes the following reports at a city, state, or zip code level:
- Nielsen Pop Fact reports: track and estimate consumer demand, analyze markets for location planning, and plan for future product developments
- Prizm reports: information on 66 pre-defined demographic & behavior types/segments covering all of the U.S. (Note: We have Prizm data for Canada in our SimplyAnalytics database, but that resource does not allow remote access by alumni.)
 
Consumer data (US): Detailed data on millions of US consumers, but definitely not the entire population. This section goes deeper than typical census data and gets into things like home market value, pet ownership, interest in travel, and much more. The depth of coverage varies considerably between each record. Click here for a slightly redacted sample entry that is at the more comprehensive end of the coverage spectrum.
I suspect the main audience here at SFU for Mergent Intellect will be our innovation, entrepreneurship, and marketing students, but anyone who is doing career research will certainly want to check it out!  I'll add it to our Company, Industry, and Market research guides in the near future.
As always, please do let me know if you have any questions!
-- Mark
--------------
Mark Bodnar
mbodnar@sfu.ca
Business & Economics Librarian