S&P Capital IQ: Save time with an Excel template!
Published by Mark Bodnar
I'm sure that many of you have already registered your personal account in our newest financial database: S&P Capital IQ.  (If you haven't, follow the instructions in the Public Note part of the CapIQ database record after which you will be all set to access this database.)
And if you've registered, then you've probably started exploring the web interface to see what sorts of data you can find and export... and you might have even watched some of these videos to be sure you are getting the most out of the database...
But have you installed the Excel Add-in part of the database yet?  
 Summer 2022:
An important update to this post: S&P has changed their access model for CapIQ's excel add-in. All SFU researchers still have access on campus, but there are now extra steps — and even outright barriers — to off-campus access for some users.  See
this FAQ
for details.
Note that this only applies to the Excel add-in: the main (html) interface of S&P Capital IQ remains available both on and off campus for all current SFU researchers.
In my experience, many people delay using the Excel Add-In... sometimes forever!  The logic seems to be that the web interface is adequate for most needs, and some people think that the Excel Add-In is just for power users who want to build complex formulas.  
Well, the ability to create your own formulas and pull large amounts of data into a spreadsheet is, indeed, one of the features of the add-in, but there is another feature that will save you time and effort from Day One: Templates!
Check out this screenshot showing the categories of templates available to you... from Alpha Factors all the way down to Valuation and Workflow.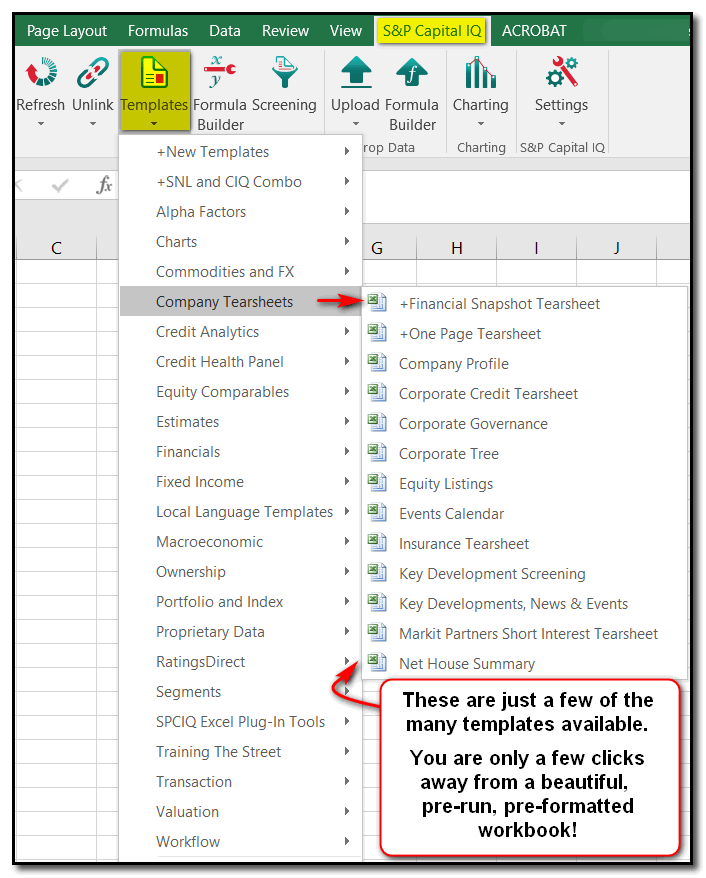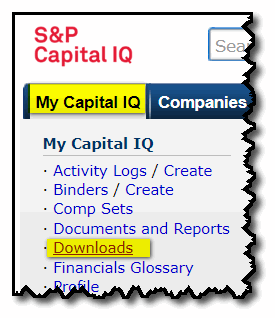 Intriqued? Excited?  Great!  Here's what you need to do... 
Register (on campus *) for your S&P Capital IQ account (as discussed above)
Sign into your new account on your own computer  (must be Windows-based to install the Excel Add-In, sorry!)
Click on My Capital IQ in the top left corner of the CapIQ screen, then on Downloads
Click on the "Download Office Plug-in (New Installer)" link and follow the instructions
Within minutes, you'll be creating professional-looking workbooks full of powerful data about companies, securities, and markets.  
Enjoy!
-- Mark
* Note (Spring 2022): S&P has changed the rules for accessing the Excel add-in from off campus. See this FAQ for details.
~~~~~~~~~~~~~
Mark Bodnar
mbodnar@sfu.ca
Business & Economics Information Specialist