Voice from the field: A former editor-in-chief shares their perspective on student-run peer-reviewed journals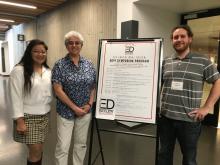 SFU Educational Review co-editors at the 2019 SFU Educational Review Symposium
Published by Ioana Liuta
Next week (October 25-31) is Open Access Week, and we're taking the opportunity to hear from former editor-in-chief, Dr. Poh Tan about her experiences as editor for an open access, graduate student-run, and peer-reviewed journal: SFU Educational Review.
SFU Educational Review is a fully open access graduate student journal which launched in 2007 and supports diverse scholarship in the field of education. The journal aims to "promote better student awareness about the current work being pursued by peers, offer a safe environment for peer-to-peer dialogue, and encourage graduate students to explore and develop their own voice within academia." In 2019, SFU Educational Review became the first SFU graduate student run journal to be listed in the Directory of Open Access Journals.
Dr. Poh Tan is a doctoral student in Education. She served on the journal's editorial board from 2015 to 2020, first as a copy editor (2015-2017) and then as Managing Editor and Editor-in-Chief (2017-2020). In this post, we hear from Dr. Tan about her involvement on the journal team, including the challenges and rewards, the skills she developed, and her advice for other students who are interested in participating on student journal teams.
Tell us a bit about how you first got involved with SFU Educational Review
"I joined the journal in 2015 as a copy editor where I learned about the internal processes of running a student journal. There were many steps and stakeholders to consider when producing a peer-reviewed journal. I quickly learned that the quality of the articles, the methodical steps to ensure articles were anonymized for review, and the process from submission to print required collaboration and coordination from the faculty, authors, reviewers and editors. I became Editor-in-Chief in 2017 and from there, through a collaborative effort from the editorial team, specifically, Jacky Barreiro and Daniel Ferraz, we decided to bring the journal to the next level by establishing an Editorial Advisory Board (all Faculty members) to ensure continuity and oversight of the journal. We also listed the journal in the Directory of Open Access Journals (DOAJ) to demonstrate our commitment to publication quality, and launched a bi-annual symposium for research and scholarship dissemination."  
What did you like best about working on a student journal?
"I had many positive moments working as Editor-in-Chief for SFU Educational Review, but the highlight was working alongside peers and colleagues who have the same passion, drive, work ethic, and beliefs. Starting out with a team of just three board members, we worked together to increase the journal's readership and its recognition within the field of Education, while continuing the work of publishing open access. Ultimately, working with the journal team was the best part and the most meaningful experience I gained from my time at the journal." 
What do you find challenging or rewarding?
"The most challenging part of being Editor-in-Chief was making sometimes difficult decisions on behalf of the journal. As Editor-in-Chief, you not only represent the journal, you are also accountable and responsible for the team's collective decisions. Sometimes the decision-making process is quite stressful because the result could change the direction or progress of the journal. The most rewarding part was having the support of the team and from faculty members who not only supported the work of the journal, but whose belief in the team made us strive higher." 
What advice would you give to other students who are interested in working on the editorial team of a student journal?
"My advice to students who are interested in working on an editorial team of a student journal is to start in a role where you can become familiar with the entire publication process—from the point of submission, to review, to evaluation, and finally to publication. If you have little or no experience working on a journal, you'll only be able to give your best when you understand the intricacies of the publication process. This might mean starting as a copy editor or a proofreader which will give you the experience to be able to evaluate articles with sound academic experience. If you don't have experience beyond reading the articles, you may not feel comfortable evaluating which articles best fit and represent the journal. Authors may have contributed significant time and effort towards the work that is submitted to your journal, so the process of evaluation and the decision-making associated with those should be taken seriously."
What skills have you learned from working on the journal that could be applicable to you in the future?
"I started as a copy editor, then moved to managing editor and then to Editor-in-Chief. Through each role, I learned different skills pertaining to the publication and sustainability of the journal. The most valuable and applicable skills I developed were people skills. I am not talking about making sure that everyone likes you—it's more about making sure you are supportive of your team members, being open-minded and considerate of new ideas that you may not like but are the best approach for the journal, respectful of others' differences, caring and kind towards others who want to be part of the process, and most of all, honest in your approach to challenges and issues. I always believe that a group or organization is only as strong as how well the people can work together during both challenging and rewarding times."
---
SFU student journals are run by volunteer student editorial boards and are supported by SFU Digital Publishing. If you're a student interested in submitting your work for publication to one of these journals, or if you're interested in getting involved on an editorial board, keep an eye on the journal announcements or contact a student journal in your discipline.
If you have an idea for starting a new student journal in your discipline, please visit our website and contact digital-publishing@sfu.ca to learn more. You are also welcome to contact Dr. Tan for information and guidance on starting a student journal.