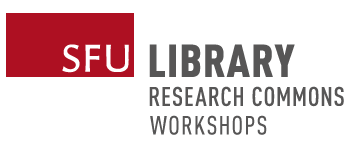 Dates
Monday, February 6, 2023 - 12:00pm to 2:00pm
Location
via Zoom (link will be sent to participants 24 hours before the workshop/event begins)
This workshop is in the past and registrations are unavailable.
Registration dates
closed Sunday, February 5, 2023 - 6:00am
All times are Pacific Time Zone (Vancouver, BC, Canada).
About the workshop
Need help taking the next step with NVivo? If you're already comfortable with bringing in documents and coding them, you're ready to move on to analyzing your material. In this hands-on workshop, Graduate Peer NVivo Facilitators will walk you through visualizations and queries using sample data.
This workshop will build on the concepts from the "Introduction to NVivo" workshop, and depending on the interest of the group
may
include:
classifying and categorizing data
grouping your data: collections and links
exploring your data (coding based queries)
models and relationships
visualizing your data
reporting and presenting your findings
Requirements
This workshop assumes that you already have some familiarity with NVivo and/or will have taken the "Introduction to NVivo" workshop.
Before the workshop, participants should download and install NVivo 12 (for Mac). You can download NVivo 12 and the license key with your SFU computing ID by using the self-serve download link here. If you have any trouble, please email nvivo-rc@sfu.ca.
We will be using the Mac operating system and the interface is different from the Windows (PC) operating system