On this page
If you need help, please contact Yolanda Koscielski, Liaison Librarian for Criminology, Psychology & Philosophy at 778.782.3315 or ysk6@sfu.ca or Ask a librarian.
Use this guide to:
Interpret case law citations

Locate a specific case
If you are looking for case law by topic/subject, please see Finding Legal Cases by Topic
How legal cases are cited
Every legal case citation has two basic parts, separated by a comma. The first part contains the case name. The second part contains case citation information: the year of the decision, the law reporter(s), and the name of the court where the case was tried. (There are some exceptions to this pattern).
Legal Citation Examples:
Example 1: Vancouver (City) v Rhodes, [1955] 1 DLR 139, 13 WWR (NS) 378 (BCSC).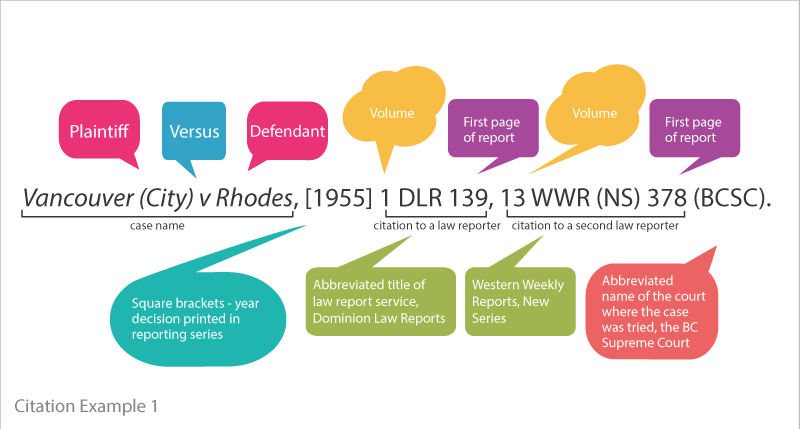 Example 2: R v Enden, (1988) 4 WCB (2d) 345, 66 Sask R 239 (Sask CA).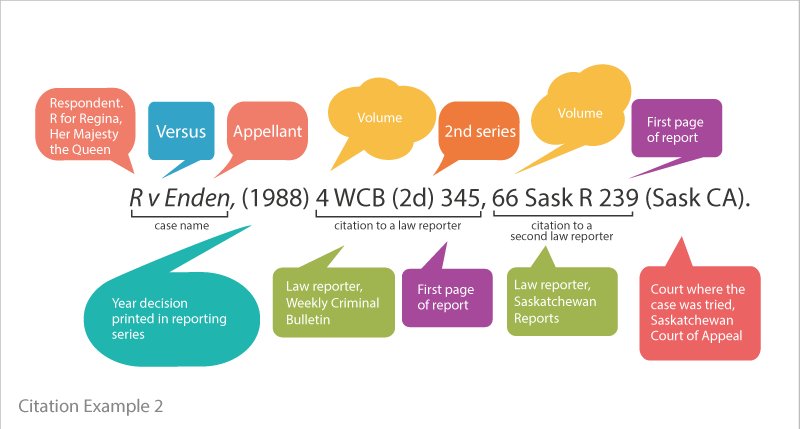 Example 3: Fibercom Systems Inc v Rogers Cable Inc, 2005 BCSC 419, 138 ACWS (3d) 63.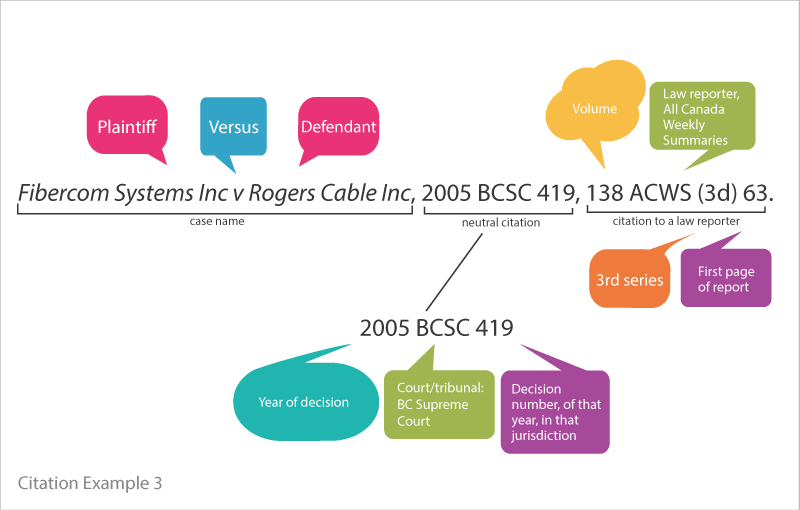 Example 4: 2005 CarswellBC 644 (note: this is not a proper legal citation)

Databases will often provide their own unique identifiers for legal cases, alongside proper legal citations. The above is an example of one. Use these identifiers to find a particular case in a database. 
Find a case by name or citation
You will most often search for a case on a website by either:
1) case name, or,
2) case citation
A case name is the name applied to a legal case and is based on the abbreviated names of the parties involved in the case. Example case names:
R v Sun Glow Foodservice Ltd
Western Canada Wilderness Committee v Canada (Minister of Environment)
Moore v Bertuzzi
All legal databases will provide an option to search by case name. Often, the v can be omitted from your search. Note that if the case went through multiple levels of court (e.g., trial court, appellate court, Supreme Court of Canada), you will want to know a bit more about the case, such as the trial year, to identify the correct case from your search results.
A case citation refers to either the full case citation (including the case name), or a portion of the citation which lists court reporter information, year, and jurisdiction. When searching legal databases, the case citation search option usually means the latter. Example case citations:
[1991] BCWLD 038

29 ACWS (3d) 43

110 OR (3d) 124

2005 BCSC 419 (a neutral case citation)
Many legal database no longer require proper punctuation when searching.
A case citation may also refer to a unique citation assigned by a particular legal database. Note that this format is not considered a proper legal citation, but can still be used to track down a case in a particular database.
Finding your case in a database
Next, you will go to a legal database to find the full text of a particular case. You may use either an open access database such as CanLII, or one of the library's subscription legal databases such as WestlawNext Canada or Quicklaw. The main text of the legal case should be the same, regardless of which database you choose to search.
Use CanLII to Find a Case
1. Search by case name: R v Enden.

2. Search by case citation.

Use WestLaw Next Canada to Find a Case
1. Choose the option to search cases and decisions.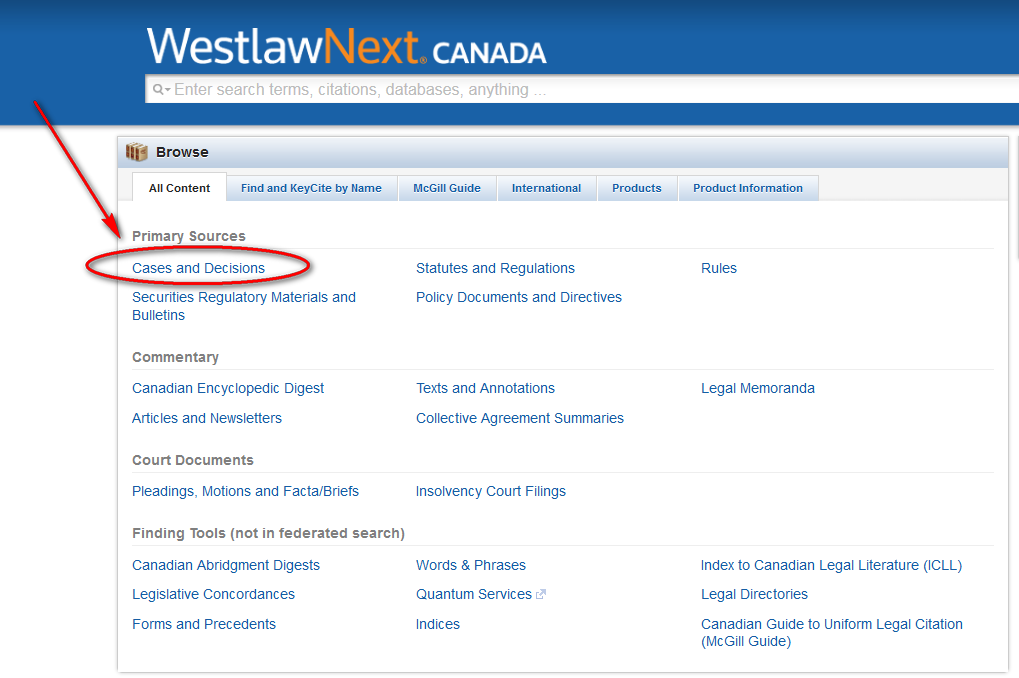 2. Search by case name (example: R v Enden) or case citation (example: 4 WCB (2d) 345). Limit to the legal jurisdiction (example: British Columbia) if you know it.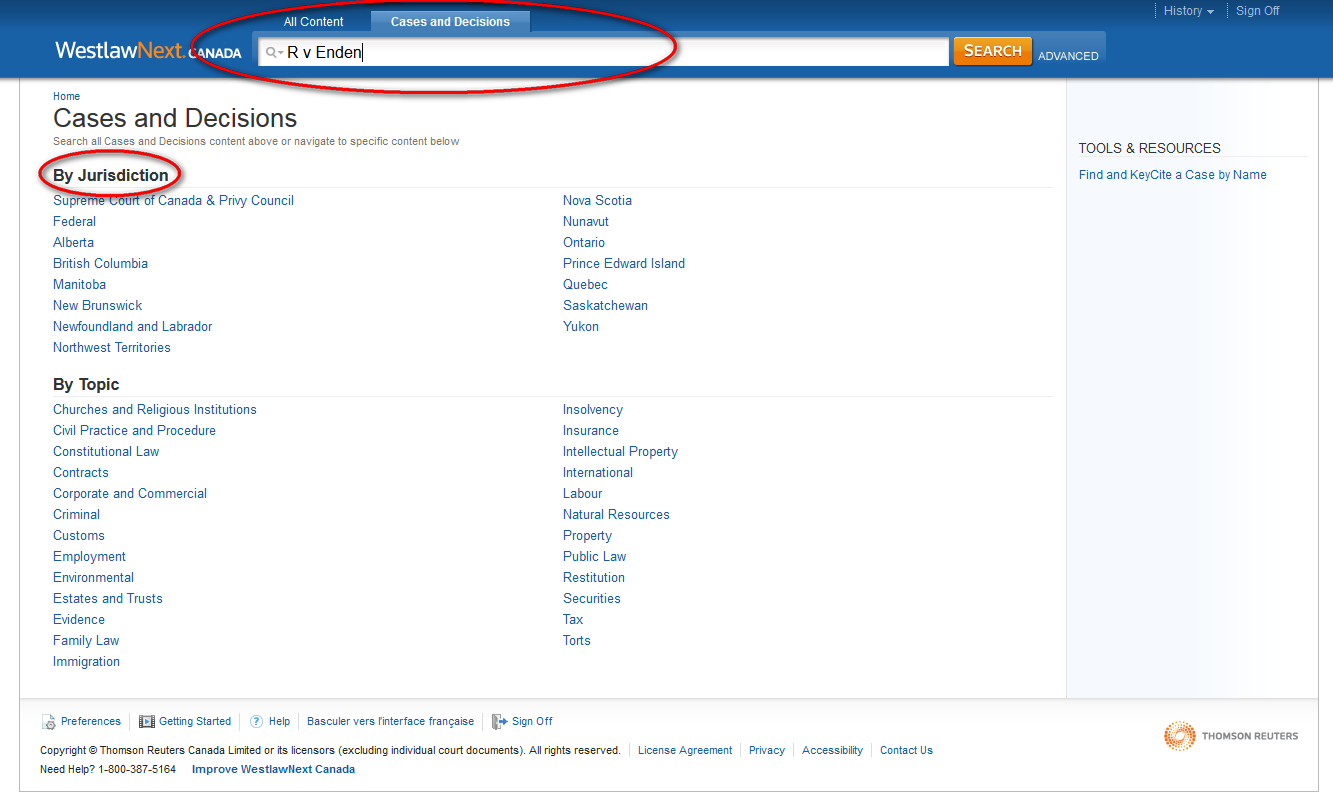 3. Find the correct case from your search results.
A = Check for the same year of decision.
B = See if any of the case citations line up.
C = Ensure the level of court (example: Court of Appeal) and/or jurisdiction (example: Saskatchewan) are the same.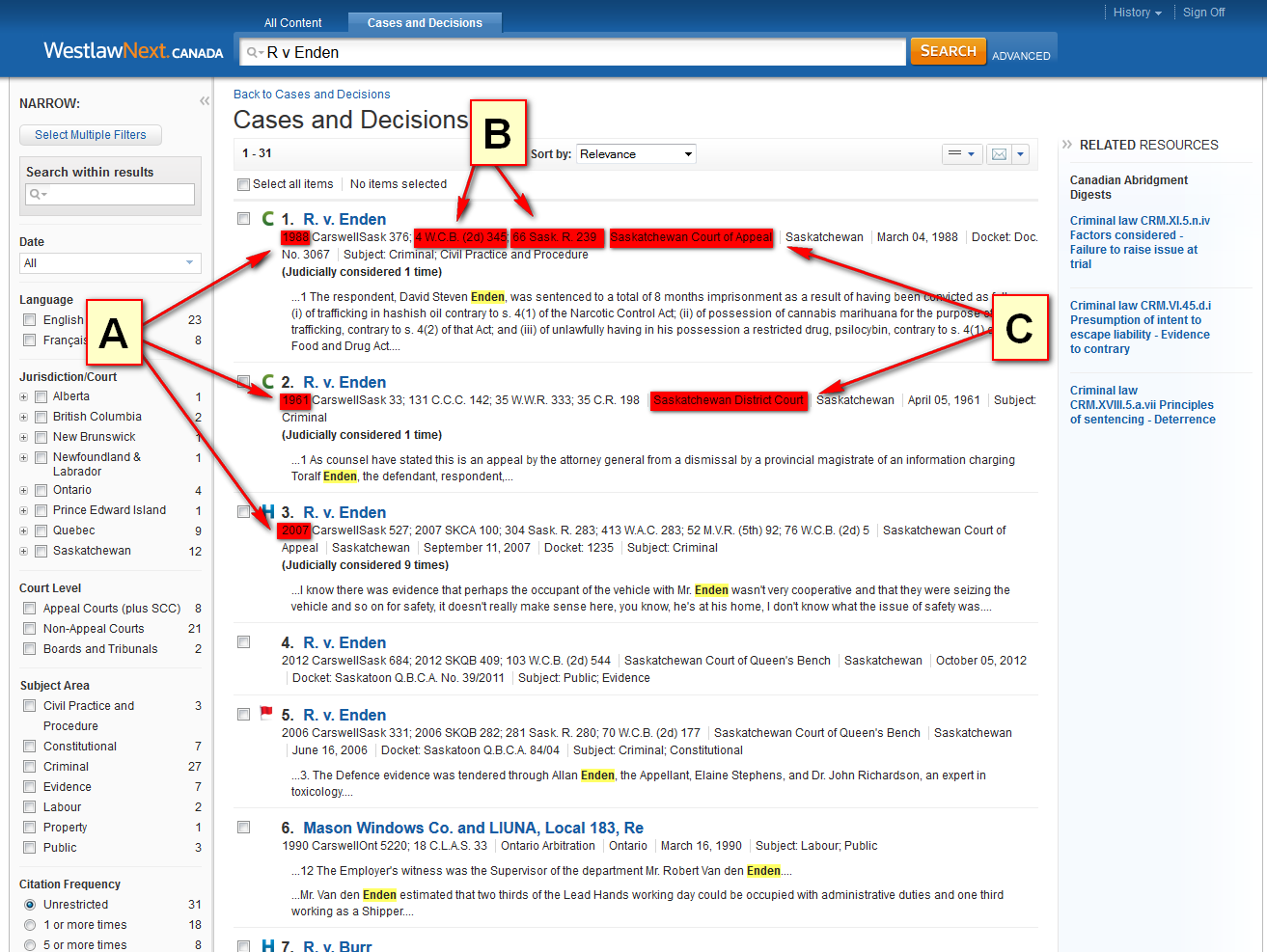 Video tutorials
Find related cases by Noting Up a Case
If you have the citation for a particular case and you are looking for subsequent cases dealing with similar issues, you can note up the case.
When you note up a case, you are doing two things:
Researching the history of a case: has this case proceeded to a higher court? What lower levels of court was this case already tried in?
Researching which subsequent different cases have cited it
If a different future case has cited your case of interest, it is potentially about a similar topic or circumstance. One reason a judge will cite a case is if it is being used as a precedent for his or her decision. Accordingly, noting up a case can be a great method for finding similar cases as part of your research process.
WestlawNext Canada, Quicklaw, and CanLII all have note up functionality. Each legal database has a different proprietary name for its note up tool, but each tool is designed to meet the above two goals.
Citing cases
To cite legal cases, please see Legal Information: Citing and Writing.
Guides to legal research
Books and eBooks
The library has a number of books on Canadian legal research.
Related guides