Contact info

If you need help, please contact Sylvia Roberts, Liaison Librarian for Communication & Contemporary Arts at 778.782.3681 or sroberts@sfu.ca or Ask a librarian.
This guide is intended to help you to do research on your selected topic, in order to complete your literature review for your first assignment.
If you do not find what you need, please Ask a Librarian or contact Sylvia Roberts, Liaison Librarian for Communication (contact information in the box on the right). 
PPT presentation (Feb.1&2 tutorials)
Worksheet for tracking literature searches
SAMPLE RESEARCH INTEREST:
Are Facebook friends really friends?  How do people decide whether to offer or to accept FB friendship requests?  Are there agree-upon standards for how you treat your FB friends, as there are for friendships in real life?
The next step is to conduct a literature review, to identify empirical research studies  that have examined similar topics,  to see what variables and methodologies have been used, to analyze findings, both to establish the need and set a context for new research.
Write your assignment topic as a research question.
As you conduct your literature review, you will likely modify this question as your knowledge of the topic and previous studies develops.
Do people treat their Facebook friends differently than they treat friends in real life?
Identify the key concepts in your research question.
The key concepts represent the major aspects of your research.  Use these as your first set of search terms to find relevant research.
Do people treat their Facebook friends differently than they treat friends in real life?
Search terms that are nouns work most effectively so change your key concepts into noun form:
Use Facebook and friends as search terms but change treat to treatment
Identify alternative search terms.
Computers are a literal technology which provide matches only to the exact search terms that you enter.  
One strategy for overcoming this limitation is to identify alternative terminology for your key concepts. You may not need to use them all but they can be helpful if you don't find enough relevant literature using your initial search terms.
These can be synonyms, broader or narrower terms, initialisms or spelled out versions, brand names or generic names, etc.  As you search, you will likely find additional search terms related to your concepts.
Group these alternative search terms with the related search concept.
treatment:  etiquette OR manners OR polite* OR ethic* OR "social norms" OR attitudes OR behavior
 friends:  friendships OR relationships
NOTE: In many databases, an asterisk * can be used to substitute for alternate endings for similar words.  For example, ethic* will find ethic, ethics, or ethically;  interrupt* will find interrupts, interrupting, interruptions
You can link related terms using the operator OR in the databases.  OR tells the database to treat these terms as conceptually equivalent so records with any of these terms are acceptable in your result set.
Quotation marks around words tells the database that this is to be searched as a phrase.

Start by searching a maximum of 3 different concepts or variables, to get a sense of the nature of research in this area.  Search terms work best as nouns, in plural form.
If there is a great deal of research done in this area,  you can further narrow it down by adding in a concept that relates to the age or status of the sample subjects, the site of the interactions, etc.
Identify an appropriate database to search
To find articles, you can select from the list of article database for Communication. 
Highly recommended for this assignment are these sources:
If I choose to search Communication & Mass Media Complete, I can combine my search terms as follows, putting the terms representing each major concept in a separate search box:
OR  combines related terminology within the search boxes, telling the search system to treat these terms as equivalent
 
AND looks for the overlap between the sets of records with related terms, looking for which records have at least 1 of the terms from each search box.

Notice that I've chosen to limit the results by selecting Scholarly (Peer Reviewed) Journals, in order to ensure my results will report on scholarly research. 
NOTE:  Use the worksheet to keep track of the search terms and databases that you use, as well as what kind of results you get for each.

As part of the assignment, you will need to report on your search process, as well as the outcome.
You may find that databases containing literature from different disciplines use different terminology to describe similar research. 
Review your results set
Each item in your list of results needs to be assessed to ensure you're finding articles that are both on topic and reporting the results of empirical research studies.
Look at the long list of results, at the titles and subject headings shown under each. These will give you a sense of whether the article is on topic. If it is on topic, click on the title to get to the full record.
Read the abstract to get more details about the article. Look for references to "study", "survey", or other terms that suggest the article is reporting on the results of empirical research.
You also want to ensure that records are for peer-reviewed journal articles. For further details, see What is a Scholarly Journal?
RESEARCH TIP:  Use leads from one relevant article record to find others.
Look at the subject headings in the record, to see if they suggest new search terms. The subject headings are selected by a human from a list of standard terminology to describe the focus(es) of the article.  The same term is always used to describe the topic so you can use these to find all  relevant records.  
When I review the list in the sample record below, I see the subject "internet friendship". I haven't searched for this term so I might try that, to expand my list of useful results.
You can also use the author's name as a search, as academic researcher may work on related topics over a period of time and produce more than one article on their results.
Read the abstract to see if articles are on topic and are reporting on empirical research. Words like "study", "survey", "interview" usually indicate empirical research  methods were used.  Read the full text for details.
If you find a relevant looking record, access the full text for the article, either linked from the database or using the Where can I get this? link.  This will enable you to review the author's reference list as they are likely to cite other research that may relate to your interests.  Sometimes links to reference lists are included in the database record.
Search Google Scholar
Google Scholar
Searches specifically for scholarly literature, using full text journal sources, databases, educational web sites, digital repositories, etc.
Unlike the databases listed above, under #4, Google Scholar is an index that is created solely by a computer algorithm, without human intervention.
You can search for words that occur in the whole text of the article, not just those in the record that describes the article.  This can be useful if you have a unique search term or an emerging research area, without a lot of research done previously.
I recommend that you use Google Scholar's Advanced search to construct your search, as it gives you more control over how your search terms will be interpreted, though not as sophisticated as in the article index databases.
Enter your search terms in the boxes to group related terms, phrases, etc.
Review your results to find relevant scholarly sources, such as the article in the green box.  On the right, you can see the Get@SFU links, if the titles doesn't take you to the full text.  You can set up Google Scholar to show these links to materials available through SFU Library or other libraries.  This YouTube video by Tulane University Library shows you how to do this.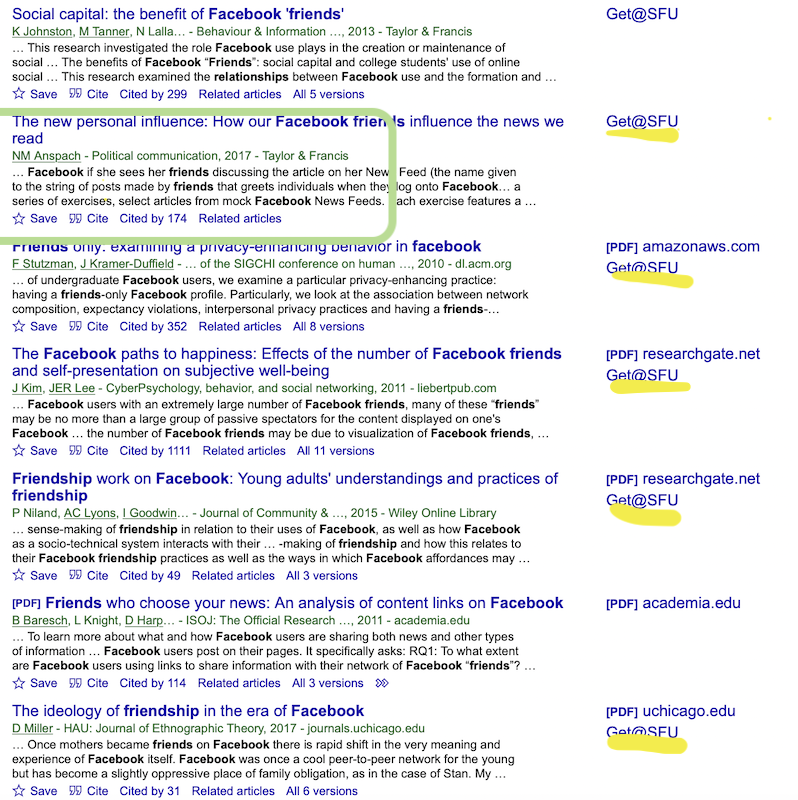 Select relevant records
You can select useful records from within the database, to print, to email or to save to disk. You will need this information to cite the article properly for your assignment.  Use the Library citation guides to help you format the article information in the appropriate citation style.
If you are using a citation manager, export your citations to your account. This will preserve the citation information and enable you to format it using the appropriate citation style.  Citation or reference management tools collect your journal article, book, or other document citations together in one place, and help you create properly formatted bibliographies in almost any style -- in seconds.  Citation management tools help you keep track of your sources while you work and store your references for future use and reuse.
Write annotations and written report on your search
Follow the  assignment guidelines for your written report.
If you would like to improve aspects of your writing, consider consulting one of the peer-tutors in the Student Learning Commons.  Visit their website for details on writing workshops being offered or how to make an appointment.