Introducing WRDS Classroom!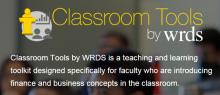 WRDS Classroom
Published by Mark Bodnar
Some welcome news from the folks behind WRDS, our interface for many financial/accounting datasets such as Compustat, CRSP, TAQ, and I/B/E/S: they've created Classroom Tools by WRDS.
Their description:
WRDS is pleased to announce the launch of WRDS Classroom, a valuable addition to WRDS that brings the power of our flagship platform to the classroom. 

You can find WRDS Classroom by clicking on the Classroom tab in WRDS [... after logging in]. Use WRDS Classroom as a core component of your curriculum, for stand-alone lessons, or for course assignments.

Topics include:

Event Study

CAPM Equity and Mutual Fund Valuation

Income and Cash Flow Statements

Understanding Portfolio Risk Over Time

Introduction to WRDS -- Running Web Queries, Finding Data, Understanding Identifiers, Using PC-SAS, SAS Studio, and more.
Each lesson comes with teaching notes and a slide deck, as well as sample queries or spreadsheets.
Note that WRDS mentions "classroom accounts", but such accounts aren't really necessary in the SFU Library context. We've set WRDS up so that all of our graduate students and faculty can request personal WRDS accounts, and undergraduates are able to access the database from anywhere using our General Access route. 
Also note that we don't have subscriptions to every one of the resources they highlight, but most of their lessons are focused on core WRDS functionality, as well as Compustat and CRSP -- all part of SFU's collection.
As always, let us know if you have questions!
-- Mark & Moninder

~~~~~~~~~~~~~~~

Mark Bodnar (Burnaby & Surrey): mbodnar@sfu.ca

Moninder Lalli (Vancouver): Moninder_Lalli@sfu.ca