On the movie industry, as we approach Oscar night...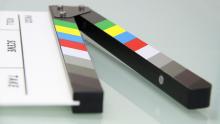 Source: pixabay.com
Published by Mark Bodnar
As I write this, there are just 8 days and 5 hours left until the 2016 Oscars begin.  (Well, the red carpet portion, anyhow, which I'm told is just as important as the suspense, satire, and speeches of the actual ceremony.)  Although, technically I guess they've already begun if you consider the fact that a quartet of Vancouver inventors has won an award this month.
Add to that the fact that Canada's weak loonie and recent discussion about changes to the all-important tax credit system have led to a spate of stories about the economics of the industry (sample from this week: Industry, critics urge caution before changing B.C. film tax credits), then throw in the fact that Statistics Canada announced yesterday the release of their latest batch of Motion Picture Theatres data, and my attention has been officially caught.
And, as you may already know, once I get interested, I can't resist doing a quick survey of our other resources to see what else we have on that industry/market:
Starting with a slightly deeper exploration of that Statistics Canada release mentioned above, the latest data is in the form of CANSIM tables, available for all in tables 361-0068 to 361-0071. Until this year, such data was always added to a biannual publication. Although that no longer happens, researchers may still want to check out Motion Picture Theatres (87F0009X) for a nicely packaged overview of the industry. 

  
Over to IBISWorld, where a quick search unveils several reports relevant to the production and viewing of movies here. The following are the key Canadian titles, but IBISWorld also has some great US, China, and Global focused reports that might prove useful.

Movie & Video Distribution in Canada
Movie Theatres in Canada 
Movie, Television & Video Production in Canada
DVD, Game & Video Rental in Canada
Video Postproduction Services in Canada 

 

Switching over to the market/consumers/viewers side of things, Passport GMID tends to be more focused on fast-moving consumer goods than on services, but it's still worth checking for reports such as:

Home Audio and Cinema in Canada
Home Video in Canada
Filmmaking in Canada: ISIC 9211 (deep analysis of the production industry!)

  

As for articles (news, industry, and journal) and reports via Business Source Complete, a few of the key terms seem to be Motion Pictures, Motion Picture Industry, or Box Office Revenue, combined with terms such as Sales, Marketing, or Economic Aspects.  Try this search to cast a wide net across all of those terms. That should get you such sources as...
How about public opinion polling?  Ipsos News Centre offers a few interesting reports, complete with detailed question-by-question data: 

Average Canadian Parent Has Seen Their Children's Favourite Movie About 33 Times
Men and Women Differ Greatly on What Movie Represents Their Ideal Summer; Women Pick Dirty Dancing (39%), Men Choose American Pie (26%)

  

And no post would be complete without pointing out the many relevant books and ebooks available to SFU researchers. Start by scanning the hundreds of titles with Motion picture industry or (much more broadly) Motion Pictures among their subjects. Those terms should catch titles such as: 
And for those who prefer to watch films, rather than just read about them, check out these amazing collections of movies available for viewing by SFU folks...
As always, this is just a taste of what's available. If you have questions, send them our way!
-- MarkB

~~~~~~~~~~~

Mark Bodnar

mbodnar@sfu.ca 
Image credit: By 8bf CC BY 3.0 via Wikimedia Commons