Storytelling, presenting, and HRM with Millennials: Three of the newest titles in your library
Published by Mark Bodnar
When we buy business books here at the SFU Library, we tend to focus on ebooks -- partly as a reflection of the reading habits of many of our readers, and partly so that we can support the three campuses more efficiently.  However, we do still buy books in print format in many cases. I was just scanning the print format business books that have arrived this week.  All three look very relevant to the questions I get lately, so I thought I'd post about them... (Note that all three of these books are still being processed (labelled, etc.) as of today.  If that's still the case when you read this, you can click on their titles below to get to their catalogue records and Request that you be next in line to get them when they are ready.)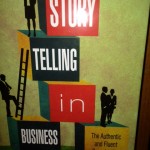 1.  Storytelling in business : the authentic and fluent organization / Janis Forman. Stanford, California : Stanford Business Books, an imprint of Stanford University Press, [2013] From the publisher's description:
Focusing on the role of storytelling at the enterprise level, this book provides a research-driven framework for engaging in organizational storytelling. Forman presents original cases from Chevron, FedEx, Phillips, and Schering-Plough. [...] To show the reach of storytelling, Forman conducted 140 interviews with professionals ranging from CEOs in small and thriving firms, to corporate communication and digital media experts, to filmmakers—arguably the world experts in visual storytelling.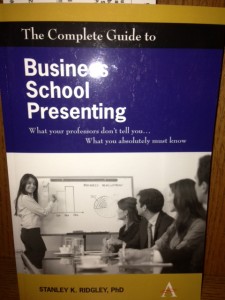 2. The complete guide to business school presenting : what your professors don't tell you-- what you absolutely must know / Stanley K. Ridgley. Note: If you like this one, check out our guide to resources on Business Presentation skills. From the publisher's description:
The guide identifies the seven verities of speaking that form the bedrock of superior presenting in the twenty-first century, and which imbue any speaker with power, energy and confidence: stance, voice, gesture, expression, movement, appearance and passion. [...]
The book also discusses the utility of business analysis tools, such as "SWOT," "PEST," "value chain analysis" and Porter's "Five Forces," and demonstrates how to work seamlessly and effectively with PowerPoint to deliver concise and persuasive presentations. It also addresses the innate challenges of working as a group and preparing group presentations – a requirement of all business students and a highly sought-after skill amongst corporate recruiters. In addition, a section on preparing for case competitions – a major rite of passage for business majors and MBAs – is included. The result is a masterpiece of business school wisdom and practicality.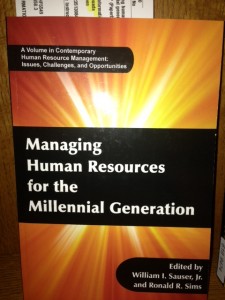 3.  Managing human resources for the Millennial generation / edited by William I. Sauser, Jr., Ronald R. Sims. This one is an edited book, with each chapter written by a different academic researcher on a different aspect of the broader issue. Partial table of contents (from the publisher's site):  Who Are the Millennials and How Are They Challenging Modern Human Resources Management? PART I: CHARACTERISTICS AND VALUES OF THE MILLENNIAL GENERATION.
Millennials Break Out as the Me Generation: Their Attitudes, Expectations and Fears Millennial Work Expectations and Organizational Incentive Systems: "Carrots" for the New Millennium Just What Is Important to Millennial Job Candidates: It's Not What We Assumed Giving Voice to Values: Engaging Millennials and Managing Multigenerational Cultures
PART II: MILLENNIALS AND THE TRADITIONAL FUNCTIONS OF HUMAN RESOURCE MANAGEMENT.
Leveraging Web 2.0 Technologies in the Recruitment of Millennial Job Candidates New Selection Methods for a New Generation Considering Generational Differences in Assessing Work Values ... A Unifying Approach Employee-Friendly Policies and Development Benefits for Millennials Texts, Emails, and Google Searches: Training in a Multigenerational Workplace
PART III: BEST PRACTICES FOR MANAGING HUMAN RESOURCES FROM THE MILLENNIAL GENERATION.
Best Practices for Managing Generation Y, Susan Eisner. A New Talent Agenda Implications of Values of the Millennial Generation on HR Infrastructure Millennial-Centric Strategic HR: Key Practices for Attracting, Developing, and Retaining Millennials
PART IV: SPECIAL ISSUES AND CONTEXTS.
Promises of Telecommuting and Preferences of Millennials: Exploring the Nexus Millennials in the Workforce: Unions and Management Battle for the Soul of a Generation Small Businesses, Value Added, and the Millennials
PART V: CONCLUDING THOUGHTS.
Building Bridges Between the Millennials and Other Generations