Timely ebook! "Routledge handbook of the economics of European integration"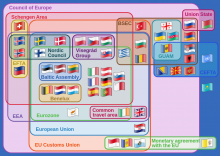 Source: https://commons.wikimedia.org/wiki/File:Supranational_European_Bodies-tr.svg
Published by Mark Bodnar
With the BREXIT vote dominating the news for the last week, I thought I'd quickly highlight the following 2016 ebook in the SFU Library collection:
From the publisher:
"Routledge Handbook of the Economics of European Integration provides readers with a brief but comprehensive overview of topics related to the process of European integration in the post-World War II period. Its short chapters reflect the most up-to-date and concise research, written by a collective of experts on their own subjects."
Note that this ebook is available for reading or downloading anywhere -- as long as you are an SFU student or faculty member.
Care to read more on the topic?  Start with the following searches: 
Mark Bodnar
~~~~~~~~~~~~~
mbodnar@sfu.ca
Economics & Business Librarian