Telemedicine, peer-to-peer lending, green apparel and more: Plunkett Industry Almanacs online for SFU researchers!
Published by Mark Bodnar
I'm very pleased to report that we've added several industry almanacs to our Plunkett Research Online collection: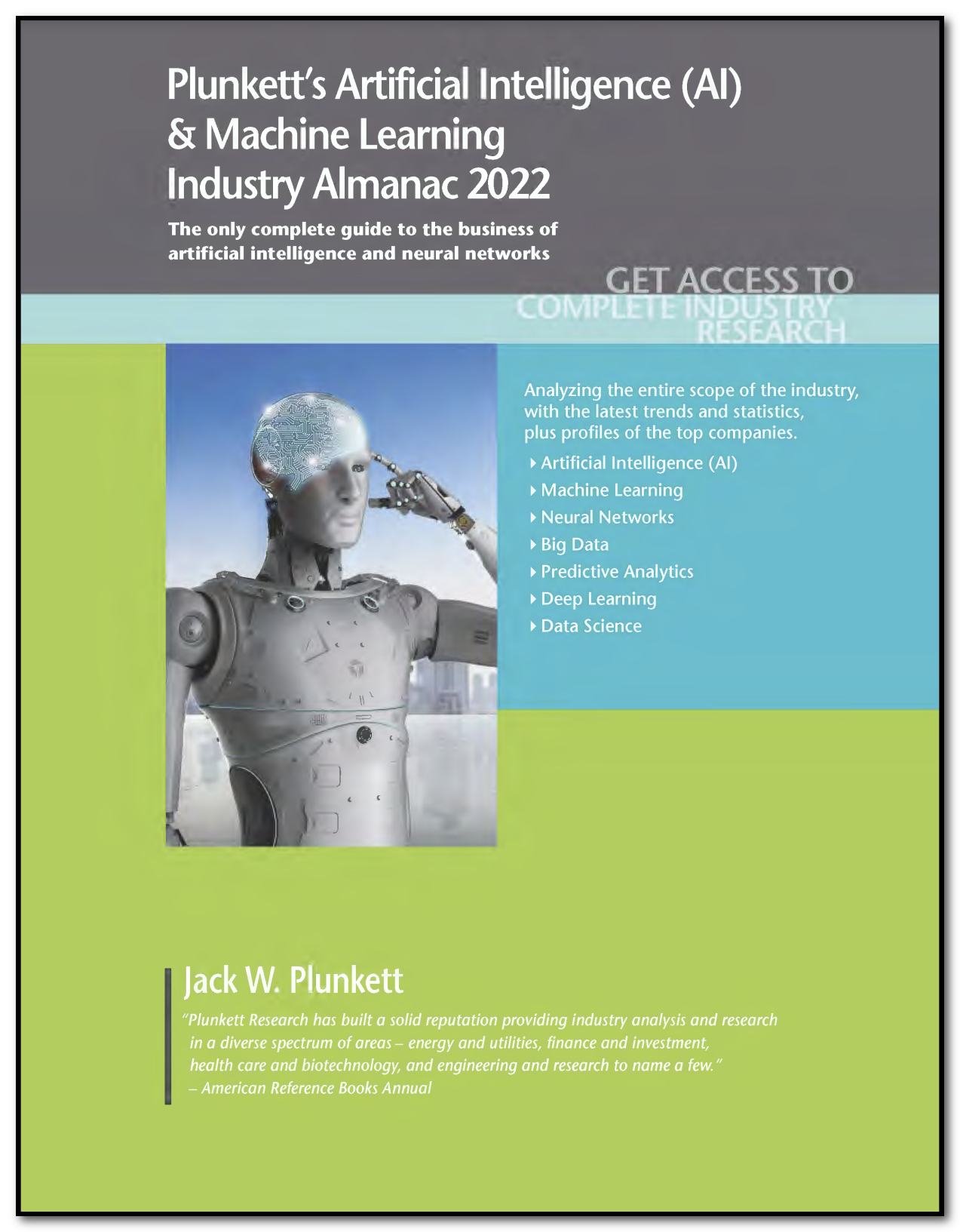 Artificial Intelligence (AI) & Machine Learning Industry Almanac 2022
Big Data, Predictive Analytics, Neural Networks...
Banking, Mortgages & Credit Industry Almanac 2022
Peer-to-Peer Lending, Mobile Banking, Payment Processing...
Biotechnology, Drugs & Genetics Industry Almanac 2022
Genomics, Personalized Medicine, Generic Drugs & Biosimilars...
Chemicals, Coatings & Plastics Industry Almanac 2022
Supply Chain, Biochemicals, Specialty Chemicals...
Computers Software & Infotech Industry Almanac 2022
SaaS, Open Source, The Cloud, Wireless Technologies...  
Cybersecurity, Digital ID,& Online Fraud Industry Almanac 2022
Biometrics, Identity-as-a-Service, Internet Access Management (IAM)...
E-Commerce & Internet Industry Almanac 2022
Fiber-To-The-Home, Online Retailing, Entertainment & Convergence...
Energy & Utilities Industry Almanac 2022
Alternative Energy, Deregulation, Energy Trading...
Games, Apps & Social Media Industry Almanac 2022
Virtual Reality, Game Consoles, Online Gaming...
Green Technology Industry Almanac 2022
Green Apparel, Packaging, Green Buildings...
Health Care Industry Almanac 2022
Electronic Health Records, Telemedicine, Health Insurance...
Insurance Industry Almanac 2022
Risk Management, Reinsurance, Financial Technology...
Investment & Securities Industry Almanac 2022
Financial Planning & Consulting, Online Brokers, FinTech...
Manufacturing & Robotics Industry Almanac 2022
Factory Automation, OEM, Offshoring & Reshoring...
Sharing & Gig Economy, Freelance Workers & On-Demand Delivery Industry Almanac 2022
Meal Delivery, Transportation on Demand, Personal Assistants...
Solar Power, Wind Power, & Renewable Energy Industry Almanac 2022
Fuel Cells, Hydroelectric, Cogeneration, Biomass Energy...
Telecommunications Industry Almanac 2022
Cord Cutting, Videoconferencing, Satellites, M&A...
Transportation, Supply Chain & Logistics Industry Almanac 2022
Intermodal Systems, Warehousing, Logistics Services...
Wireless, Wi-Fi, RFID & Cellular Industry Almanac 2022
5G, Internet of Things (IoT), Wearable Sensors, Mobile Entertainment...
And coming soon: 
Advertising & Branding Industry Almanac 2022  | Expected May 2022
Fintech, Cryptocurrency & Electronic Payments Industry Almanac 2022  | Expected June 2022
Internet of Things & Data Analytics Industry Almanac 2022  | Expected later this month (April 2022)
Each of these almanacs devotes hundreds of pages to...
major trends that are creating rapid changes in their target industry,  
in-depth statistics on sales, manufacturing, employment and more,
key contacts (associations, government agencies, and internet sites), and a
detailed directory of major firms, complete with high-level financial data and growth plans.
Plunkett industry almanacs are a useful supplement to our other industry reports, such as those in our IBISWorld database.  They don't generally contain much analysis, but they provide the information you need to start analyzing potential markets yourself. 
We'll be adding links to these new editions on relevant SFU Library pages such as our Industry Surveys and Biotechnology Industry research guides over the next few weeks. 
Questions?  Send them my way!
-- Mark 
------------------
Mark Bodnar
mbodnar@sfu.ca
Business & Economics Librarian