Laos, Cuba, Ghana, Iraq, and beyond: Expanded Passport database!
Published by Mark Bodnar

Secondary market research is hard.  Sometimes really hard. Maybe you knew that already?  
You never quite find exactly what you need, so you're constantly searching for information that is close enough to form a foundation for an estimate.  That's generally doable when you're dealing with a major economy such as the USA, Canada, or China, but it gets a lot more difficult when you are researching a market in a developing country such as El Salvador or Ghana... 
Which makes today's news particularly exciting (for me, at least!):
 What
Our Passport market research database is expanding its coverage to include 20 emerging markets -- developing countries whose economies are growing quickly. So, if your research involves Cuba, Cambodia, Côte d'Ivoire or any of the other countries on the list below, your task is going to get a lot easier!  
Asia Pacific

Africa

Middle East

Latin America

Bangladesh

Angola

Iraq

Cuba

Cambodia

Côte

 

d'Ivoire

Jordan

El 

Salvador

Laos

Ethiopia

Kuwait

Honduras

Myanmar

Ghana

Lebanon

Panama

Sri Lanka

Tanza

nia

Oman

Paraguay
This expansion means that when it comes to deep analysis and data on the markets for specific consumer goods, Passport via the SFU Library now provides information on countries representing 98% of global GDP and 91% of global population.
 When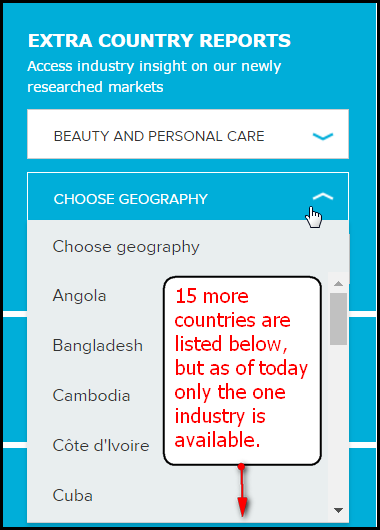 However... as with many of the good things in life, a bit of patience is required. The coverage of specific industries across these countries is set to roll out in stages over the next several months. The Beauty & Personal Care reports are already in the database, but you'll have to wait a bit longer if you research beer, tobacco, meat, etc. See the schedule below for details.
Beauty & Personal Care  - available now!
Alcoholic Drinks - coming in the next few weeks
Tobacco - June 2017 
Packaged Food (Snacks) - June 2017 
Packaged Food (Dairy) - August 2017 
Consumer Health - August 2017 
Packaged Food (Meat/Staples) - October 2017 
Retailing - November 2017 
Home Care - December 2017 
Hot Drinks - January 2018 
Soft Drinks - January 2018 
Tissue/Hygiene - February 2018 
 Where
As they become available, you'll be able to find the new reports and statistics in the usual ways -- Passport offers several search and browse options -- but you can also start by looking for a blue "Extra Company Reports" box on the main page (scroll down in Passport to find it).  
 Why
Because research at SFU is increasingly international in scope! In the last few months alone I've helped researchers who were focusing on Cuba, Ghana, Myanmar, and Paraguay. Sadly, I can't travel back in time to bring them this cool resource.  
 Who
Questions? Contact me!  
-- Mark B
~~~~~~~~~~~~~~~
Mark Bodnar
mbodnar@sfu.ca
Business & Economics Librarian