For the big picture online: Encyclopedia of Global Industries
Published by Mark Bodnar
Sometimes you need the big picture of an industry before you can dive in for deeper research: a brief history of the industry's development; a description of its structure; or a list of key countries and companies... just enough to guide the next steps in your analysis.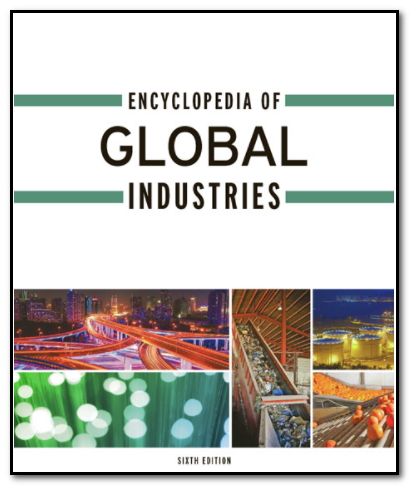 For those purposes (and more!) SFU researchers should check out our new online access to the 6th edition (2017) of the Encyclopedia of Global Industries. 
According to the publisher, this resource... 
Chronicles the history, development and current status of the world's most lucrative and high profile industries. Each entry covers size and economic/social impact of the industry; its organization and structure; its history and development; major countries and companies involved (including rankings); size and nature of the work force; and research.
To get a sense of the value of the Encyclopedia of Global Industries check out these entries:
This publication, part of our Gale Virtual Reference Library e-reference collection, is a good companion to our Encyclopedia of Emerging Industries, and it provides a useful narrative complement to the many global industry reports available in our IBISWorld database. Check out our Industry Surveys research guide for more resources of this sort. 
-- MarkB
--------------- 
Mark Bodnar
Economics & Business Librarian
mbodnar@sfu.ca