Axe Throwing Clubs to Yoga Studios: Real business plans for SFU entrepreneurs!
Published by Mark Bodnar
Hey entrepreneurship students!  Did you know that you have online access to hundreds of real business plans from throughout North America via the SFU Library?  We've recently purchased a few more volumes in the online Business Plans Handbook series -- bringing us up to 40 volumes in total.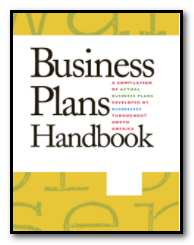 Here's a description of a typical volume from the publisher:
Actual business plans compiled by, and aimed at, entrepreneurs seeking funding for small businesses. Presents sample plans taken from businesses in the manufacturing, retail and service industries which serve as examples of how to approach, structure and compose business plans. Also includes a business plan template, two fictional business plans, a listing of organizations, agencies, and consultants...
And if that doesn't catch your attention, check out this small selection of the types of companies covered in the newest volumes:
These handbooks are all listed in our catalogue, but you can also find them via our Gale Virtual Reference Library.  Or... click here to go directly to all 40 volumes.
And while we're talking about business planning, have you ever checked out the Small Business Accelerator site? Dozens of amazing starting-a-business guides for everything from an accounting/bookkeeping company to a wedding planning service -- all with a strong BC focus.  The SBAs are among the many resources listed in our Industry Surveys guide.
As always, let me know if you need help with your research.
-- MarkB
-------------
Mark Bodnar
Business & Economics Librarian
mbodnar@sfu.ca