Webinar: ESG data: availability, transparency, quality and investment applicability
Published by Mark Bodnar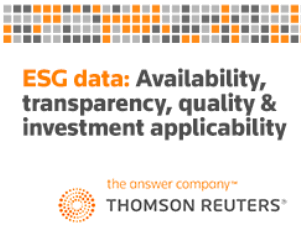 Thomson Reuters -- the publishers of our powerful Eikon + Datastream databases -- announced a new training webinar this morning that I think may be of interest to many SFU researchers: 
ESG* data: availability, transparency, quality and investment applicability
When: Thursday 12 July 10:00 EST (which is 7am here in Vancouver... sorry!)
Registration (free for SFU researchers)
Description: "We have invited experts from Global Reporting Initiative, StateStreet and Folketrygdfondet to join us during a webinar, hosted by Responsible Investor, to discuss ESG Data, its evolution and its role in the corporate environment and investment workflow."
Panelists: 
Annie Bersagel, Senior Analyst - Responsible Investments, Folketrygdfondet (Investment Manager for the Government Pension Fund Norway)
Rakhi Kumar, Senior Managing Director and Head of ESG Investments and Asset Stewardship, State Street Global Advisors
Elena Philipova, Global Head of ESG Proposition, Thomson Reuters
Shivani Rajpal, Director – Services, Global Reporting Initiative (GRI) 
Want more like this?  Thomson Reuters offers many other online Eikon training sessions, both live and self-paced, and SFU students/faculty are eligible to register because of our database subscriptions.  Just be sure to use your SFU email address when you register:  Eikon  +  Datastream. 
Learn more about Thomson Reuters Eikon + Datastream here at SFU, including a bit about the deep ESG data, via this blog post.
-- MarkB
* ESG = Environmental, Social, and Governance. Learn more about ESG here.
-----------------
Mark Bodnar
Economics & Business Librarian
mbodnar@sfu.ca