Soooo much great data! Thomson Reuters Eikon + Datastream now available here
Published by Mark Bodnar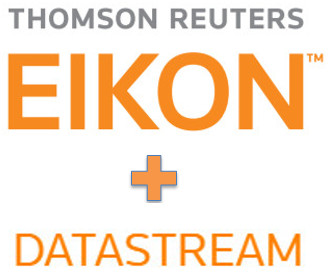 I'm very pleased to announce that SFU researchers now have access to two Thomson Reuters databases: Eikon and Datastream! 
RELEVANCE
These databases will be most useful to many accounting, finance, and economics researchers, but it's possible that other areas (international business, strategy, entrepreneurship, statistics...?) will find them valuable as well.  
CONTENT
Together, Thomson Reuters Eikon + Datastream replace our ThomsonOne-Investment Banking (T1-IB) database which ceased earlier this week. Eikon + Datastream provide all of the content of T1-IB plus significantly more, including data on some topics that have often been requested by SFU researchers.
That means that we still have access to comprehensive fundamentals for publicly traded companies from around the world and data and charts on equities, commodities, markets, and funds, as well as massive amounts of global deal (M&A, bond, etc.), debt, and economic data, but we also have new access to such data as... 
Private Equity data on investments made by Private Equity including Buyout Firms, Venture Capital Firms, Angel Investor Networks, SBICs, Venture subsidiaries of corporations or Investment Banks and other similar entities whose primary activity is private equity investment.
  
ESG (Environmental, Social, Governance) data:  

Via Eikon: coverage of over 6,000 public companies across 400+ ESG data points and 70+ ESG analytics back to FY2002, as well as details on takeover defenses & poison pills on far more companies
Via Datastream:  coverage of over 4000 companies across over 1000 data points
 

StarMine Quantitative Models & Analytics: Proprietary algorithms provide the data needed to rate and model stocks and economic indicators
And (perhaps the most exciting part), we also gain the functionality to use Excel Add-Ins to download hundreds of time series at once from both Eikon and Datastream -- an important feature for academic research that was sorely lacking in the T1-IB interface.
ACCESS
Thomson Reuters Eikon + Datastream are currently available on standalone computers in our Bennett (Burnaby) and Belzberg (Vancouver) libraries. Other locations may be added later this term. Note that the Bennett location can be reserved online for up to 2 hours per day (choose "standalone computer #2" in the booking system).
FINE PRINT

 These databases have been very complex to install. They are working smoothly now, but it's possible that new issues will arise. If they do, please let me (or other library staff) know about them so that we can work on solutions.

 Speaking of complex... these databases are both quite complex to use. I'd be happy to get you started, but you should expect to spend some time learning the interface. You can start at home by viewing some of the training videos available on both Eikon and Datastream (you'll need to register with an SFU email address to view those videos).  Also enter Training in the main Eikon search box once you are logged into the database here in the library to get to such videos (and more).
-- MarkB

P.S.: I'll be highlighting some specific aspects of both Eikon and Datastream here in the BUEC Buzz over the next couple months. Stay tuned!​
~~~~~~~~~~~~~~~~~~~~~~
Mark Bodnar
Business & Economics Librarian
mbodnar@sfu.ca