As we all settle into a work-from-home routine, I'm pleased to announce that there is a new tool -- LibKey Nomad -- to help you with (almost) seamless off-campus access to many of our library's journal article subscriptions.
This Chrome Browser extension can be installed with just a couple clicks. Once you have it equipped, it will scan for scholarly content as you browse the Internet. When it detects that you've landed on the page of a journal article available in our online collection, it will drop a little Download PDF button onto the page. Click, authenticate as an SFU researcher, and you're in! 
Check out this example of LibKey Nomad in action: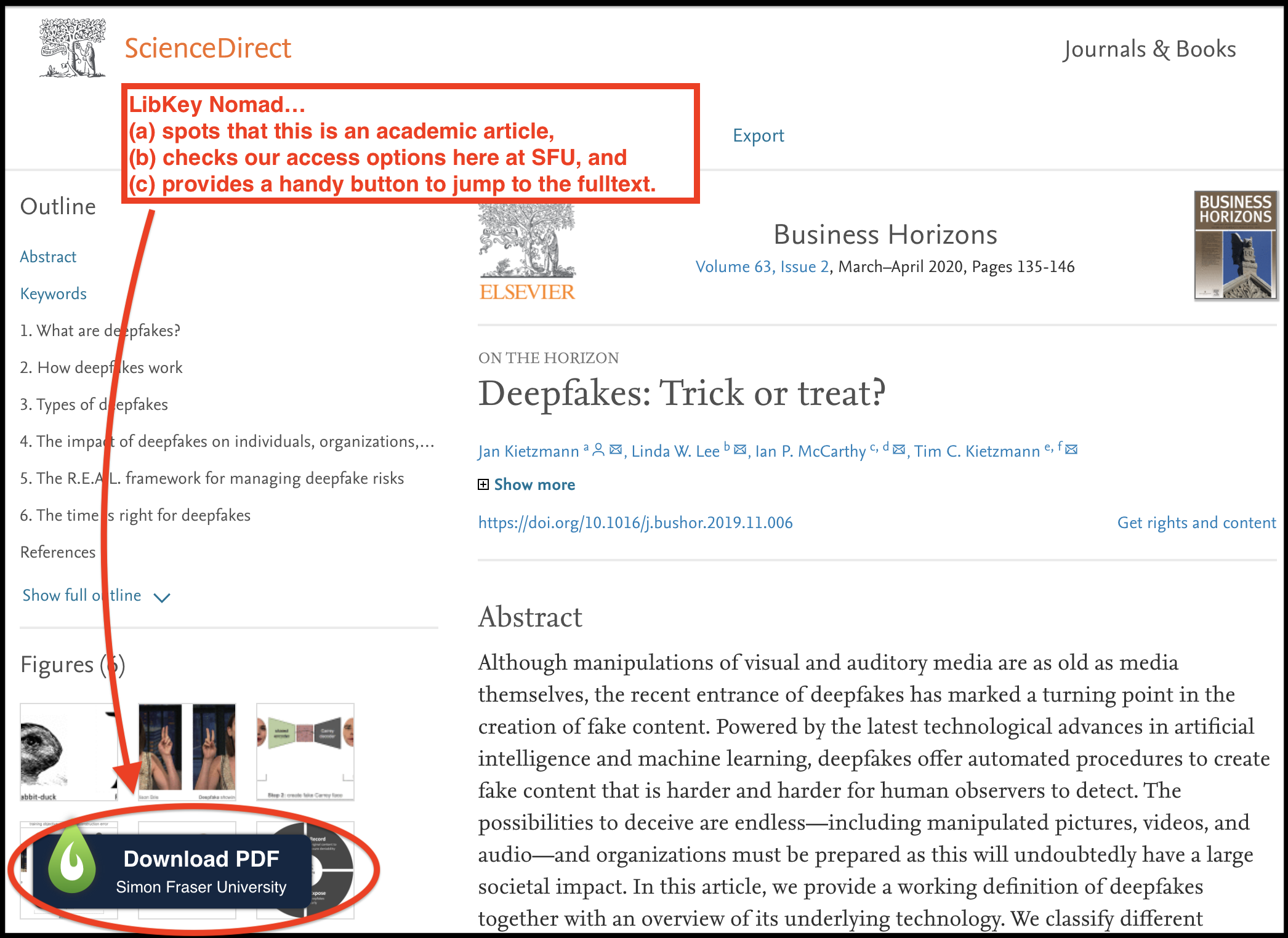 OK, it's usually that smooth, but nothing is perfect. LibKey Nomad doesn't catch cases where we get the fulltext of articles through 3rd-party aggregators (e.g., many of the fulltext articles in databases like Business Source Complete) that we don't also get directly from publishers.
It also doesn't cover the non-scholarly content that is so important in Business & Economics research: news articles (Factiva), industry reports (IBISWorld), market analysis (Frost & Sullivan and Passport), company financials (S&P Capital IQ), and time series data (Data Planet). And it doesn't cover the thousands of ebooks in our collection (Library Catalogue). 
For those types of non-scholarly-article resources you still need to link in to each database through the library's site. Check out my earlier post for a short list of some of the most popular Business & Economics resources available.
And LibKey isn't the only "shortcut" tool for linking in to our journal articles from web searches: there's also the SFU Library Bookmarklet tool designed to be used in most browsers. Plus you can set up Google Scholar to embed Get@SFU links in the citations of your search results -- allowing for a one-click check of our subscriptions:

Learn about all these options (and more) in our guide: Accessing online resources from off campus.
Hope that helps!
Take care, 
-- Mark
--------------
Mark Bodnar
mbodnar@sfu.ca
Economics & Business Librarian