Knowledge mobilization in the time of COVID-19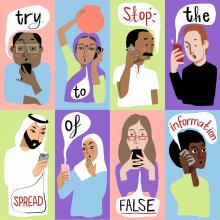 UN COVID-19 Response Stop the spread of false information graphic
Published by Lupin Battersby
Many researchers have had to stop, pause, or pivot their research projects in response to the COVID-19 pandemic. Similarly, physical distancing protocols and related shutdowns have disrupted many knowledge mobilization (KM) activities such as hosting workshops, dialogues, team meetings, or other events. In addition, we have seen changes in government priorities and a shift in the information needs of our audiences in response to both COVID-19 and the call-to-action on anti-black racism. As always, but now more than ever, mobilizers need to focus on thoughtful, contextualized, and community-informed activities.
Prioritize relationships
Like any good KM specialist, I encourage researchers to build relationships and collaborate with their community to ensure relevant research and KM activities. Now is the time to nurture those relationships. Check-in with your partners to identify what their needs are as they relate to your collaborative work and to support their responses to current events. Your partners can let you know what to focus on, what channels to use, and whom you need to reach. They might also need the collaboration to be paused for now.
Pro tips:
Be sure the meeting format meets your partners' current preferences (e.g. team teleconference, one-to-one phone, Zoom, socially distanced in-person, etc.);
You can still host virtual events, but be sure to consider your community's needs, interests,  potential video-conference burnout, and privacy and/or security requirements.
Research matters, more than ever
Whether or not you are working with partners, some interesting KM related developments are happening in public discourse. Two in particular that I have noticed have implications for research communication: 1) there is a growing appetite and even demand for (good) research to inform decisions; and 2) an emphasis and encouragement on reading and self-guided learning. These are important developments as we consider, or perhaps emerge from, the so-called misinformation era. Here are some examples:
Public interest in research: I see this in Dr. Bonnie Henry's response to COVID-19, applauded internationally, which she has stated she based on research, data, and experience. We also see this in the public engagement with run charts and other data visualizations of COVID-19.
Deepen our learning: Recently, in the Black Lives Matter movement, I am seeing calls for allies to engage more actively through reading and learning, amongst other things. Lists of recommended books accompany these calls, directing us to deepen our knowledge beyond the sound bites.
What are you supposed to do with these emerging trends?  
Start connecting and sharing!
How are you supposed to do that while home schooling, online teaching, recommencing research under new guidelines, and starting your COVID-19 research projects?
While partnered research and active knowledge mobilization does require additional resources, there are a number of initiatives and supports available for KM generally and COVID-19 related sharing specifically, at SFU and across the country. Get involved and leverage these resources:
SFU:
SFUCOVNET a network of SFU staff, faculty, students, and the wider community exploring opportunities for COVID-19 response and recovery. Join the Slack space and/or attend the weekly meetings to start a conversation, learn from others, tap into COVID-19 resources, share your work and get feedback.
Knowledge Mobilization Hub. As the KM Officer at SFU, I am here to provide training, direction, and ongoing support for your KM initiatives. Check out the SFU Library KM resource guide for more.
BC:
BC COVID-19 Research Inventory hosted by the BC Academic Health Sciences Network provides a repository of COVID-19 related research in BC, you can add your research and search to reduce redundancies.
Genome BC podcast was recently launched, one area of focus is to share COVID-19 research.
BC Today by CBC News is a daily call in show on the hot topics of the day, consider listening and sharing your expert opinion.
National:
CanCOVID is an expert network of Canadian COVID-19 researchers, clinical collaborators, and healthcare stakeholders from across the country. Join now to share your projects and build your network.
The Conversation is an independent source of news from the academic and research community accessible to the public. Share your expertise on COVID-19 and other complex issues.